70 percent of schools nationwide have had groups of new hires where between 26 to 50 percent were not capable of using classroom technology effectively.
Josh Harris, educational technology director at Alisal Union School District, shared this stat at the ISTE 2019 Conference in Philadelphia last week. His session with Kelly Martin, of Lake Tahoe USD, focused on how districts can turn certain educators into Educational Technology Leaders and cut down the time that technology directors spend on smaller supportive tasks, allowing them to focus on larger technology projects in their districts.
Developing an Educational Technology Leader program is mutually beneficial for teachers and technology directors. Offering teachers the opportunity to become Educational Technology Leaders at their school provides them with opportunities to develop their technical knowledge through unique learning opportunities such as conferences and testing out new classroom technologies. Similarly, technology directors benefit from the development of Educational Technology Leaders. Having educators at individual schools who are well-versed in educational technologies increases technology directors' reach throughout a district and gives them the opportunity to focus their energy on larger technology projects for their district. An Educational Technology Leader program also benefits a district financially because it is a tactic that utilizes existing staff to further educate teachers rather than hiring new technology coaches for each school. In their session, Harris and Martin outlined how they have implemented Educational Technology Leader programs in their respective districts.
Here are Dyknow's takeaways for developing an Educational Technology Leadership program in your district:
Developing an Educational Technology Leader Program
Recruit Passionate Educators
Harris and Martin agree that recruitment is crucial in developing an effective Educational Technology Leader program. It is important to prioritize educators who are "passionate about sharing education technology" and eager to share their knowledge of technology with their district. Harris says that he prioritizes "those who are passionate about bringing educational technology to their peers over those who have refined tech skills."
Set Expectations
Setting expectations for Educational Technology Leaders within the program is important because it gives them direction in terms of developing their mentor program. These expectations could include benchmarks throughout the year that Educational Technology Leaders are expected to meet, as well as "creating agendas for technology clubs and after-school PD sessions."
Create Incentives
Incentivizing educators to participate in an Educational Technology Leader program is critical because teachers aren't going to add more to their plate without a personal benefit. Martin and Harris have different incentive strategies. Martin gave Educational Technology Leaders in her district a yearly stipend to "hold office hours, conduct after-school PD workshops, and invest in communications programs." Similarly, Harris implemented a structurally comparable program but utilized an hourly rate instead of a stipend and found that "the hourly commitment held Educational Technology Leaders more responsible." Regardless of monetary compensation, both technology directors found recommend also incentivizing teachers in an Educational Technology Leader program with learning opportunities such as conferences and trying out new educational technology tools.
How this Dyknow customer is implementing an Educational Technology Leader program this summer
We spoke with Dyknow customer Daniel Manseau, Instructional Technology Coordinator for
Springfield Public Schools
, to learn how he is developing a program similar to this Educational Technology Leader program.
Daniel explained how Springfield is developing Digital Leadership Teams in certain Springfield schools this summer in an effort to spotlight these schools in the upcoming school year: 
"We're trying to create a team that's already been in place, a little more directed and purposeful. It's called the Digital Leadership Team and we're getting teachers who are ready to step it up a little bit and explore the technologies – even more of the technologies that we're going to have opportunities to use. We're getting a lot of new tools and figuring out how to get teachers to use those tools in the instruction that they already do. So we're bringing a team together starting this summer to get ready to spotlight our school and have teachers in the building who are doing lessons for the district."
– Daniel M., Instructional Technology Coordinator, Springfield Public Schools
In preparation for this initiative, Daniel is creating a lesson bank across the district for teachers to use initially if they have trouble or questions with various technologies in the classroom. Then, if they are still having trouble after using the lesson bank, they can get hands-on help from a coach on the Digital Leadership Team who can work with them in a more collaborative, step-by-step way. 
Keep an eye out for future posts featuring more summer development initiatives from K12 technology leaders and how they are maximizing their 1:1 student device program to drive classroom innovation.
Want to learn from educators like you?
In addition to web browser updates and bug fixes, Dyknow released several major product updates, new features and enhancements. Check out Dyknow's 2021 Year in Review!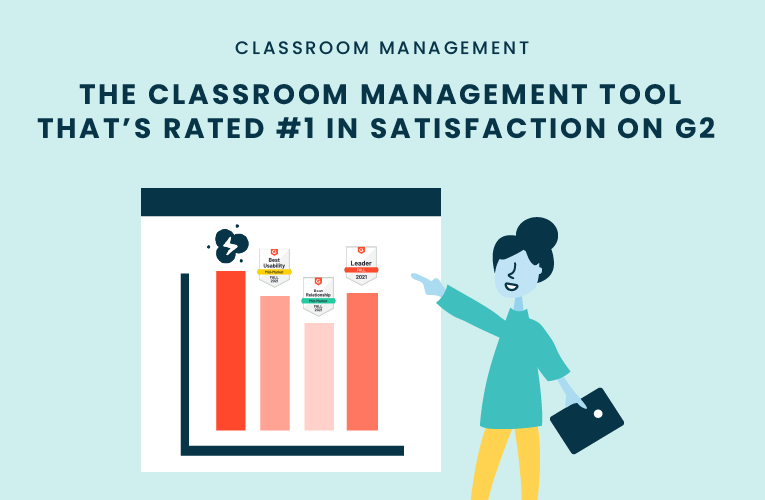 K-12 Administrators across the world trust G2 as the #1 platform to find, research, and choose EdTech tools that solve the most pressing problems their teachers are experiencing. In G2's Fall 2021 Reports, Dyknow was once again rated #1 in overall Satisfaction out of...
On this episode of Tackling Tech, Tierra Leustig interviews Scott Bayer about being an anti-racist teacher, diversifying reading lists, creating inclusive learning environments, and leveraging ed-tech in non-technical ELA classrooms. Scott Bayer is a High School...