Drive technology training and PD initiatives with complete usage data.
Make technology work for your teachers. Support decision-makers with powerful usage data.
Before Dyknow, teachers weren't embracing computers because students were distracted. Not anymore.
Schools without Dyknow
Incomplete data to prioritize tech training and Professional Development
Tech-uncomfortable teachers aren't seeking additional support
Getting essential metrics for decision-makers is hard and time-consuming
Schools with Dyknow
Access essential data to drive tech training & PD initiatives
Identify tech-uncomfortable teachers for additional support
Export usage data on-demand to support decision-makers
Technology Coaches love Dyknow.
Easy for teachers to learn, simple to use.
With just six simple features, Dyknow is nothing like the clunky education software you might be used to. It's more like a mobile app teachers are familiar with. In just 15 minutes, they'll be power-users with no hand-holding or troubleshooting required.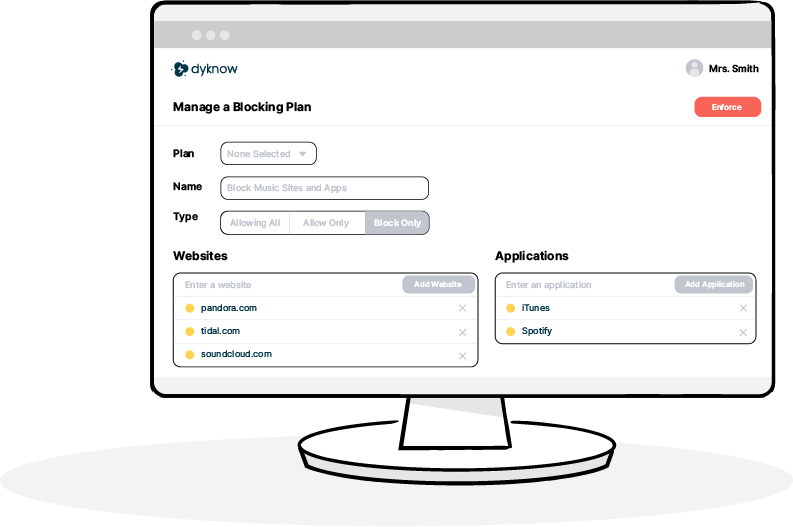 With automatic rostering designed into our software, Dyknow enables you to use your SIS to automatically sync your users and rosters. All teachers have to do is click start and their sessions will work every time.
Live chat with a Dyknow Expert.
Dyknow is intuitive, but when teachers have questions, we're here to help. Every teacher has access to live chat support directly within Dyknow. Our team is standing by to offer immediate assistance.
Device usage is tracked without any extra effort.
Dyknow provides teachers with an automatic paper trail tracking how students use their devices during class time. With this information now accessible, teachers no longer have to come to IT to obtain student history or browsing reports.
I use Dyknow to monitor students during quizzes and testing to see individual screens to see if they need help, and also to see history when their work isn't getting done.
Karen Conner, Teacher – Cabarrus County Schools
Measure the impact of devices and technology
Get complete device usage data to understand how devices are actually being used for instruction and to measure the impact of devices and technology.
"When 1:1 student device implementation occurs, teachers need confirmation that they are still the teacher in the classroom and Dyknow keeps students focused and engaged in the learning tasks. Dyknow is the best solution for this type of service for school districts at a price that is reasonable."
Janna Elfrink, Admin – Reeds Spring R-IV SD
Tech coaches like you have asked us…
How do I know my school needs to use Dyknow?
Students check their device an average 11 times per class and are off-task at least 20% of every class. Dyknow gives teachers the tools they need to proactively and responsively monitor and manage the content students have access to.
What's the best first step to get Dyknow set up in my teacher's classrooms?
We offer a free trial program to allow teachers to use Dyknow before your district or school has to buy Dyknow. We've found that Tech Coaches are great resources to help quarterback our free trial program and make sure teachers are seeing immediate value from Dyknow. You can set up a call to learn more about it here.
Does Dyknow offer support and training?
All Dyknow customers receive training and have access to Dyknow support. We've found that many Tech Coaches and teachers are big fans of our chat feature in Dyknow to make sure their questions are answered efficiently.
1,000+ schools us.
Don't just take it from us, 500+ users rated Dyknow #1 in satisfaction on G2!
That's all for this page – where to next?