Technology is changing K12 education and the rise of student device programs continues to soar. According to the New York Times, more than 30 million students use Google applications like Gmail and Docs every day in the classroom setting. Schools help support the growth of technology in classrooms by adding roles like the tech coach, who is responsible for supporting professional growth and development of all teachers to facilitate effective instructional practices. It's undeniable that the use of technology helps prepare students for growth in the 21st century, but also creates drawbacks that can hinder learning.
Over half of K12 classrooms across the country like Linton-Stockton in Indiana are turning towards student device programs to increase student engagement, improve equity of access, and better prepare students for a tech-infused world. The movement to more technology in K12 education has its benefits, but also presents distractions and can move students off task with increasing use of apps like Netflix, Twitter, Facebook, and YouTube to name a few.
We look to solve this problem at Dyknow by helping teachers defeat student device distractions, but we understand that it takes a lot more than implementing new software to solve all the issues student device programs can present. In order to help our audience members navigate through the complexity of adding more technology, we understand that it's critical to highlight how stakeholders within K12 schools make decisions, implement, and access feedback regarding the technology that they are currently using. This year and moving forward we are going to be more intentional by promoting the voice of the DyKnow educator and highlight how they are working with others in their school or districts to build a winning digital culture in their classrooms.
At the end of last year, the team took an hour and a half trip to visit DyKnow customer, Linton-Stockton school district to learn more about how Tiffany Todd, Technology Integrations Coach, is enabling her teachers to teach with technology.
Here are the top 3 takeaways that we had from our visit:
1. Always be open for discussion and feedback from the teachers that are actively using technology in their classrooms
Todd understands the negative impact technology can have on learning. In order to combat this, she creates an open dialog with teachers, understanding that the majority of them are curious to learn more about the technology they are asked to use. She says, "technology distracts students often, more often than we think because that's what they know and that's all they do. They're distracted by their device all the time whether it be their phone… or Chromebooks that they're always on." The classroom is where student device distractions can exist most often. By having an open dialog Todd is able to assist her teachers in helping keep Linton-Stockton students engaged and on task.
2. Technology improves student achievement more than most realize – make sure you are using it and have the right tools to support it
There was a time when a majority of teachers at Linton-Stockton avoided the use of student devices in classrooms all-together because they had no control if students were staying on task and found themselves wasting time policing student device usage. Todd says, "If we teach our kids how to use it (technology) effectively I think it will be used more as a tool than a constant distraction." Educating kids on how to properly use technology in the classroom starts with the teacher and the resources made available to them. By listening to teacher feedback, Todd is able to provide teachers with the proper curriculum assets and tooling to encourage appropriate technology adoption.
3. Teach with technology and not teach the technology
During our visit, we got a chance to meet with Katie Graves, a 6th-grade teacher at Linton-Stockton Middle School, to learn more about how she uses technology to maximize student learning. Graves says, "I love that they have devices, they can just look up their questions of things they want to know and find out immediately." Due to the helpful digital culture Todd established, Graves is able to focus on the benefits technology brings to her classroom. When working together, Todd and Graves make sure all their decisions regarding technology have positive student outcomes in mind. Todd says, "I go into the classroom a lot and just kind of teach the lesson with the teachers, especially if it involves technology that they've never used before. So having the tech coach and teacher relationship really helps."
Are you a teacher or administrator looking to defeat student device distraction like Linton-Stockton schools?
In addition to web browser updates and bug fixes, Dyknow released several major product updates, new features and enhancements. Check out Dyknow's 2021 Year in Review!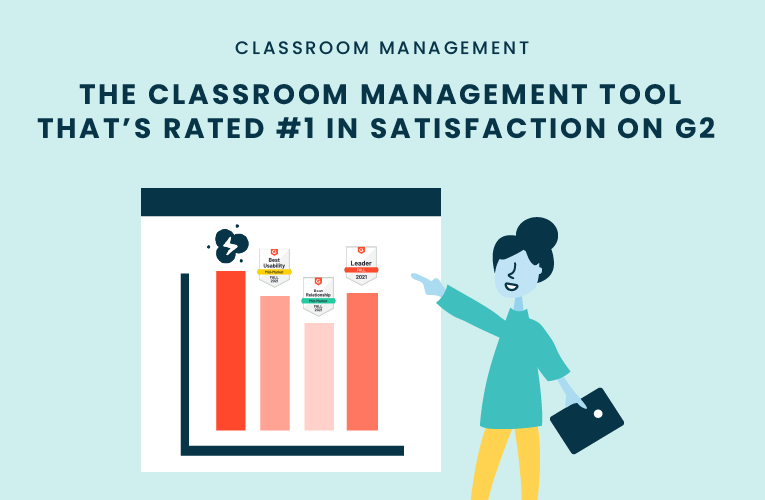 K-12 Administrators across the world trust G2 as the #1 platform to find, research, and choose EdTech tools that solve the most pressing problems their teachers are experiencing. In G2's Fall 2021 Reports, Dyknow was once again rated #1 in overall Satisfaction out of...
On this episode of Tackling Tech, Tierra Leustig interviews Scott Bayer about being an anti-racist teacher, diversifying reading lists, creating inclusive learning environments, and leveraging ed-tech in non-technical ELA classrooms. Scott Bayer is a High School...