By working with thousands of educators, our team keeps learning how teacher involvement plays a huge role in laying the groundwork for successful 1:1 student device program implementations. I had the chance to interview Dr. Chris Smallen, CTO and Renee Loan, Personalized Learning Facilitator at
Lenoir City Schools
. Lenoir City Schools has 3 schools with 2,400 students and is a Google Chromebook district. Regardless of their small size Lenoir City Schools continues to be a national example for districts looking to implement, maintain, and refine their student device program. Below we highlight why Lenoir City built a 1:1 student device program and how including teachers in the very early stages of their rollout lead to tremendous success.
Can you describe why Lenoir City Schools considered implementing a 1:1 student device program?
Dr. Smallen: When we started looking at 1:1 student devices and moving toward a digital conversion we had a lot of kids who didn't have a book at home, probably let alone a computer. We really wanted to even the playing field between the haves and the have nots by providing every kid with a device, whether it was here at school in the early elementary grades, or a take-home device in the upper grades.
What was the primary catalyst for Lenoir City Schools growing your 1:1 student device program?
Dr. Smallen: 2014 was our first year, and we started with our seventh graders. That was kind of a pilot program for us. Before that, we had a few carts of Chromebooks out, probably seven or eight carts throughout the district, just to see what a Google integration would look like in our district.
We did a lot of professional development around Google tools and the G Suite office products to get our staff comfortable with the technology before we ever put the first device out there. After piloting with our seventh grades, we grew the implementation to other grade levels. The following year we added our elementary (grades 1-3) and high school students. The next year we launched the 1:1 student device program our middle schools (grades 4-8).
What were some hurdles or challenges that you faced with teachers when implementing a 1:1 student device program across various grade levels?
Renee:  I think the biggest first hurdle, was having our educators form the original thought that just adding technology to the classroom alone does not naturally enhance instruction or learning objectives. We had to spend a great deal of time with professional learning, just to make sure that the implementation was successful and meaningful to students. We didn't want it to be a razzle-dazzle show where we just added Chromebooks to the mix and expected learning and instruction improvements to happen right off the bat.  
Dr. Smallen:  One of the things that we did to set us up for success is that we made sure that we were successful in year one of the rollout at all costs. We had a new principal who was coming into our intermediate middle school and we worked very closely with her to develop a teaching team in that seventh grade. During that pilot year, those teachers were pulled from all areas of the school and all different grade areas. We tried to pick people who had good academic test scores, as well as a pretty good working knowledge of instructional technology. We wanted them to vet everything that we were doing, and the digital tools that we were going to provide. We also wanted them to knock holes in it along the way too, to say this isn't working, we need to change this.
There were days that first year where everything went great and they said we can never sit back into doing things the old way that we used to do them. There were also days where technology was the worst thing in the world and we can't do this another day. We just had to learn to work through all of that and be patient and try to learn it as we go.  We really focused on professional development all along the way. We had hundreds and hundreds of PD sessions outside the school, before school, online, just to try to prepare teachers for the change. But until you're sitting there in that classroom actually trying to do it, it's a lot different.
——
Teacher involvement matters throughout the entire 1:1 student device program implementation, but especially at the beginning. While some districts keep the early stages of student device planning within the administration, Lenoir City Schools did the opposite, and it has and continues to pay off for their teachers and students.
Keep an eye out for future posts featuring more members of Lenoir City School's technology team and on how they work together to maximize their 1:1 student device program!
Looking for more helpful edtech resources?
In addition to web browser updates and bug fixes, Dyknow released several major product updates, new features and enhancements. Check out Dyknow's 2021 Year in Review!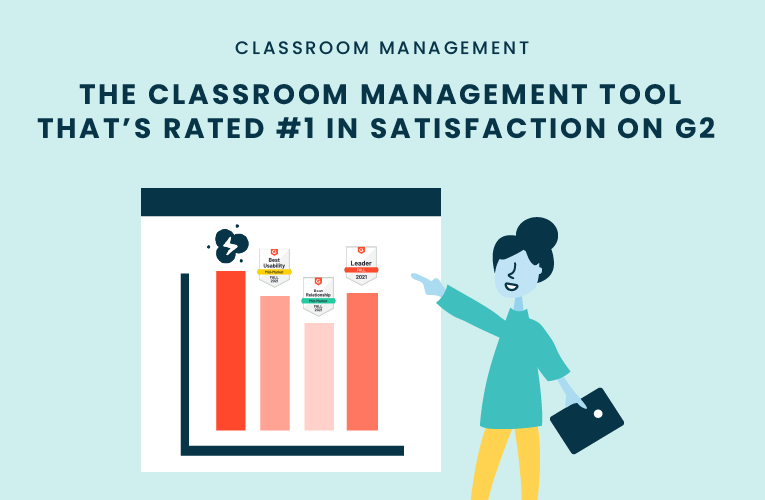 K-12 Administrators across the world trust G2 as the #1 platform to find, research, and choose EdTech tools that solve the most pressing problems their teachers are experiencing. In G2's Fall 2021 Reports, Dyknow was once again rated #1 in overall Satisfaction out of...
On this episode of Tackling Tech, Tierra Leustig interviews Scott Bayer about being an anti-racist teacher, diversifying reading lists, creating inclusive learning environments, and leveraging ed-tech in non-technical ELA classrooms. Scott Bayer is a High School...