2020 has been an absolute whirlwind for everyone, especially educators. Administrators, teachers, and tech coaches alike have shown an immense amount of resilience while balancing the unanticipated changes to their work and home lives. Over the last year we have had numerous conversations with educators from around the world to learn what resilience has looked like for educators in 2020. In a recent conversation, Mandy Froehlich spoke with us about teacher resilience and how resilience is the defining factor of education in 2020.
Teacher Resilience 
What defines teacher resilience?
Teachers have had to band together to make learning as effective as possible for students during the uncertain time of COIVD-19. Many challenges have been presented, with solutions that have transformed what education looks like today. Throughout this time, resilience among teachers has been defined by their passion and dedication to teaching, learning, and growing. This teacher resilience was shown through PLNs, creation of apps and technology, shared ideas on social media, webinars, training programs, integration of technology, willingness to learn, adaptation of new techniques and teaching styles, and the list goes on. 
The teachers that are continuing to fall forward, unafraid of change and risk, and actively seeking developmental opportunities, are the teachers who are thriving in this environment and have mastered the idea of resilience. 
3 Elements of Teacher Resilience in 2020
Over the past few months, Mandy has had time to work with her colleagues and find out what tools and tactics are working best for educators. She found that the ones who are thriving possessed these 3 qualities:
1. Self-care plan in place 
 Mental health for teachers is so important, especially during this time. For teachers, putting the needs of students before your own is of second nature, so make sure that you are able to take time for yourself.
2. Elements of personalized learning baked into teaching
Online teaching has popularly taken strategies from personalized learning to help increase student engagement. Mandy stated, "Online learning was never meant to work for the masses, but to account for students who didn't learn well in a classroom setting."
3. Some interest in technology 
Teachers who are willing to try new technology and have some motivation to utilize all of the tools and features are making the most out of a tough situation. You don't have to be super tech-savvy, as long as you are willing to take risks, fail, try new things for optimal growth.
Teachers who are struggling can take tips and tricks from those who are thriving to help close the gap between educators. To know these elements means educators can use them to help those teachers who are trying to stay afloat. Resilience in education can be shown through teamwork.
Listen to the full conversation with Mandy Froehlich on our Tackling Tech Podcast!
On this episode of Tackling Tech Podcast, powered by Dyknow, Brett McGrath speaks with Mandy Froehlich. Mandy is a consultant, author, and former Director of Technology and Integration. Mandy is championing for teachers' mental health and says that addressing teacher burnout is more important than integrating new technology during this difficult time.
Start teaching confidently with Dyknow for free!
In addition to web browser updates and bug fixes, Dyknow released several major product updates, new features and enhancements. Check out Dyknow's 2021 Year in Review!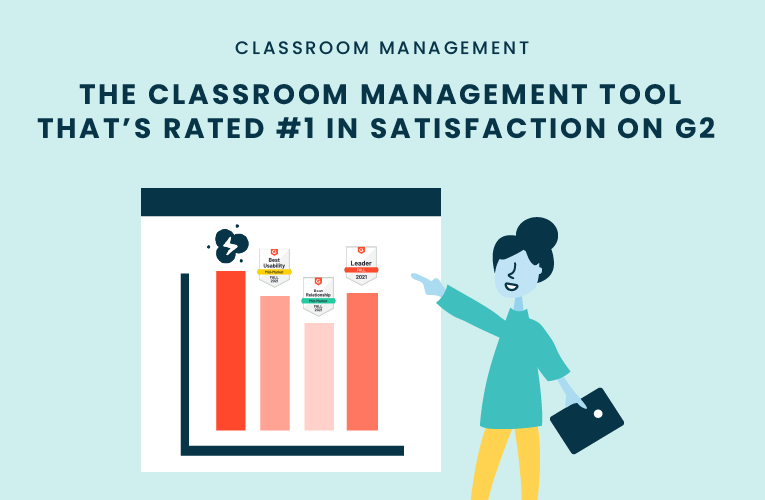 K-12 Administrators across the world trust G2 as the #1 platform to find, research, and choose EdTech tools that solve the most pressing problems their teachers are experiencing. In G2's Fall 2021 Reports, Dyknow was once again rated #1 in overall Satisfaction out of...
On this episode of Tackling Tech, Tierra Leustig interviews Scott Bayer about being an anti-racist teacher, diversifying reading lists, creating inclusive learning environments, and leveraging ed-tech in non-technical ELA classrooms. Scott Bayer is a High School...