After nearly a semester of remote learning and many schools continuing to conduct the Fall semester remotely, it can be tough for educators to remain positive. Many educators conducted emergency remote learning due to COVID-19 with the hope that they would be back in the classroom with their students come Fall. For a majority of educators, that has not been the case.
We recently spoke with Dr. Marcia Tate about how educators can remain positive during these unprecedented times and prepare to eventually be back with their students face-to-face.
Why it is important to stay positive during remote learning
Having worked with and spoken to thousands of educators, Dr. Marcia Tate has heard a lot of different sentiments during remote learning and one huge takeaway she has from this time is how important it is for educators to stay positive during remote learning.
She shared that although it is really easy to be negative during these unprecedented times, it is so important that educators stay positive for the sake of themselves, their students, and their communities. Dr. Marcia Tate is an expert in brain-based learning, and she explained that it has been proven that "when the brain is in a state of crisis or high stress, it does not retain information and it becomes very difficult to learn."
Because of this, educators must prioritize staying positive and also promoting positivity for their students to make learning effective all around.  Dr. Tate went on, "anytime school leaders can be positive about remote learning and have teachers and students looking forward to virtual or face to face classrooms, that will be beneficial to all stakeholders."
3 tips to stay positive during remote learning
In order to remain positive during this time of remote learning, it is important that educators develop skills that will help them maintain a positive attitude and outlook that goes beyond the classroom. 
1. Practice mindfulness
Being mindful both personally and professionally during the pandemic is critical to maintaining positive mental health and practicing reflection. Mindfulness can take the form of both structured sessions as well as being embedded into your everyday life. For educators, there are a lot of tools that help promote and guide mindfulness that are free for those in the education community.
Apps like Headspace and Calm offer guided meditation and mindfulness exercises that help educators take a step back from the ongoing stresses of remote learning and remain positive. It is also important to embed mindfulness into your everyday life both personally and professionally. Professionally, staying mindful throughout the day can help educators remain positive during remote learning. Reflect on what is working, what is not working, how you feel throughout this time, how your students feel throughout this time and any stressors or soothers that you can identify. Mindfulness is the first step towards remaining positive during the pandemic, especially for educators who are conducting remote learning. 
2. Try something new
Trying new things in the remote classroom can be a great way to remain positive during this time. Although taking risks and trying things that are uncomfortable might seem daunting, trying new things that work and that enhance your instruction can be exciting and create positive momentum in your classroom. Focus on what new things are engaging for students and for yourself so that you can implement these or similar tactics when going back to the physical classroom. Having something new to look forward to can be a great way for students and educators to remain positive during this time of remote learning. 
3. Celebrate small successes
One of the common themes we've heard from educators during remote learning is that although it is easy to point out the negative aspects of remote learning, it is more important than ever to celebrate successes, big or small, in order to remain positive. This applies to individual educators, students, and teams outside of the classroom.
When reflecting, educators should write down and celebrate ways that they have succeeded during this time in order to keep themselves aware of the good that they are doing. In a similar sense, teachers need to highlight students' successes during remote learning, as a lot of students have found this time to be incredibly challenging. From a team perspective, focusing on positive successes can help boost team morale and identify individuals who have contributed to an overall team's success.
Listen to our full conversation with Dr. Marcia Tate
On this episode of Tackling Tech Podcast, powered by Dyknow, Brett McGrath talks with Dr. Marcia Tate, bestselling author of "Worksheets Don't Grow Dendrites 20 Instructional Strategies to Engage the Brain." These brain-based strategies include drawing, discussion, movement, and storytelling, and are backed by extensive research and science and encourages social emotional learning.
Start teaching confidently with Dyknow for free!
In addition to web browser updates and bug fixes, Dyknow released several major product updates, new features and enhancements. Check out Dyknow's 2021 Year in Review!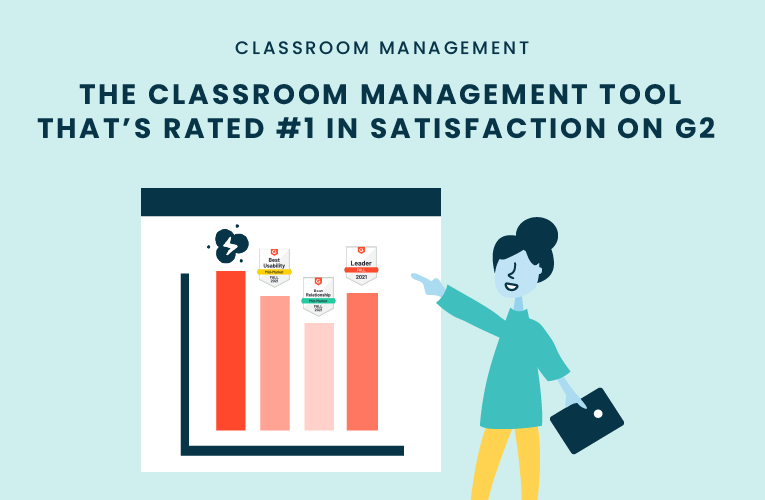 K-12 Administrators across the world trust G2 as the #1 platform to find, research, and choose EdTech tools that solve the most pressing problems their teachers are experiencing. In G2's Fall 2021 Reports, Dyknow was once again rated #1 in overall Satisfaction out of...
On this episode of Tackling Tech, Tierra Leustig interviews Scott Bayer about being an anti-racist teacher, diversifying reading lists, creating inclusive learning environments, and leveraging ed-tech in non-technical ELA classrooms. Scott Bayer is a High School...