Whether via social media or Zoom calls, we have spent the better part of the COVID-19 pandemic engaging with and having conversations with K-12 educators from all around the country. One of the biggest takeaways that we have gathered from these conversations is that in the age of remote and hybrid learning, the biggest challenge for many educators is student engagement and finding the right student engagement tools. 
Students are now learning from home which means that distractions during learning time can drastically increase and engaging students from a distance can be challenging. Young students are so accustomed to the in-person learning setting that the transition to hybrid or online learning can be very uncomfortable. Students have much less motivation and incentives to learn because of the lack of physical interaction and the isolation that COVID-19 has required. 
Because of this, educators are working harder than ever to go the extra mile and make sure that students aren't falling behind due to lack of engagement. This is a time where educators have been challenged to come up with new and creative ways to engage students both remotely and in hybrid environments.
Katie Bond and Debra Jacoby recently joined us during our Florida Student Engagement Summit to discuss student engagement and share best practices that are working for their teachers during hybrid and distance learning. From our conversation, we've compiled a list of 7 student engagement tools to use to make hybrid learning easier. 
7 Student Engagement Tools for Hybrid Learning
Technology tools that have the power to enhance and transform instruction are one of the best ways to increase student engagement during hybrid and remote learning. Here are the 7 technology tools that you should consider when thinking about student engagement with hybrid learning.
An interactive whiteboard that allows teachers to incorporate fun digital aspects into their classroom. A Jamboard is a touch screen and allows much more than the typical whiteboard. Teamwork, collaboration, efficiency, etc. are all promoted with a Google Jamboard. Learn more about Jamboards from Katie Bond at our Florida Student Engagement Summit. 
A popular tool among K-12 educators that acts almost like a digital bulletin board for a classroom. Teachers are able to connect with students through Padlet as well as to conduct collaboration among students, share notes, make posts, etc.
This is a great tool to have discussions over a piece of text for the class. Diigo gives teachers a way to create an online class that allows them to upload courses and materials such as links, readings, videos, etc. Students are able to annotate text and directly message or have discussion boards over their readings. Feedback features are also available.
Maria Angel Ferrero described Hypothes.is as a tool that, "goes beyond traditional digital annotation, they enable sentence-level note-taking or discussion on classroom reading, news, blogs, scientific articles, books, terms of service, ballot initiatives, legislation, and more. The beauty about it is that it promotes web literacy and digital citizenship in students, more than any other app." Similar to Dijgo with a bit more of an in-depth approach.
Wakelet allows educators to curate and organize content from anywhere to save and share with anyone. Another popular tool amongst K-12 educators that has a plethora of valuable features and is also easy to navigate. Wakelet is a great platform to promote creativity and critical thinking.
A jeopardy style approach to learning. Kahoot is a learning quiz tool that allows players to enhance their learning through games, electronics, and competition. Make learning fun with Kahoot by playing in class and allowing for students to host their own games on their own time.
Maria Angel Ferrero stated, "With Sli.do you can empower your students to ask questions, vote in polls, and be a part of the lecture by using a simple Q&A and polling tool. Sli.do is a great tool for promoting active learning in online classes. It allows you to involve your students in your lecture and give them the freedom to express their opinion via live polls, quizzes, brainstorming."
If you are looking for more ways to learn about student engagement and find more great student engagement tools, keep an eye out for another exciting student engagement event that we will be hosting in December. Registration will open soon!
Start teaching confidently with Dyknow for free!
In addition to web browser updates and bug fixes, Dyknow released several major product updates, new features and enhancements. Check out Dyknow's 2021 Year in Review!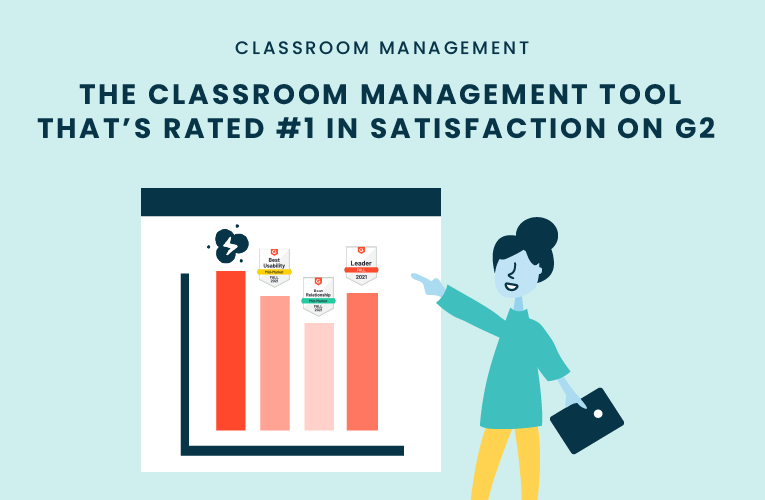 K-12 Administrators across the world trust G2 as the #1 platform to find, research, and choose EdTech tools that solve the most pressing problems their teachers are experiencing. In G2's Fall 2021 Reports, Dyknow was once again rated #1 in overall Satisfaction out of...
On this episode of Tackling Tech, Tierra Leustig interviews Scott Bayer about being an anti-racist teacher, diversifying reading lists, creating inclusive learning environments, and leveraging ed-tech in non-technical ELA classrooms. Scott Bayer is a High School...