Schools with successful 1:1 device programs know that monitoring student devices is one of the most important ways to ensure that devices are used to enhance learning. More importantly, these schools also know that in order to truly transform learning, teachers must engage, communicate with students, and regularly review the impact of devices in the classroom.
This week on The Dyknow Digest, we're answering a question submitted by Amy Stenzel and sharing how teachers can do more than just device monitoring with Dyknow. Whether you are looking to engage students, communicate with students, or understand how devices are being used for learning, Dyknow is a one-stop-shop for these needs. Not a Dyknow user? Start Your Free Trial Today!
The Question:
"I would like to see videos about engaging students in vitual learning and how to use Dyknow as more than just a supervising tool."

– Amy Stenzel
3 Ways to Use Dyknow for More Than Just Device Monitoring
Primarily, Dyknow is a student device monitoring platform with which teachers can passively or actively monitor student devices during class and create blocking plans to eliminate off-task behavior before it happens. Many teachers are looking to go beyond device monitoring in the classroom, and Dyknow offers great solutions for doing so. 
Educators can use Dyknow in 3 primary ways beyond device monitoring: To increase student engagement, communicate with students, and understand device impact on instruction.
1. Engage students with Dyknow
Dyknow can be used by teachers to increase student engagement during class by measuring student understanding and conducting brief Q&A sessions.
The Question Bank and Check for Understanding features enable teachers to easily send out a quick question to students to engage them in learning or send out a quick poll to gauge how well students are understanding the lesson.
To use Dyknow's Question Bank, teachers can navigate to the "Question Bank" tab and create a new question or use a previously saved question to send to students. These questions can be answered in multiple-choice, true/false, or yes/no format. Many teachers use Dyknow questions to send out a quick quiz during class, get students to share input on a topic, or for a fun poll like where to have recess.
Using the Check for Understanding feature for engagement is just as simple. Teachers can navigate to the checkbox icon on the right of their screen and the Student Understanding panel will appear. From there, teachers need only to click the "Request" button, and the Student Understanding poll will appear on student screens asking them to respond with how well they are understanding the material. These responses will appear as a pie chart so teachers can easily measure student understanding.
2. Communicate with students in Dyknow
Communicating with students through devices during class is important to teachers who are teaching remote, hybrid, and in-person. 
With Dyknow, teachers can easily communicate with students by sending a message to one, all, or a few students during class. Teachers need only to navigate to Dyknow's Send a Message feature, choose a pre-populated message or write a custom message, and choose which students to send it to. 
In order to send the message as a notification without locking student devices, just select "No" on the Lock Student Device toggle.
3. Understand device impact on instruction
The most important part of technology integration is understanding how students are using devices during class and how devices are impacting instruction overall. 
Are devices detracting from instruction? Enhancing it? Transforming it? 
Dyknow can help teachers answer these questions by using the Class History feature to review student device activity after class. Teachers can review what sites and apps students have been using during class, as well as if they have been trying to access blocked sites. Filtering these analytics by date, class, or student can help teachers drill down into how devices are impacting instruction overall.
Devices should be used to enhance and transform instruction whether you are teaching in a remote, hybrid, or in-person environment. Dyknow helps teachers ensure that devices are doing so by monitoring activity during class and enabling teachers to engage, communicate, and review activity with students. 
Get Class History for your classroom with Dyknow for free!
In addition to web browser updates and bug fixes, Dyknow released several major product updates, new features and enhancements. Check out Dyknow's 2021 Year in Review!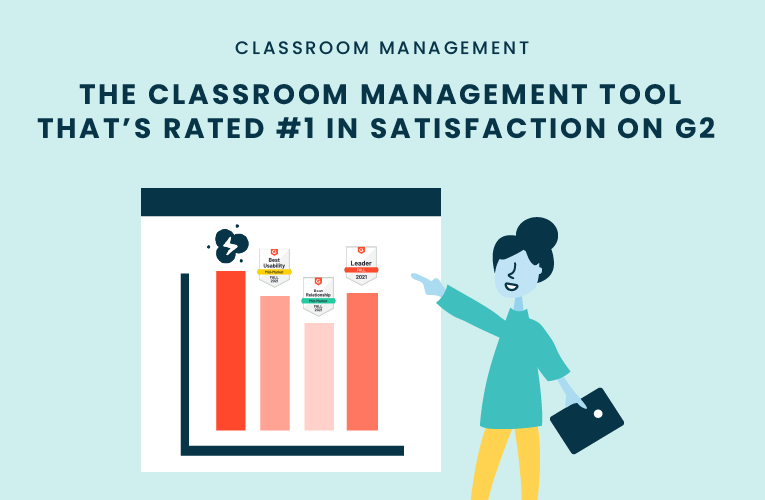 K-12 Administrators across the world trust G2 as the #1 platform to find, research, and choose EdTech tools that solve the most pressing problems their teachers are experiencing. In G2's Fall 2021 Reports, Dyknow was once again rated #1 in overall Satisfaction out of...
On this episode of Tackling Tech, Tierra Leustig interviews Scott Bayer about being an anti-racist teacher, diversifying reading lists, creating inclusive learning environments, and leveraging ed-tech in non-technical ELA classrooms. Scott Bayer is a High School...