Technology can be a bit daunting if you aren't proficient in the basics, especially when it comes to making videos. Distance learning has transitioned the traditional classroom model into something quite innovative and time with endless technological opportunities, one of the biggest opportunities being creating distance learning videos to facilitate instruction. We recently sat down with STEM teacher Chris Woods to find out some great ways to incorporate and create distance learning videos
The Importance of Creating Distance Learning Videos
Unlike some educators, Chris is very knowledgeable about his technology resources and actively used them in his lessons prior to distance learning; so the transition to videos, for his students, was not as difficult or out of the ordinary as it might have been for others during distance learning.
Chris regularly posts videos on YouTube and has quite a following, so he decided to use the platform he already built to continue to educate his students through distance learning videos during this time. 
Youtube has become a huge resource for students with the abundance of informational videos, how to's, crash courses, etc. This can be an incredibly useful platform to get your video content out to your students and for any other students who might need extra help from around the world.
3 Tips for Distance Learning Videos to be Effective
1. Be visible in the video
Being in the video gives students a sense of continuity while simultaneously nurturing a connection with the teacher. Trying to recreate the face-to-face classroom experience with distance learning videos can help students feel at ease and help them to continuously be successful during this experience while avoiding the security risks that come with video conferencing.
2. Keep videos short 
Students have such short attention spans that they don't want to be sitting around watching a 30-minute video for a lesson. Students benefit much more from 30 seconds to 2-minute videos that cover one specific problem or topic.
This also makes it easier for students to know which videos to go to get their questions answered and find help on each specific topic. If you take the time to create adequate distance learning videos you can reference these videos for future lessons as well.
3. Find Substitutions
Resources that would be found in any classroom might not be readily available while conducting distance learning. Find substitutions for the items you might not have outside of the classroom by using items you have laying around the house. 
A good example that Chris suggested was recording yourself using a piece of paper to work out problems if you don't have a whiteboard. Be creative when adjusting to distance learning and take risks with your distance learning videos.
Are Distance Learning Videos Effective?
Chris explains that the feedback he has received from his students has been overall positive. He isn't getting many students saying that they aren't understanding the distance learning videos he is creating and posting.
Chris's overall goal is to try and give students very simple step-by-step tasks to create a level of consistency for them. "We need to be a bit more like Mr. Rogers," as Chris stated when we spoke on consistency for students.
Being aware of the right resources to create and publish effective distance learning videos is so important in making this transition as easy as possible. The hardest part of starting something new is getting yourself to start, so start now.
Listen to the full conversation with Chris Woods on our Tackling Tech Podcast!
On this episode of Tackling Tech Podcast, Brett McGrath speaks to Chris Woods, a high school math teacher in Michigan, STEM advocate, and host of the Daily STEM Podcast. Chris creates valuable STEM resources for parents, teachers, and students. He is excellent at engaging students in fun and meaningful ways, even while teaching remotely, to learn about STEM in their daily lives as well as in the classroom. Chris is the founder of dailySTEM and the STEM Everyday Podcast.
Start teaching confidently with Dyknow for free!
In addition to web browser updates and bug fixes, Dyknow released several major product updates, new features and enhancements. Check out Dyknow's 2021 Year in Review!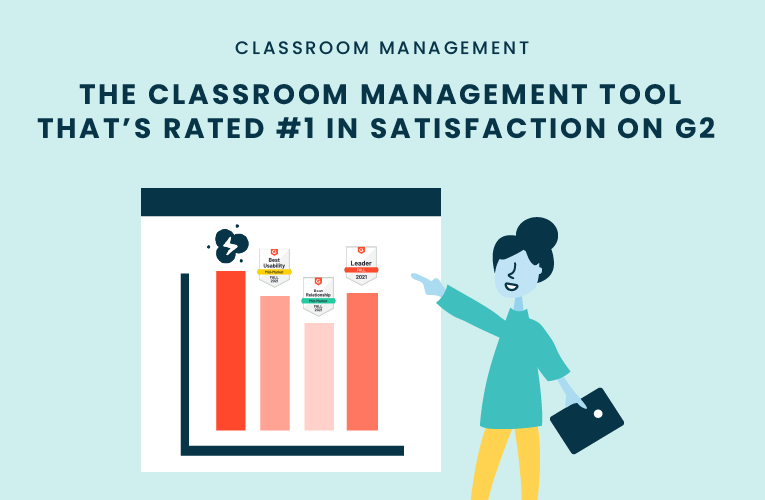 K-12 Administrators across the world trust G2 as the #1 platform to find, research, and choose EdTech tools that solve the most pressing problems their teachers are experiencing. In G2's Fall 2021 Reports, Dyknow was once again rated #1 in overall Satisfaction out of...
On this episode of Tackling Tech, Tierra Leustig interviews Scott Bayer about being an anti-racist teacher, diversifying reading lists, creating inclusive learning environments, and leveraging ed-tech in non-technical ELA classrooms. Scott Bayer is a High School...