A massive trend that has hit the technology world is podcasting. As defined by dictionary.com podcasting is, "the practice of using the Internet to make digital recordings of broadcasts available for downloading to a computer or mobile device." Podcasts have become the audio alternative for youtube or vlogs. Many people from all fields and interests have adapted to podcasting to create conversations around topics that people can listen to on the go. Many popular uses for podcasts are when working out, on the way to work, personal gain, entertainment, and professional development. Podcasting is breaking its way into the K-12 classroom with teachers innovating ways to create lessons around podcasting. In a recent conversation with Adam Welcome, he described why podcasting works, how he uses podcasts in his classroom, and how to begin podcasting in your classroom.
Benefits of Using Podcasting in the Classroom with Students
Podcasting can sound like a large task to take on during the school year, especially when teachers are unsure as to how their students will respond to this way of learning. Let us ease some of that uncertainty.
Adam describes podcasting as the number one way for teachers to use technology in their classrooms. He explains how podcasts are a great way to connect various mediums into one tool. With podcasts teachers are able to demonstrate editing, writing, producing, recording, and communication skills to their students. Adam explained that Using technology like podcasting gets students to be interested in something they may not have been interested in before. 
Podcasting opens the door for students to invest in other podcasts and become more informed and interested in other topics. This also allows for a growth in interest for students to create their own podcasts. When leading by example, students are more likely to follow in those footsteps and build their skills without even realizing the benefits. Since the skills used to create a podcast are very general, they are applicable to any potential career path a student might go down in the future. Early exposure can result in exponential growth potential.
How Adam Uses Podcasts in His Classroom 
One of the main ways adam described using podcasting in his classroom is during reading lessons. He would use his podcast as a way to read to students while also imposing questions to engage thought-provoking. In this case, students are able to listen along with an assigned reading while also moving at their own pace. Podcasting is incredibly beneficial for Adam during remote learning because he doesn't have to spend class time reading the assignment to them. He is able to assign the reading, have the students complete it on their own time, and then spend class time answering their questions and developing their learning comprehension.
Get Started with Podcasts in Your Classroom
1. Stop talking, start doing
Adam explained that most things never get done because they never get started. There is never a perfect time to start. Once you start all of the excuses disappear. Sometimes just starting with what you have is the best way to get started and motivate you to build and up your game. Once you try, practice, and master what you are trying to accomplish, you will be able to advance whether in revenue, tools, or personal progress. 
"Take the excuses out of the equation and just start right now." – Adam Welcome
2. Think big but act small
Thinking big and acting small embodies the idea that starting slow and with caution can help you meet your goals faster and more effectively. In many cases, people jump into ideas head-on without evaluating their environment or situation. Adam recommends starting small by trying a new tool or teaching style with a small focus group to see how they respond before implementing a new tactic into the entire classroom. If something does work, don't force it. Try something else to engage your students. Hundred of tools are available online, so try something else.
3. Don't use TMI (Too Many Initiatives)
TMI is a huge issue in classrooms today. Too many initiatives are causing many teachers and schools to struggle with finding the right tools to use in their classrooms. Many are initiating tough conversations with staff to acknowledge what is and inst working and create solutions to overcome these obstacles. Adam stated, "if you want to move forward and make a change sometimes you have to be uncomfortable"
4. Be a hard worker but not a workaholic
Adam emphasizes the need for teachers to evaluate what they are doing in their classrooms. Many teachers seem to be working even harder than expect and spending unnecessary time on tasks that should not be of priority. Set limits and priorities during your workday so that you can be effective in finishing your work within a healthy time frame. Don't spend an hour on something that could've been finished in 10 mins. Sometimes good enough is good enough. "Not everything needs to be done with 100% fidelity," stated Adam. If the outcome or how it received from others will not be changed whether it's done with 100% or 75% don't spend the extra time on it.
A teacher's next big break is possible when you stop talking and start doing, and think big but act small. Podcasts are an up and coming teaching tactic in k-12 classrooms, start your podcast today!
Listen to the full conversation with Adam Welcome on our Tackling Tech Podcast!
On this episode on Tackling Tech, powered by DyKnow, Tierra interviews Adam Welcome, an Elementary Principal, speaker, consultant, author, and former teacher and Director of Innovation. Adam shares how students and teachers can utilize podcasting in the classroom. When in comes to integrating technology in the classroom, Adam wants educators to stop talking and start doing.
Start teaching confidently with Dyknow for free!
In addition to web browser updates and bug fixes, Dyknow released several major product updates, new features and enhancements. Check out Dyknow's 2021 Year in Review!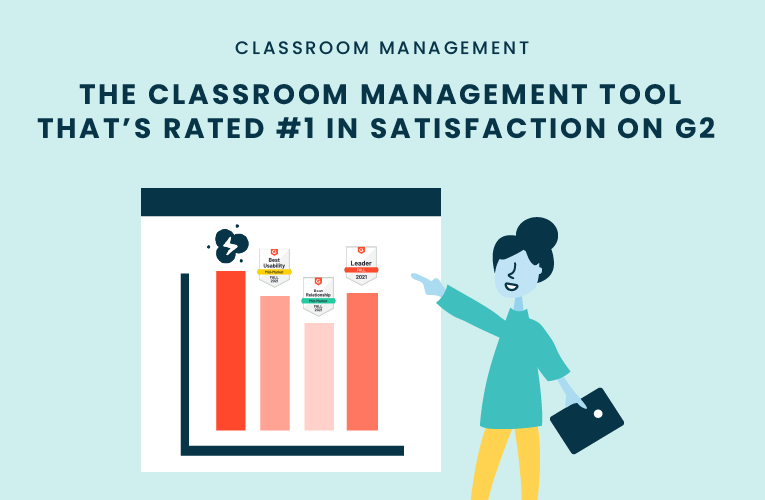 K-12 Administrators across the world trust G2 as the #1 platform to find, research, and choose EdTech tools that solve the most pressing problems their teachers are experiencing. In G2's Fall 2021 Reports, Dyknow was once again rated #1 in overall Satisfaction out of...
On this episode of Tackling Tech, Tierra Leustig interviews Scott Bayer about being an anti-racist teacher, diversifying reading lists, creating inclusive learning environments, and leveraging ed-tech in non-technical ELA classrooms. Scott Bayer is a High School...