In December of 2020, we reached out to technology integration expert, Kathi Kersznowski, to join us on our Tech Coach Corner YouTube series. Little did we know that Kathi and Washington Township SD would end up being a success story for Dyknow.
We received a long direct message from Kathi outlining how her school and team were struggling to find the right tool that fit their needs; and right as they had hit a wall, Kathi found Dyknow through our Twitter outreach to her. Immediately, we set Washington Township SD up with a Dyknow free trial to help Kathi get her school and team back on the right path for device monitoring as soon as possible. In a recent conversation with Kathi, we learned more about her Dyknow free trial experience and how their team has structured their Dyknow pilot group. 
The structure of Washington Township SD's Dyknow free trial is ideal in the sense that they've included teachers from every grade level and discipline to understand how Dyknow would fit into any learning setting.
The importance of structuring a Dyknow free trial
Creating the right framework for district trials is so important for the success of the school using new software and technologies. With any pilot period, it is crucial to take the time to assess and effectively implement the product successfully. Regardless of what kind of technology is being implemented, it's important for schools to use a diverse sample size as their pilot group so that they can establish how a tool will be used in various settings.
Washington Township SD was able to embody this ideal trial structure and design an implementation plan that would measure how Dyknow's device monitoring software would fit the specific needs of various teachers.
Who should be involved in a Dyknow trial group?
Kathi explained that Washington Township SD selected a group of teachers who would participate in their Dyknow trial before a district-wide implementation was initiated. Dyknow trial accounts were distributed between 18 staff members throughout their 7 elementary schools.
Including teachers from each grade level, librarians, and Special Education teachers enabled Kathi's team to get feedback from a diverse pilot group.
Start small and slow with Dyknow
Ideally, technology teams should enable teachers to trial Dyknow at their own pace. Kathi's team did just this by asking their teachers to start slow and start small before training them to use more interactive features within Dyknow.
During their first week, Kathi shared that all they asked from the Dyknow trial group was to conduct passive monitoring, review the data after class, and experiment if they wanted to. 
"Click start, click stop; and look at the data. That is all we asked of them week one." – Kathi Kersznowski
The idea behind this strategy is to gain constructive feedback from all corners of the district, and from educators who may be using Dyknow in ways that are unique to their classrooms.
What's next?
After the trial is completed, each school will already have a Dyknow expert teacher who can support other teachers when implementing Dyknow district-wide. The feedback received from Washington Township SD staff has been that the ease and effectiveness of Dyknow's free trial set their technology team and teachers up for success with device monitoring in 2021.
The thoughtful planning and structure of Washington Township SD's Dyknow free trial enabled them to have a successful trial experience. Their collaborative structure and proactive implementation design is a great model for other schools and districts who are looking to implement Dyknow by first conducting a trial period. Starting slow and assessing all aspects of Dyknow allows districts to utilize all of the benefits of Dyknow's monitoring software.
Listen to the full conversation with Kathi Kersznowski on our Tackling Tech Podcast!
On this episode of Tackling Tech, Tierra Leustig interviews Kathi Kersznowski, TechIntegration Expert, Educator, Keynote Speaker, and Co-Author of Sail The 7Cs. Kathi connected with the Dkyknow team through Twitter right at the time her school was looking for a way to keep students on task during remote learning.
Start teaching confidently with Dyknow for free!
In addition to web browser updates and bug fixes, Dyknow released several major product updates, new features and enhancements. Check out Dyknow's 2021 Year in Review!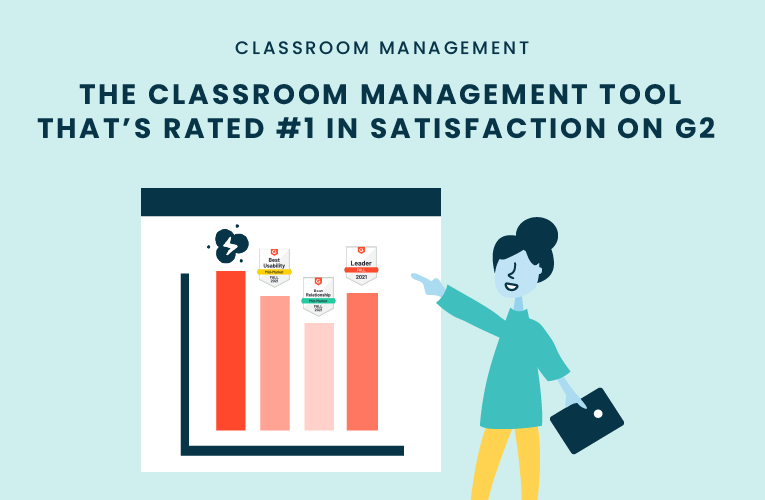 K-12 Administrators across the world trust G2 as the #1 platform to find, research, and choose EdTech tools that solve the most pressing problems their teachers are experiencing. In G2's Fall 2021 Reports, Dyknow was once again rated #1 in overall Satisfaction out of...
On this episode of Tackling Tech, Tierra Leustig interviews Scott Bayer about being an anti-racist teacher, diversifying reading lists, creating inclusive learning environments, and leveraging ed-tech in non-technical ELA classrooms. Scott Bayer is a High School...