Traditionally, blended learning is based on the notion that everyone learns differently. Some students learn better with pen and paper, while others work better with technology. However, with the onset of distance and hybrid learning, these two learning styles can no longer be mutually exclusive. Rather, educators must be able to practice blended learning by combining in-person and distance learning with both traditional and technology-driven instruction. 
This week on The Dyknow Digest, we're answering a question submitted by John O'Neill and sharing how K-12 teachers everywhere can use Dyknow to support blended learning in hybrid learning and distance learning circumstances. Not a Dyknow user? Start Your Free Trial Today!
The Question:
"Can't say enough about how Dyknow is working dilligently at making a difference in the education community. If I could offer a suggestion, it would be to ask for more suggestive content utilizing Blended Learning strategies. Much of what we are doing now will eventually transfer into more blended learning when this pandemic finally subsides and we return to in-class teaching and learning. Thus, developing strategies now will only pay dividends down the road. Again, thank you Dyknow for caring about educators and cor being a source of support. Your assistance is very much appreciated!"

– John O'Neill
Use Dyknow to Support Blended Learning
As John stated in his question, the strategies that educators have leveraged during distance learning will undoubtedly translate into blended learning strategies once students return to in-class instruction. There are a few blended learning tactics in particular that educators are using for distance learning and will continue to use in the classroom to continue blended learning.
In order to enhance these strategies, making them truly effective and engaging, it's helpful to find technology tools to support methods of blended learning in the classroom and remotely.
This article will share how educatos can use Dyknow to support blended learning strategies such as station rotation in remote and hybrid environments as well as in the classroom.
Blended Learning with Station Rotation
A station rotation format is one of the most popular and effective methods of blended learning in the classroom, but it can also be applied to remote and hybrid learning as well. A station rotation format involves the teacher creating 4 stations that students rotate between to consume class content, interact with their teacher and peers, and complete learning activities using technology. Typically, each station involves a different learning goal with various learning activities to get the most value out of each station. Below is an example of the station rotation model and how teachers can use Dyknow to support blended models like station rotation.
Station 1: Practicing the 4 C's
At this station, students complete learning activities that model the 4 C's of 21st Century Learning (communication, collaboration, creativity, and critical thinking) to guide blended learning. At this station, students are producing work using one or more of the 4 C's rather than consuming it. Because students are using this station to produce work, it is important to ensure that they are on task and working with the material that they need to complete the activity.
Use Dyknow to Support Blended Learning at Station 1
At all four stations, time is limited for students to complete the work or activity at each station, so it is crucial to ensure that time is not wasted when students are working. To support the work that is produced at Station 1, teachers can use Dyknow's segmented blocking feature to set up an Allow Only Blocking Plan for students who are currently working at the station. To make the most of this station, only allow sites that students will need to use at this station to research and gather material to produce their work on the 4 C's. When students rotate, simply remove the blocking plan for those students and implement it for the new group of students at Station 1.
Station 2: Teacher-Led Work
This station is teacher-led where a group of students works in small groups with the guidance of the teacher. In these small groups, students work with their teacher to learn a new concept or to review skills from previous lessons. While students learn these new concepts at the teacher-led station, the teacher has the opportunity to work one-on-one with students to help them go deeper into material or help with any questions they may have. 
Use Dyknow to Support Blended Learning at Station 2
The teacher-led station is the most interactive with the class teacher and also the station where the teacher will be all class. At this station, it is important that the teacher has the availability to work with students at the station as well as make sure students at the other three stations are working effectively and are getting questions answered. Teachers can do this using Dyknow by viewing student screens in thumbnail view to ensure they are where they need to be. If a teacher notices that a student is having trouble with a task, they can easily send that student a message or check student understanding using a quick poll to ensure that students are learning the material effectively.
Station 3: Independent Learning
The independent station is critical to students' mastery of material through blended learning. Students work independently at station 3 and are practicing skills they have previously learned. Because students are working at this station to master the learning material, it's important to ensure that they are where they need to be with minimal distractions. It's also helpful for teachers to have formative assessment methods in place at this station so that they can make sure individual students are effective in their mastery. 
Use Dyknow to Support Blended Learning at Station 3
Similar to Station 1, teachers can use Dyknow to create a segmented blocking plan in place for Station 3 to ensure that students at this station only have access to the material they are mastering as well as access to the formative assessment and mastery activities that they are completing. In order to measure student mastery through their work at Station 3, teachers can create an entry quiz and an exit quiz for students. In Dyknow, teachers can use the question bank to set up questions to measure students' mastery of the topics, and send it out in quiz form to that group of students to measure their knowledge of the material before their work at Station 3 and after they have worked on mastery activities through the duration of the station. 
Station 4: Digital Content Activities
This station is focused on digital content where students are solely using computers or other technology to complete activities that reinforce the lesson. Examples of programs that can be used for activities at Station 4 include EdPuzzle, iReady, and Gizmos. Station 4 uses the most technology and is intended to help students utilize the learning, content, and mastery that they have attained at the 3 previous stations to complete online learning activities. This station also helps students balance the use of technology with lewarning.
Use Dyknow to Support Blended Learning at Station 4
Station 4 uses the most technology out of all the stations in this rotation, so it is critical to ensure that the devices and technology tools used are done so effectively. Depending on how strict they want the station to be, teachers can set up an Allow Only Blocking Plan to allow only the tools used for the learning activities, or teachers can set up a Block Only Blocking Plan to block distracting sites that students might be tempted to use such as entertainment, social media, and gaming sites.
Blended learning is going to be top of mind for educators when they transition back to the in-person classroom. So, it is important to understand how to apply blended learning strategies such a station rotation to the remote and hybrid classroom to ensure they are successful in the classroom. Hopefully, these tips help you understand how to use Dyknow to support blended learning with station rotation in any learning environment. Stay tuned for next week's Dyknow Digest article.
Start engaging students with Dyknow for free!
In addition to web browser updates and bug fixes, Dyknow released several major product updates, new features and enhancements. Check out Dyknow's 2021 Year in Review!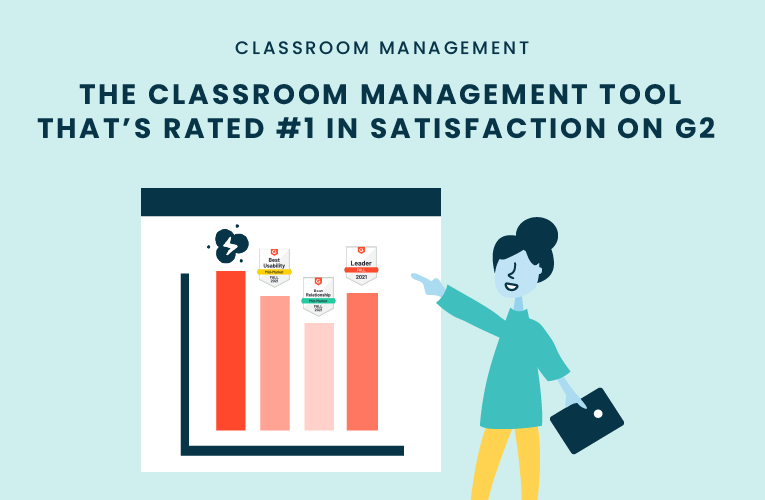 K-12 Administrators across the world trust G2 as the #1 platform to find, research, and choose EdTech tools that solve the most pressing problems their teachers are experiencing. In G2's Fall 2021 Reports, Dyknow was once again rated #1 in overall Satisfaction out of...
On this episode of Tackling Tech, Tierra Leustig interviews Scott Bayer about being an anti-racist teacher, diversifying reading lists, creating inclusive learning environments, and leveraging ed-tech in non-technical ELA classrooms. Scott Bayer is a High School...