Building PLNs is one of the most beneficial things K-12 educators can do for professional development, networking, and ultimate success. Bruce Reicher, a technology teacher at Upper Saddle River Public Schools, recently sat down with us to talk about his role teaching media, how remote learning has affected this role, and how he develops a global PLN through digital channels.
As with many teachers, Bruce did not initially think that teaching would become his career. He received his degree in Radio and TV Production and is passionate about the sports world. However, Bruce explained that throughout his career he has discovered that teaching is where he was meant to be, and is even more passionate about instructing radio and tv production in the classroom.
Like most people who work in K-12 education, the onset of remote learning has changed virtually everything about his role.
Teaching media amidst remote learning
Before remote learning set in, Bruce shared that for the past twenty years, his students' production schedule has not changed. Each morning, he and his media students would get to school around 7:30 a.m., and host a live TV show each morning promptly at 8:30 am. But the onset of remote learning changed everything.
Now, students are not able to congregate in a production studio to put on the show, and neither are they able to create all the content for their shows, so Bruce has had to cut back on the frequency as well as style of shows they produce. Students now broadcast one show per week, and everything in the TV show is prerecorded and produced so that a variety of student content can still be showcased.
Maintaining consistency with technology tools
Bruce's motto throughout our conversation was simplicity. He explained that being a technology teacher can become overwhelming at times given the various technology tools that are out there. However, he has combatted this by creating a simple, consistent technology toolkit that works for him.
The 3 tools that are on Bruce's list of essentials are…
Wakelet
WeVideo
All Google tools
He explained that with these three tools, he and his students can do everything they need to for their radio and TV production without feeling overwhelmed with having to learn a variety of complex tools. This simplicity of technology tools enables him to keep it simple for himself and for his students so that he is able to do everything in one place instead of mixing in a ton of different tools. 
Bruce shared that the onset of remote learning only reinforced his theory of simplicity. Remote learning allowed him to try the "best of the best" technology tools because they were being offered for free, and given the choice, he would still use his chosen tools.
Building a strong PLN during remote learning
One of the downfalls of remote learning is that educators are no longer surrounded by colleagues and peers who they can engage with and learn from on a daily basis. This has provided the opportunity for K-12 educators to develop their PLNs in other creative ways during this time.
Bruce shared that he has found many benefits from turning to his external PLN during this time of remote learning. He shared two pieces of advice for building external PLNs: Twitter and virtual EdCamps.
Building PLNs on Twitter
Bruce's advice for Twitter is to start small. He recommended following a core group of people for a topic of interest who you can learn from – Eric Curts and Kasey Bell are a few of his favorites. He also encouraged educators to forget about the number of followers they have – it's not about that, it's about improving and getting quality information, and if you keep it small at first, you will see that. 
In addition to finding a few people to follow, he also recommended finding one or two hashtags to follow that have active Twitter chats. Twitter chats are a great way to engage with your PLN live, answering questions a few times a week, and gaining valuable insight on various topics. One of his favorite Twitter chats is called #satchat which he attends every Saturday morning.
Virtual EdCamps
Bruce's other piece of advice for building PLNs during remote learning is to attend virtual EdCamps. These are virtual conferences that are held in different parts of the United States to conduct professional development and learning for K-12 educators. 
Due to remote learning, a lot of EdCamps have become virtual, opening their doors to people outside of their state or direct community. Bruce sees this as a huge opportunity to attend virtual events and engage with people from all over the country, growing his PLN even more. 
Listen to our full conversation with Bruce Reicher
This week Brett talks with Bruce Reicher a middle school teacher who teaches television production, coding, and G Suite in New Jersey. Bruce and two other tech teachers co-wrote a book with ideas for teaching media production available in August. Bruce is shares tips on building a PLN (professional development network) and his background in sports broadcasting.
Start teaching confidently with Dyknow for free!
In addition to web browser updates and bug fixes, Dyknow released several major product updates, new features and enhancements. Check out Dyknow's 2021 Year in Review!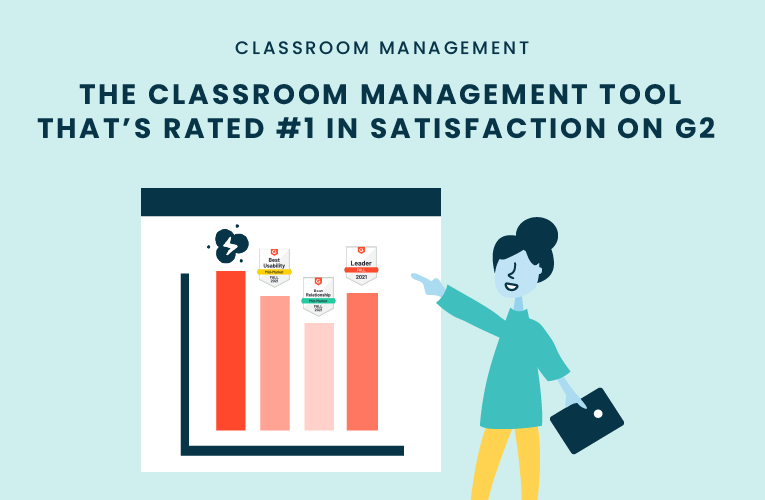 K-12 Administrators across the world trust G2 as the #1 platform to find, research, and choose EdTech tools that solve the most pressing problems their teachers are experiencing. In G2's Fall 2021 Reports, Dyknow was once again rated #1 in overall Satisfaction out of...
On this episode of Tackling Tech, Tierra Leustig interviews Scott Bayer about being an anti-racist teacher, diversifying reading lists, creating inclusive learning environments, and leveraging ed-tech in non-technical ELA classrooms. Scott Bayer is a High School...