There are a lot of parallels between the world of K-12 education and the world of business. Recently we spoke with Evan Robb, best known for his 2019 TED Talk, to get an understanding of how these two industries intersect, and what education can learn from business.
Before going into the specifics of what education can learn from business, it's important to reflect on our own experience with education and understand what made those experiences memorable. When we think about teachers who had a large impact on us at a young age (younger than 11 years old), it is typically not the class or subject matter that we think about. Rather, it is because that teacher believed in you and saw something in you, and ultimately built a strong relationship with you.
There is a parallel to draw here between our own experiences with education and our experiences with the business world. When we reflect on products and companies that have been hugely successful, it is because they have become more than just a product in our minds, but have built a strong relationship with their customers.
3 Things Education Can Learn from Business
The parallels between education and business do not stop at creating a connection and something memorable. From these parallels, Evan outlined three major areas in which education can learn from business: Relationships, Change, and Branding.
1. Relationships
The biggest thing that education can learn from business is the importance and power of relationships. Evan explained that "relationships are the difference between something being hugely successful or not, or things that shouldn't necessarily succeed being successful."
Relationships in Business: Evan shared the example of a man in the 1970's who marketed a rock, and became a business sensation. Although he was selling a rock that you could find in your backyard, he marketed it as a "pet rock" which enabled him to create a connection between people and these pet rocks. This connection and relationship that people built with a rock became a defining cultural marker of the time. 
Relationships in Education: Thinking about relationships in terms of education goes outside of the classroom and the teacher-student relationship. Think about how you can make connections with those in your larger education community. If you can build strong relationships with your community, you will be able to build a memorable culture.
2. Change
Change can be hard for people working in any industry, but especially challenging for those in education. One major point that Evan Robb shared in his TED Talk was the dichotomy of change between the worlds of business and education. 
Change in Business: The business world changes much quicker than education. For instance, if you were to Google what a factory looked like in 1920, and what it looks like now, the images would be drastically different. This is due to many reasons, but fundamentally, business has different drivers than education. The need to keep up with changing times, changing demand, profit, and competition are all direct reasons why the business world is ever-changing. 
Change in Education: The world of education does not have these same drivers that cause a need for change. Instead, education changes at a much slower pace. If you were to Google what a school looked like in 1920 and what it looks like now, the images would be virtually the same aside from the addition of technology. Education can learn from business that change can be a good thing, and there should be motivation to try new things, make changes, and take risks. However, unlike the business world where a lot of companies fail, schools cannot fail. 
3. Branding
A large part of both driving change and building relationships has to do with how people recognize you and how you are positioned in their minds. Branding sounds like a business buzzword, but education can learn a lot from the business world by focusing on branding schools and communities to build a lasting legacy and drive change.
Branding in Business: Branding in the business world is all about positioning your company or product in the hearts and minds of people so that they remember you and you become more than a company in their minds. Evan shared the example of Apple. When a new iPhone is released, we typically see lines at every Apple Store that can go on for blocks, but we never see the same effect when a new Android phone is released. Why is this? Apple has created a brand that stands for more than a phone. It has formed an emotional connection for many consumers, tying its products to creativity, innovation, art, and a community that you want to be a part of. 
Branding in Education: The idea of branding in education applies to individual teachers as well as whole schools and districts. Education can learn from the Apple example and create a buzz within the community by tying themselves to larger ideas and beliefs that community members will relate to. Individual teachers can tell their story to brand themselves, and schools can use these stories to support the larger ideas they want as part of their brand. Evan shared that schools drive community, and branding is a huge part of this. Schools can make or break communities because people want to live near good schools and will run away from bad schools. The rest of the community will ripple from there. 
The punchline of Evan's take on what education can learn from business is that human connection and building a strong community should be at the forefront of everything that educators do. Whether that is by building strong relationships that drive communities, taking risks to change what education looks like in classrooms or across a school, or taking a step back to brand your school in terms of culture and community, the people who drive your school should lead the way, and bring these ideas into the larger community.
Listen to our full conversation with Evan Robb
On this episode of Tackling Tech Podcast, powered by Dyknow, Brett McGrath speaks with Middle School Principal, Evan Robb. Evan is a Ted Talk speaker, author, and progressive thinker. He shares how he cultivates a school environment that is encouraging of risk taking and how they are making the shift from emergency to intentional remote learning.
Start teaching confidently with Dyknow for free!
In addition to web browser updates and bug fixes, Dyknow released several major product updates, new features and enhancements. Check out Dyknow's 2021 Year in Review!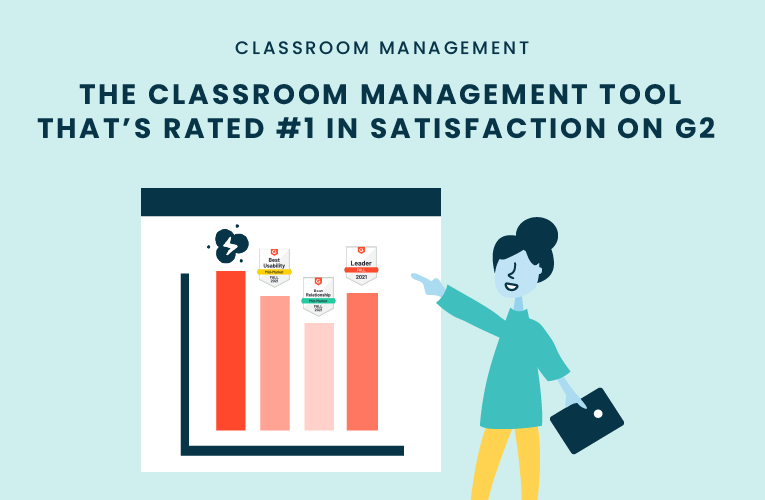 K-12 Administrators across the world trust G2 as the #1 platform to find, research, and choose EdTech tools that solve the most pressing problems their teachers are experiencing. In G2's Fall 2021 Reports, Dyknow was once again rated #1 in overall Satisfaction out of...
On this episode of Tackling Tech, Tierra Leustig interviews Scott Bayer about being an anti-racist teacher, diversifying reading lists, creating inclusive learning environments, and leveraging ed-tech in non-technical ELA classrooms. Scott Bayer is a High School...