In recent years, constant changes and enhancements to technology have prompted educators to progressively integrate technology into K-12 classrooms. One outcome of this growing technology integration is new, emerging progressive learning styles – particularly that of blended learning. However; given the circumstances of the COVID-19 pandemic, the definition of blended learning has shifted to take on new meanings. So what does blended learning really mean given the current state of K-12 education?
A Definition for Blended Learning
At its core, blended learning is based on the notion that everyone learns differently. Some students learn better with pen and paper, while others work better with technology. 
Similarly, some teachers teach better with technology, while others teach better with pen and paper. In today's day and age, these learning styles are no longer independent of each other, as blended learning takes these learning and teachers styles and blends them to make instruction effective for everyone.
COVID-19 has accelerated the process of transitioning into more progressive learning styles, and consequently, teachers have implemented new teaching tactics. Blended learning has proven to be one of the most implemented teaching tactics throughout this time of remote learning. Study.com states, "The idea of blended learning is that some students can benefit from doing part of their learning in a digital environment, and part of it face to face."
Blended learning takes a personalized approach, keeping in mind every student's needs. Study.com explained how students are able to work at their own pace and independently while also reflecting and discussing their work with their teacher at a given point.
With the uncertainty of the future of instruction and the need for effective and safe instruction, blended learning is one of the most feasible strategies for Fall 2020. This new age of blended learning divides instruction between taking place online and in person. This environment understands and acknowledges the safety of both students and teachers while also prioritizing the benefits of a hybrid learning environment. 
Why Use Blended Learning?
In a classroom setting, technology gives teachers the opportunity to kill two birds with one stone. Teachers can split their lesson into 2 parts using technology and traditional teaching. Study.com gave the example, "one small group of learners might be working on a science activity with a teacher, while others might be reading about the same topic online."
Flexibility is one of the biggest benefits of blended learning. Teachers a lot of times find themselves on a tight schedule with little time to shy away from their original plan. A blended environment gives teachers the opportunity to multitask almost as if they have an assistant teacher with them in the room, only it's some sort of digital device. Using technology and educating your students on how the technology works give you the ability to do class virtually if preferred as well. 
LearnUpon mentions that academic research has shown how blended learning enables students to have a more comprehensive knowledge of the course material. This learning style creates a hands-on experience and a similar recreation of a real-life work environment for students to learn from at an early age. It also helps them to build strong social skills and intelligence.
How to Implement Blended Learning
Stephanie Howell explains the 4 station plan that her school implemented to create a blended learning environment. 
Station 1: Using the 4 C's
The four C's are communication, collaboration, creativity, and critical thinking. Using this model helps to guide blended learning in the classroom. Students are able to produce work instead of consuming it like in a traditional classroom setting.
Station 2: Teacher-Led Groups
Students work in small groups with their teachers to learn about a new concept or review skills based on the lesson and data. This makes up the hands-on, or paper and pen portion of blended learning.
Station 3: Independent Work
Students are able to practice the skills they learned during station 2 on their own. This is to make sure they fully understand the content before moving to the technology.
Station 4: Digital Content
Technology is implemented and students are able to apply the skills and information they learned during stations 2 and 3 to use the online tools. A few tools that Stephanie recommended were EdPuzzle, iReady, and Gizmos.
The versatility that technology brings to the classroom opens doors for educators to find their creative side and experiment to find the best ways to make learning fun for students. Blended learning is a small and easy step toward the new direction education is heading in. Create a blended environment for your students to feel supported and purposeful.
Start teaching confidently with Dyknow for free!
In addition to web browser updates and bug fixes, Dyknow released several major product updates, new features and enhancements. Check out Dyknow's 2021 Year in Review!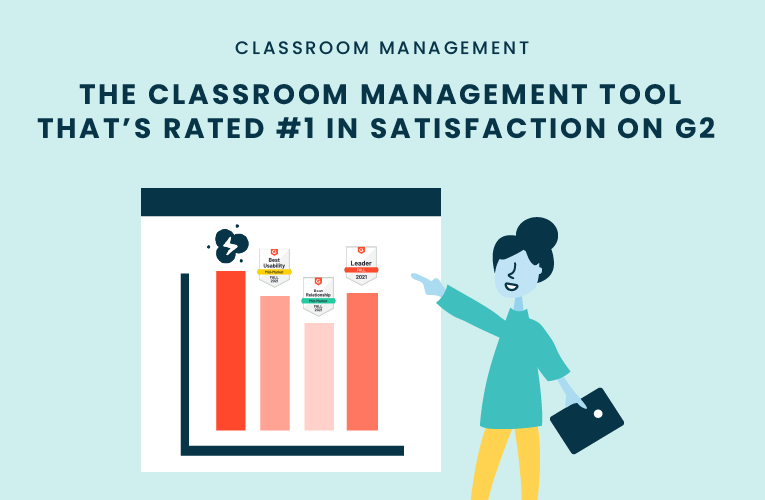 K-12 Administrators across the world trust G2 as the #1 platform to find, research, and choose EdTech tools that solve the most pressing problems their teachers are experiencing. In G2's Fall 2021 Reports, Dyknow was once again rated #1 in overall Satisfaction out of...
On this episode of Tackling Tech, Tierra Leustig interviews Scott Bayer about being an anti-racist teacher, diversifying reading lists, creating inclusive learning environments, and leveraging ed-tech in non-technical ELA classrooms. Scott Bayer is a High School...