As reliance on technology continues to grow in the 21st-century, schools continue to increase investments for 1:1 devices in the classroom to provide students with a learning environment that prepares them for 21st-century higher education and professional environments. A 1:1 device strategy is critical in most 21st-century educational environments, but when technology is introduced in the classroom, so are unforeseen distractions. In order to combat this, schools must be proactive and implement a classroom management solution like Dyknow to ensure their students are getting the most out of a 1:1 device environment.
Dyknow is based in Indianapolis, IN which gives us the opportunity to interact with Dyknow schools in Indiana a little more than others. With customers all over the state, we have been able to work with Indiana schools to learn how they are effectively managing their classrooms with Dyknow, and how their 1:1 device program has improved with Dyknow. With ICE 2019 approaching, we wanted to highlight three Dyknow schools in Indiana and how they've improved their learning environments with Dyknow.
How MSD Warren Township enhanced the use of 1:1 devices with a Dyknow free trial
Kira Olson, a teacher at MSD Warren Township in Indianapolis, IN, actively participated in her school's free trial of Dyknow back in 2016. The trial process for her was easy and straightforward, giving her the opportunity to immediately recognize the ability of Dyknow to enhance their 1:1 device program and make her job easier.
"Dyknow has made it a lot easier to utilixe the content and devices that we have available to us."

-Kira Olson, MSD Warren Township
Linton-Stockton enabled teachers to teach with technology after implementing Dyknow in their 1:1 device environment
Tiffany Todd, a Tech Coach at Linton-Stockton schools in Linton, IN, is passionate about using technology in the classroom to maximize student learning. Before her school implemented Dyknow, she said that teachers were scared to ever use devices in the classroom because of how students misused them. Now that Linton-Stockton has Dyknow to manage their classrooms, Tiffany is confident that students are using devices to enhance learning rather than take away from it.
"With Dyknow, teachers are doing more things online because they feel more prepared."

-Tiffany Todd, Linton-Stockton
Tippecanoe School Corporation is building an effective technology team that supports teachers
Devin Arms, Director of Technology at Tippecanoe School Corporation, joined Dyknow to host a webinar on how he has build an effective technology team that supports teachers. He does this with effective communication, providing support and training, and bridging the gap between IT and educators. One of the most effective ways that Devin's team makes sure they are supporting teachers is by enabling them to feel confident using technology in the classroom with Dyknow's classroom management software.
"You need to be very purposeful in the programs you are going to roll out, identifying things people are going to need prior to and after the roll out to be successful."

-Devin Arms, Tippecanoe School Corporation
1:1 device programs in Indiana are rising, and with that increases device distractions. If you are an Indiana school that has noticed an uptick in distractions with your 1:1 device program, Dyknow's classroom management solution can help you get ahead of these distractions and ensure that you are maximizing class time for both teachers and students rather than taking away from it.
Manage your Indiana 1:1 device program with Dyknow
In addition to web browser updates and bug fixes, Dyknow released several major product updates, new features and enhancements. Check out Dyknow's 2021 Year in Review!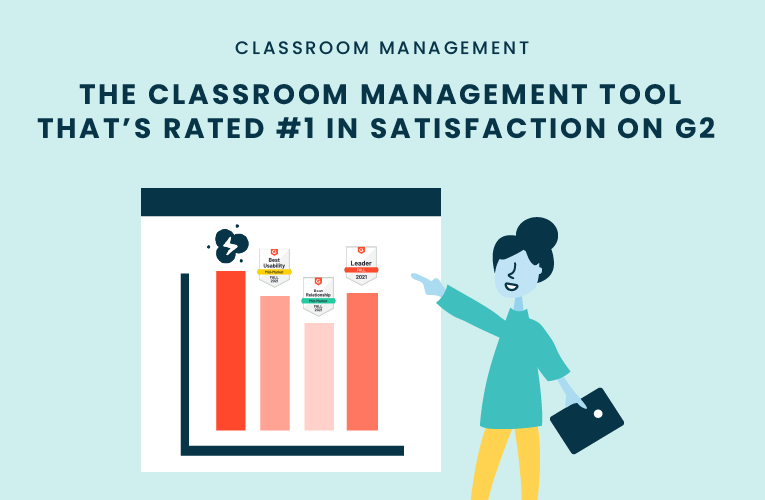 K-12 Administrators across the world trust G2 as the #1 platform to find, research, and choose EdTech tools that solve the most pressing problems their teachers are experiencing. In G2's Fall 2021 Reports, Dyknow was once again rated #1 in overall Satisfaction out of...
On this episode of Tackling Tech, Tierra Leustig interviews Scott Bayer about being an anti-racist teacher, diversifying reading lists, creating inclusive learning environments, and leveraging ed-tech in non-technical ELA classrooms. Scott Bayer is a High School...