Technology is a distraction for students, and teachers cannot afford to waste class time policing devices. On average, students using devices are off task 11 times throughout class. Classroom management software has redefined how students use technology in classrooms.
Classroom management software ensures students are staying on task, and empowers teachers in digital classrooms. But, what is classroom management software?
A Definition for Classroom Management Software
Classroom management software manages students' device usage in the classroom and gives teachers the ability to see, manage, and track student device activity.
Without these tools, it is nearly impossible for teachers to keep an eye on every student's computer screen. It gives teachers peace of mind when students use technology in the classroom because they can keep their students on task.
Classroom management software enhances student learning while limiting off-task behavior. Many schools now adopt it into their own classrooms to help manage technology usage.
Classroom management software can be hard to grasp, so we put together a SlideShare deck that explains it in simple terms and features quotes from Dyknow users on how they have benefited from the usage of classroom management software.
Not a fan of clicking through presentations? Here's what's inside of the SlideShare below:
1) Claudia | Teacher, St. Louis Catholic High School: "I use Dyknow in my classroom to monitor student work and as a way to eliminate distractions."
2) Rita | Teacher, Lake Washington School District: "Using Dyknow in my classroom has given me the peace of mind I need to be able to allow my students to work independently on their computers. I'm no longer worried about students being off task."
3) Tiffany | Technology Coach, Linton-Stockton School Corporation: "Before Dyknow I got constant emails about not wanting to do anything educational on the Chromebooks. Now, I've noticed that teachers are using technology more often because they feel more prepared."
Interested in learning more about how Dyknow could become your school's new classroom management software? Learn more about us here!
Want to manage your 1:1 student device program
with Dyknow?
In addition to web browser updates and bug fixes, Dyknow released several major product updates, new features and enhancements. Check out Dyknow's 2021 Year in Review!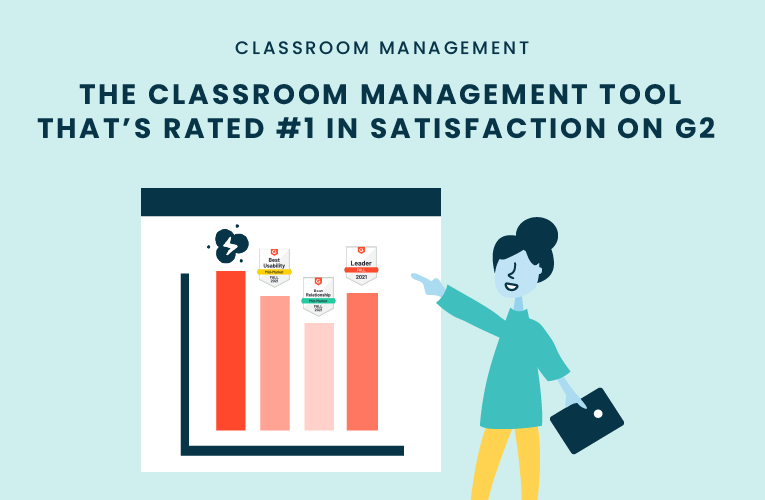 K-12 Administrators across the world trust G2 as the #1 platform to find, research, and choose EdTech tools that solve the most pressing problems their teachers are experiencing. In G2's Fall 2021 Reports, Dyknow was once again rated #1 in overall Satisfaction out of...
On this episode of Tackling Tech, Tierra Leustig interviews Scott Bayer about being an anti-racist teacher, diversifying reading lists, creating inclusive learning environments, and leveraging ed-tech in non-technical ELA classrooms. Scott Bayer is a High School...