Implementing any software in a K-12 digital environment is not a small task. With concerns like data privacy, cost/benefit, and alignment with district goals, there is a lot to think about before decision-makers are comfortable assigning a budget to a new learning tool. When evaluating technology such as classroom management software, it becomes increasingly difficult to know whether investing in such technology will actually benefit student and teacher performance. This is why it is important to implement a classroom management software free trial before making the decision to invest in that tool throughout a school or district. 
Classroom management software is a "nice to have" tool for schools, as teachers are capable of doing their jobs without it, but it supports the job that they do and makes their lives easier while doing it. A classroom management software free trial helps to solidify this benefit to teachers, enabling them to feel confident going to their school's technology team with the request to implement the tool further. Dyknow's classroom management software free trial enables teachers to fully use Dyknow's features and see the benefit before their administration must make a decision on whether or not they choose to invest in the product. We have found that for teachers who use a Dyknow trial, the tool no longer becomes a "nice to have" but rather a "need to have" as they experience a teaching environment in which device distractions are eliminated. 
How MSD Lawrence Township's classroom management software free trial helped these teachers defeat distractions:
Kira Olson, a teacher at MSD Warren Township in Indianapolis, IN, actively participated in her school's free trial of Dyknow back in 2016. The trial process for her was easy and straightforward, giving her the opportunity to immediately recognize the ability of Dyknow to enhance their 1:1 device program and make her job easier. This video highlights the process of implementing, using and evalutating Dyknow's classroom management software free trial in her classrooms and the benefits that came with a free trial. 
Barbara Delgado, 6th Grade Teacher
We spoke with Barbara in April to learn how her district has improved since using Dyknow both in a free trial capacity and after her district decided to implement Dyknow throughout MSD Lawrence Township.
She teaches in a 1:1 Chromebook environment and primarily uses Google Suite, Canvas, and Pearson to maximize her instruction. She is highly involved in MSD Lawrence Township's 1:1 initiative as she is a member of their computer science curriculum committee and regularly interacts with education technologists. After successfully using Dyknow's classroom management software free trial, she had some great tips on how to maximize instruction time by using Dyknow.
She said that Dyknow has been a godsend, enabling her to block distracting sites and keep students focused on what they should be working on. She also uses Dyknow's messaging capability to give feedback when she sees that students are struggling with something, or redirect students who are off-task with a message.
Why invest in a classroom management software free trial?
First of all, there is no real investment being made other than allowing teachers to use a tool that will ultimately benefit them. With no financial obligation attached to Dyknow's free trial, teachers are able to use the product to its full potential in the classroom and report back to technology coaches and admins to recommend whether this is a tool worth investing in on a larger scale.
Interested in defeating distractions like these teachers did? Sign up for a Dyknow classroom management software free trial or request a demo video first to see the benefits that Dyknow could provide for your school or district. 
Start teaching confidently with Dyknow for free!
In addition to web browser updates and bug fixes, Dyknow released several major product updates, new features and enhancements. Check out Dyknow's 2021 Year in Review!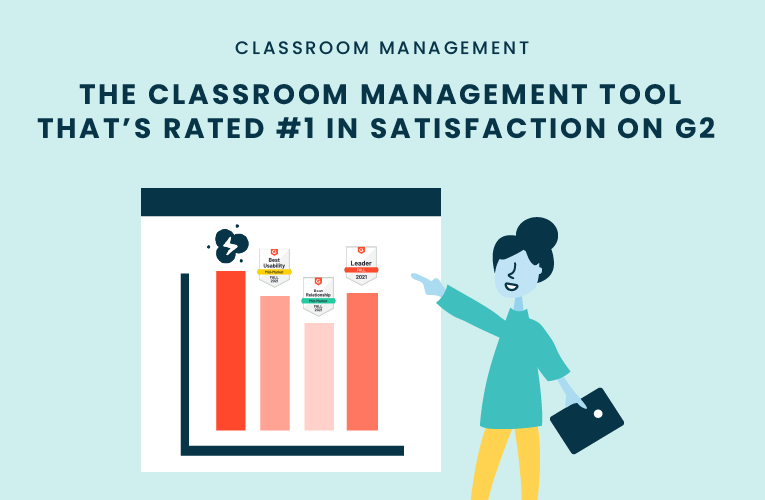 K-12 Administrators across the world trust G2 as the #1 platform to find, research, and choose EdTech tools that solve the most pressing problems their teachers are experiencing. In G2's Fall 2021 Reports, Dyknow was once again rated #1 in overall Satisfaction out of...
On this episode of Tackling Tech, Tierra Leustig interviews Scott Bayer about being an anti-racist teacher, diversifying reading lists, creating inclusive learning environments, and leveraging ed-tech in non-technical ELA classrooms. Scott Bayer is a High School...