It's undeniable that K-12 educators are always looking for new ways to learn from each other about how to maximize their roles in the ever-changing landscape of K-12 education. One of the most impactful ways that K-12 educators participate in professional development is by attending conferences where they can learn from K-12 thought leaders at various sessions and presentations. 
At Dyknow, we are committed to providing K-12 educators, whether Teachers, Technology Coaches, or Administrators,  with the resources and tools needed to be successful with the evolution of EdTech and technology integration in K-12 education. That's why we launched the first-ever, digital Technology Coaching Conference, so that Tech Coaches, Teachers, and Administrators can learn from leading K-12 educators and gain useful tactics and instructional strategies to help them be successful. We knew that this event was needed, but K-12 educators can't stop talking about how excited they are for the conference and what they want to learn. We put together some of the best Tweets to keep the energy going in anticipation of this event.
Check out what K-12 educators are saying about the Technology Coaching Conference (#TechCoachCon)…
The 2020 Tech Coaching Conference is going to be crazy-town banana-pants (a.k.a. awesome)! I'm super excited to learn some fresh strategies! Let's get our tech coaching teachers on! #TechCoachCon #oneCCPS #mhslancers

— Devon Weisz (@TheTechiYogi) February 26, 2020
What are K-12 Educators hoping to learn at #TechCoachCon?
Registered for the Technology Coaching Conference! I can't wait to hear some new ideas for teachers and technology integration. #TechCoachCon

— Tristan Chilcote (@TechieTristan) February 26, 2020
So excited that I just registered for the #TechCoachCon on March 20th! Can't wait to learn new practical coaching strategies to share with our teachers for the purpose of increasing student achievement in the classroom.

— JMatheny (@Mathinthe614) February 26, 2020
So excited to attend this virtual conference. I am hoping to learn some strategies for how to easily integrate technology into lessons for teachers who say they don't have time. I know I'm asking for a miracle. 🤪 #TechCoachCon https://t.co/7BhmDg8sa7

— Jenna Rhodes (@rhodes_jj) February 25, 2020
Do you want to join these K-12 educators for a day of digital learning? Whether you are a Teacher, Technology Coach, or Administrator, this conference will have sessions covering everything related to collaboration for successful technology integration – and you won't want to miss it!
Reserve your spot at #TechCoachCon!
In addition to web browser updates and bug fixes, Dyknow released several major product updates, new features and enhancements. Check out Dyknow's 2021 Year in Review!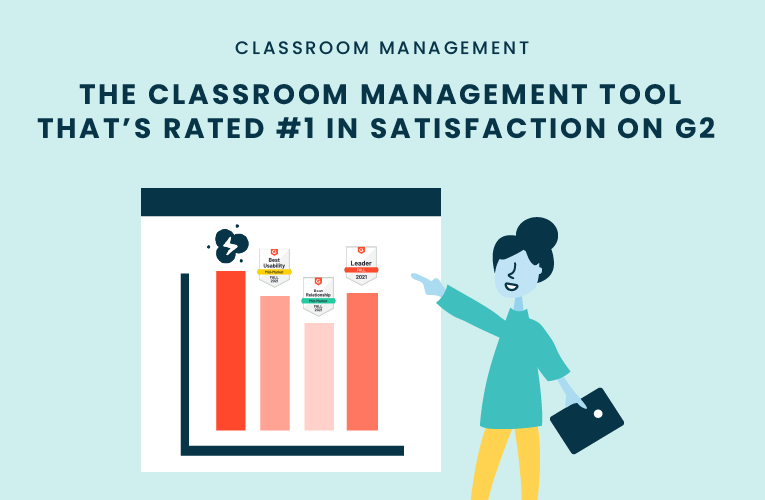 K-12 Administrators across the world trust G2 as the #1 platform to find, research, and choose EdTech tools that solve the most pressing problems their teachers are experiencing. In G2's Fall 2021 Reports, Dyknow was once again rated #1 in overall Satisfaction out of...
On this episode of Tackling Tech, Tierra Leustig interviews Scott Bayer about being an anti-racist teacher, diversifying reading lists, creating inclusive learning environments, and leveraging ed-tech in non-technical ELA classrooms. Scott Bayer is a High School...