Student engagement is one of the biggest concerns among K-12 educators in 2021. Remote, hybrid, and in-person learning introduced new instructional settings due to COVID-19. With school-issued devices in place, educators are actively integrating tech tools into their lessons to help provide support and engage their students during this uncertain time of learning. Tech tools of all sorts are being implemented and mastered by tech coaches and teachers alike, to enhance these learning environments and progress students' learning. 
The most difficult part of integrating technology is finding the right tools that enhance your classroom, student engagement, and your tech skillset. 
Since the beginning of 2020, the Dyknow team has been talking with educators from across the country to learn about tools that have eased the challenges of technology implementation and increased student engagement. There are 4 tech tools that stand out as being immensely popular and helpful for K-12 educators: Flipgrid, Wakelet, Dyknow, and WeVideo.
4 Tech Tools for Student Engagement in 2021 
Technology has impacted K-12 classrooms so much that educators do not foresee going back to "the old normal" following distance learning. Educators have discovered many benefits to using technology within their classrooms and are eager to develop hard skills within K-12 educational technology. 
Here are 4 of the leading tech tools that are impacting many classrooms around the country today and increasing student engagement:
Flipgrid
Flipgrid describes their tool as, "a simple, free, and accessible video discussion experience for PreK to Ph.D. educators, learners, and families." Their platform allows students and teachers to have conversations over lessons and topics through videos. Teachers can pose a question and have students send in a video response through Flipgrid. Educators are loving this tool for its communal environment, discussion-based platform, and technology-driven essence.
Wakelet
Wakelet allows educators to curate and organize content from anywhere to save and share with anyone. This is another popular tool amongst K-12 educators that has a plethora of valuable features and is also easy to navigate. Wakelet is a great platform to promote creativity and critical thinking. Holly Clark defined Wakelet as, "a more powerful version of Pinterest."
WeVideo
WeVideo is useful to create all content whether that be a video, podcast, screencast, or GIF. They define themselves as, "a cloud-based editing platform that allows users of all skill levels the opportunity to create professional-style videos, podcasts, and more." 
Dyknow
Primarily, Dyknow is a student device monitoring platform that enables teachers to defeat distractions in any learning environment using passive or active monitoring. Throughout remote learning, districts across the country have relied on Dyknow to make instruction effective during a period of health safety concern. Although, Dyknow is much more than a device monitoring tool. Dyknow offers many features that allow educators to connect, collaborate, and monitor their remote classrooms.
EdTech Roundtable: Tech Tools for Student Engagement 
If you are looking for more information about each of these tech tools, join us Friday, February 19th for a conversation diving deep into these tech tools and how they impact student engagement. We have lined up a group of amazing panelists to outline how they are using Flipgrid, Wakelet, WeVideo, and Dyknow in their classrooms. This event is completely free and virtual for all educators to attend, and most importantly get your professional development certificate post attendance. Learn more about the EdTech Roundtable on our website and follow us on social media to keep up to date with all Dyknow Events.
Start teaching confidently with Dyknow for free!
In addition to web browser updates and bug fixes, Dyknow released several major product updates, new features and enhancements. Check out Dyknow's 2021 Year in Review!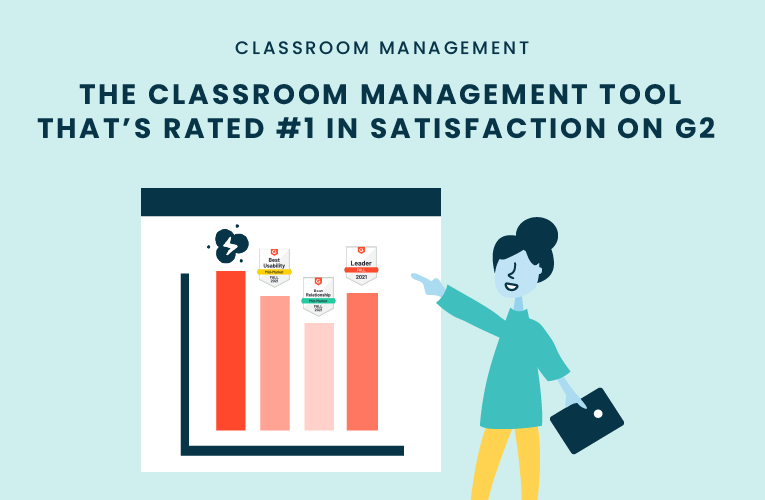 K-12 Administrators across the world trust G2 as the #1 platform to find, research, and choose EdTech tools that solve the most pressing problems their teachers are experiencing. In G2's Fall 2021 Reports, Dyknow was once again rated #1 in overall Satisfaction out of...
On this episode of Tackling Tech, Tierra Leustig interviews Scott Bayer about being an anti-racist teacher, diversifying reading lists, creating inclusive learning environments, and leveraging ed-tech in non-technical ELA classrooms. Scott Bayer is a High School...