Remote learning has transcended K-12 education into a technology-driven era in 2021. More schools than ever before are investing in new devices and technology to make instruction possible in new environments and enhance learning. School-issued device programs are one way that districts are taking tech integration to the next level. These programs enable learning to continue at home while working to close the equity gap in education.  
A Definition for School-Issued Devices
Simply put, school-issued device programs mean that a school or district is investing in providing devices to all students.
The goal is to create a similar experience remotely as students would have in-person and enhance the classroom experience with technology. With school-issued device programs, Teachers, Tech Coaches, and Administrators are able to implement technology strategies more easily and accessibly. 
School-issued devices (also known as 1:1 devices) have created a buzz around using technology in the classroom, whether remote, hybrid, or in-person. Teachers and students are now immersed in the technological world to utilize the benefits that school-issued devices provide. While these tools are currently being used in place of the physical classroom, school-issued devices and technology will not be going away when K-12 education transitions back to in-person learning. 
School-issued device programs give the Tech Coach or Instructional Coach a lot more depth in education. Teachers are actively leaning on their Tech Coaches for support as they begin new device programs and using new technological tools to create engaging, creative, and robust lessons and curriculum. Without the collaboration and willingness of Teachers, Tech Coaches, and Administrators, effective device programs are not possible.
The Concerns that come with School-Issued Devices
There is still much uncertainty around technology in education as parents, students, and educators all have their own concerns about implementation. Many people turn to social media with questions and concerns about school-issued device programs and new technology tools; here's what they are concerned about:
How will technology affect student engagement?
Is this a privacy issue?
How can we promote good digital citizenship?
What if students don't have access to the internet or resources that are essential for their remote learning?
All of these concerns are essential topics to consider when creating an effective remote learning plan. Educators are engaging in tough conversations to combat every single concern and roadblock that has been created due to remote learning. To ease some of these concerns, here's what educators in our PLN are doing to overcome these obstacles.
Student engagement 
Remote learning is not only hard on the teacher but also the student. This new environment is an adjustment for everyone. Teachers are still learning how to effectively engage  students with remote learning. They are taking to social media to have conversations remotely to collaborate on tactics to improve student engagement in their online classrooms. Educators are creating and innovating ways to get students excited about education in a remote setting but sharing their ideas, lessons, tools, and achievements throughout their social channels. Check out which PLN's are focusing on student engagement for the 2021 school year.
Privacy/Digital Citizenship
With school-issued device programs, the first concern for most is how much information schools are really taking from their student devices. School-issued devices are implemented for the reason that teachers are able to see if their students are staying on track and staying engaged during school hours. With the ability to know how students are using their devices during school hours, while remote, teachers are able to have insight on how their students work best, what the biggest distractions are, and how they can better cater lessons for students to have more inclination to stay engaged. 
Educators are also factoring in that these young students are the first generation of kids to grow up with technology. Schools have implemented digital citizenship programs to educate their students on the impact of their digital footprint. Creating a positive digital environment will help students to conduct themselves online in a respectful and professional way while advancing their knowledge in the digital world simultaneously.
Access
Right now, the continuation of learning has limited options, leaving schools to make up for the situation they are putting students and parents in. By providing school-issued devices, schools are also ensuring that each student has access to the internet by providing hot spots for students to use at home or a nearby public place. 
Why School-Issued Device Programs Work
Schools are realizing how immensely beneficial devices programs have become during remote learning. Teachers and tech coaches were stripped of the power of overseeing the progress of student growth by moving to an online setting. Now with school-issued device programs, the ability of monitoring student growth is possible. Educators are able to find out what really engages their students to help them get the most out of remote learning. The wave of interest in k-12 education about technology has enticed educators to grow their professional development and technical skills to make teaching and learning much more effective in their remote classrooms. The progression towards harmony between k-12 education and technology has sparked an age of innovation for educators. Educators are working towards learning more, creating more, and indulging more in how they can make education as impactful as possible for their students.
Start teaching confidently with Dyknow for free!
In addition to web browser updates and bug fixes, Dyknow released several major product updates, new features and enhancements. Check out Dyknow's 2021 Year in Review!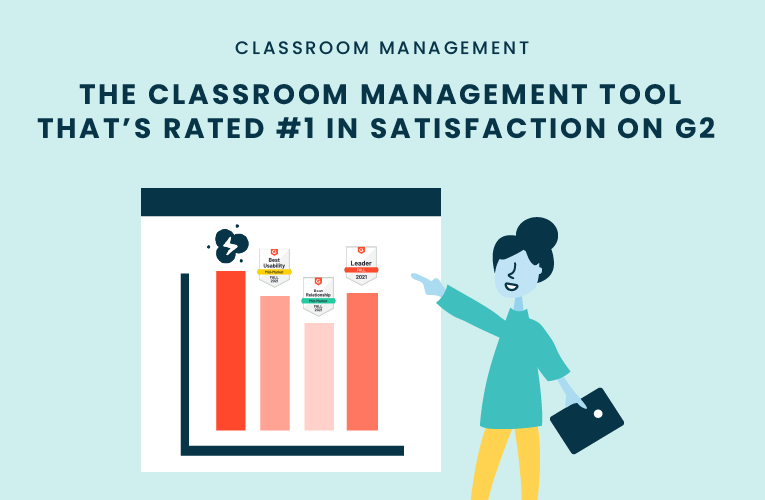 K-12 Administrators across the world trust G2 as the #1 platform to find, research, and choose EdTech tools that solve the most pressing problems their teachers are experiencing. In G2's Fall 2021 Reports, Dyknow was once again rated #1 in overall Satisfaction out of...
On this episode of Tackling Tech, Tierra Leustig interviews Scott Bayer about being an anti-racist teacher, diversifying reading lists, creating inclusive learning environments, and leveraging ed-tech in non-technical ELA classrooms. Scott Bayer is a High School...