A great way to set teachers up for a successful school year is by hosting back to school teacher technology training sessions. Last year, we posted our takeaways from The Suite Life eLearning Day, a training day in which three Indiana K-12 school districts come together for a full day focused on technology training. 
As back to school is in full swing for some districts and quickly approaching for others, we wanted to revisit these takeaways in order for Tech Teams to conduct teacher technology training sessions that will be most effective for teachers.
1) FOCUS ON LEARNING OUTCOMES
In order to encourage teacher buy-in, the primary focus of teacher technology training sessions should begin with goal-oriented learning outcomes, not features and functionality. Encourage teachers to ask themselves, "What problems do I face in the classroom? What are the desired student outcomes?" Once identified and established, introduce technology into the conversation by explaining how digital tools help solve problems and enhance the classroom learning experience.
2) GIVE PARTICIPANTS CHOICES
Similar to a classroom full of students, educators possess different learning styles and levels of subject-matter expertise. Make back to school teacher technology training relevant by providing them with multiple learning opportunities and sessions to choose from. This way educators have the power to customize their own schedule and attend the training sessions that are most necessary for their professional development.
3) ENCOURAGE PEER-TO-PEER COLLABORATION
Although certain technology training sessions might require vendor or tech-specialist presenters, be sure to incorporate sessions that are led by teachers. These sessions encourage peer-yo-peer collaboration, allowing teachers to easily use each other as a resource for help, ideas, and inspiration. By sharing perspective and understanding, teachers can help fellow teachers to grow their use of technology in the classroom.
A great way to keep teachers engaged is to host less lecture-style and more hands-on teacher technology training. At the Suite Life event, the keynote speaker invited teachers to participate in an interactive presentation on their phones. As a result of being more engaged, the audience followed along and asked relevant, targeted, and detailed questions about how to apply that technology into their classrooms.
5) INCENTIVIZE PARTICIPATION AND LEARNING
Drive event attendance and increase engagement by rewarding your teachers for making the effort to participate in your back-to-school training day. Create a door prize raffle system, and incentivize attendants with tickets every time they attend sessions, ask questions, and participate in hands-on training. Rewarding teachers for embracing digital learning increases buy-in and will ultimately help them prepare students for the 21st-century work environment.
Conducting teacher technology training sessions can be one of the best ways to prepare them to feel confident and empowered going into the school year. If you are looking for resources on how to conduct teacher technology training sessions specific to Dyknow, check out our best Dyknow training tips.
Looking for more helpful EdTech resources?
In addition to web browser updates and bug fixes, Dyknow released several major product updates, new features and enhancements. Check out Dyknow's 2021 Year in Review!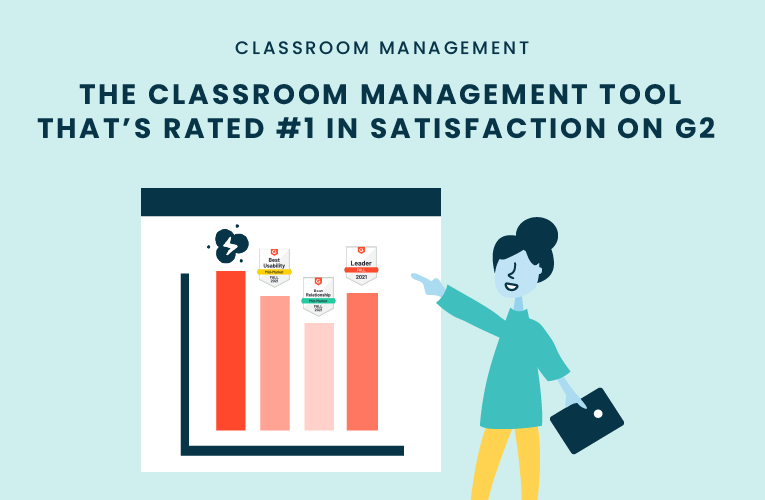 K-12 Administrators across the world trust G2 as the #1 platform to find, research, and choose EdTech tools that solve the most pressing problems their teachers are experiencing. In G2's Fall 2021 Reports, Dyknow was once again rated #1 in overall Satisfaction out of...
On this episode of Tackling Tech, Tierra Leustig interviews Scott Bayer about being an anti-racist teacher, diversifying reading lists, creating inclusive learning environments, and leveraging ed-tech in non-technical ELA classrooms. Scott Bayer is a High School...