Dyknow's classroom management software is unique because it is compatible with all of the three most popular student device types in K-12 schools today. With the ability to monitor student Chromebook, Windows, and Mac devices, Dyknow is suitable in almost any K-12 classroom as long as the device environment is 1:1.
Regardless of device type, we consistently hear the same positive feedback from teachers about how Dyknow's classroom management software helps them defeat device distractions and regain control of their integrated classrooms. We don't want you to just take this from us, so we've outlined below what our Chromebook, Windows and Mac customers say about using Dyknow's classroom management software on their respective device types.
What teachers say about monitoring student Chromebooks with Dyknow's classroom management software…
"Using Dyknow has allowed me to confidently monitor students' Chromebook use while working with students at my table. I love the ability to glance at my computer screen and see which websites students are using. An added benefit is that I can redirect or prompt a student to move to the next online task if I see them on the same website for too long. My students also love it when I send them messages via Dyknow on their computer screens! This messaging ability helps me to get their attention quickly."

– Heather M., Teacher, Hutto ISD
"I work with 5th and 6th graders, and Dyknow is a wonderful resource in my classroom. As students are working on Chromebooks, I can much more easily monitor whether online behavior is appropriate. It keeps me informed and in control – and they are so surprised when a message from me appears on their screen!"

– Aileen M., Teacher, Flemington Raritan School District
"Dyknow was a lifesaver for me when a colleague had to leave mid-year last year, and I absorbed her classes into mine. I had as many as sixty students in my classroom at a time, and there was no way I would have been able to keep track of what everyone was doing with their computers without Dyknow. I was able to block certain sites that I knew were common distractions as well as monitor all of the students' computer screens to be sure no new distractions popped up. It was such a relief to know that Chromebooks were one less thing I needed to stress about with that many students."

– Adam M., Teacher, Charlotte-Mecklenburg Schools
What teachers say about monitoring student Windows devices with Dyknow's classroom management software…
"Dyknow is helping me defeat distracts by allowing me to give quick feedback on student's PCs without disrupting everyone. When my private message is sent the student quickly realizes they must get back on track. This saves precious learning time for everyone!"

– Angela M., Teacher, Huntsville City Schools
"I love that I can modify how I block students, keeping them on task by either allowing or blocking specific programs or websites. It is super easy to monitor students' PC screens and get students back on track in a discreet manner."

– Mikala Z., Teacher, Lake Washington School District
Having Dyknow at our school allowed me to monitor students PCs in my class while waiting at the dentist's office! My sub loved that I could see what the students were working on and send messages to those that weren't on the educational websites I had assigned. It was a team effort. Thanks Dyknow for giving me eyes-on capabilities!"

– Kim C., Teacher, Sycamore Community Schools
What teachers say about monitoring student Mac devices with Dyknow's classroom management software…
"Dyknow is one of my favorite tech resources to use with MacBooks in the classroom. I love that I can customize the Blocking Plans in Dyknow to ensure my students are on-task."
"Dyknow has changed the way I am able to connect and engage with my students on MacBooks! This application has made it possible for students at all levels to interact, research, and test without the temptation of the internet and other applications. Many students work better when they keyboard, and without Dyknow, that was not possible. Now all students can access the technology to help them perform at their very best. Dyknow is truly a game changer!"

– Laura G., Teacher, Briarcliff Manor Union Free School District
"Dyknow is GREAT for keeping students engaged in a 1:1 MacBook Setting. I do not have to remind students all day to get off of games or get on task, Dyknow let's me do it without saying a word!"

– Kerri W., Teacher, MSD of Lawrence Township
Dyknow's classroom management software allows teachers to monitor student Chromebooks, Windows, and Macs with ease, knowing that students are on task during class. Teachers and administrators alike are thrilled with Dyknow's ability to monitor these three student device types, allowing them to defeat distractions in the classroom and increase student productivity. If you ave a K-12 classroom that uses 1:1 student Chromebook, Windows or Mac devices, Dyknow's classroom management software can help monitor your student devices!
Do you have student devices that need to be monitored?
In addition to web browser updates and bug fixes, Dyknow released several major product updates, new features and enhancements. Check out Dyknow's 2021 Year in Review!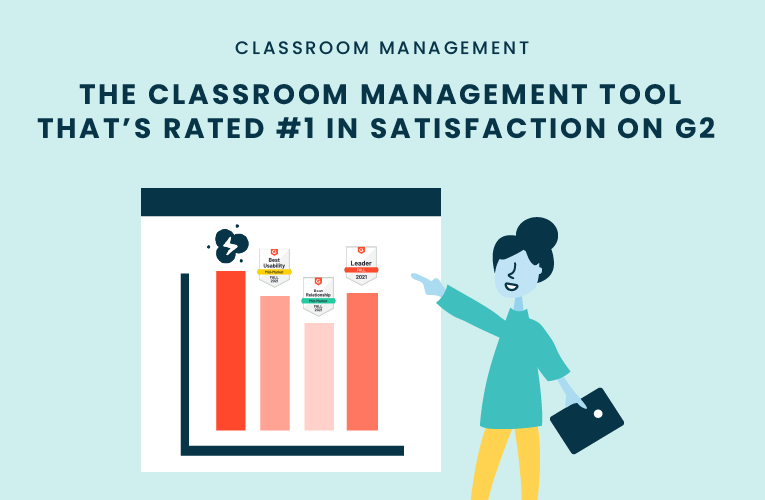 K-12 Administrators across the world trust G2 as the #1 platform to find, research, and choose EdTech tools that solve the most pressing problems their teachers are experiencing. In G2's Fall 2021 Reports, Dyknow was once again rated #1 in overall Satisfaction out of...
On this episode of Tackling Tech, Tierra Leustig interviews Scott Bayer about being an anti-racist teacher, diversifying reading lists, creating inclusive learning environments, and leveraging ed-tech in non-technical ELA classrooms. Scott Bayer is a High School...