K-12 schools across the world are currently facing the challenge of going back to school during the COVID-19 pandemic. When K-12 schools were first sent into a state of remote learning, technology implementation was rushed and many teachers struggled to keep students accountable while using technology to administer their lessons. Now entering a new age of education where technology is a primary tool to make learning possible, it is essential for teachers to turn from being tech uncomfortable to tech comfortable.
In a recent discussion with EdTech Specialist, Ari Flewelling (@EdTechAri), on the Tackling Tech Podcast, she explains her thoughts on how communication and transparency are key going back to school during COVID-19. Using her insight, we curated some back to school tips during COVID-19.
Back to School Tips During COVID-19
The COVID-19 pandemic has created a unique back to school experience for K-12 educators. During this time it is important to stay optimistic and be open to learning how to improve as you may be experiencing many trials and errors. With the insight of Ari Flewelling, here are our back to school tips during COVID-19.
Focus on 2-5 tools that fit your needs:

Remote learning was an overwhelming time for educators as the technology implementation process had to be rushed. During this back to school period, take it slow and really find the tools that best fit your specific classroom needs. 

Expand your curiosity:

Do not be afraid to take risks during this time. Sometimes the most unique experiences can be the ones that force you to grow the most. Be open to exploring new options for your classroom such as implementing a new progressive learning style, or experimenting with new tools or devices.

Be transparent through communication: Communication and transparency is essential during this back to school season to ensure everyone is on the same page. Continual feedback through communication can allow for more effective classroom processes.
3 Helpful Tools for Back to School in COVID-19
Having the right tools and devices for your classroom is essential during this time as educators must depend on technology.  Here are some tools and devices we suggest you implement in your classroom for a more effective back to school experience during COVID-19.
G Suite for Education:

With the uncertainties that still lie ahead during this COVID-19 pandemic, it is important to have tools in place like G Suite that allow for seamless communication and collaboration wherever class is taking place. G Suite for education offers a variety of features including gmail, google docs, and google drive, that offer students a great opportunity to create and organize their classwork through one application on their device. 

Kahoot:

The COVID-19 pandemic has caused a lot of stress during this back to school season. Bring some excitement into your classroom through this game-based learning program. Using some friendly competition to test your students' understanding and knowledge over a current lesson will be sure to uplift everyone's spirits. 

Dyknow: Classroom management is a concern for all teachers while going back to school. Eliminate distractions in your classroom by using Dyknow as a device for classroom management software to monitor student devices while continuing to engage with your students.
We want to help you have the most effective back to school experience. Through talking to educational specialists like Ari Flewelling, we put together this Slideshare to give you some helpful back to school tips and tricks during COVID-19.
Entering this back to school season during the COVID-19 pandemic has been challenging for all educators. Through various conversations with educational specialists, we work to provide you with the most effective tips and EdTech tools for your classroom, so your back to school experience can be as seamless as possible.
Listen to full conversation with Ari Flewelling
On this episode of Tackling Tech Podcast, powered by Dyknow, Brett McGrath talks with Ari Flewelling, and educational technology specialist and certified educator, trainer, and innovator. Communication and transparency are key going into this unique school year. Teachers have stepped up to the pate, proved their professionalism, and adapted quickly with the help of professional development and the right technology tools.
Start teaching confidently with Dyknow for free!
In addition to web browser updates and bug fixes, Dyknow released several major product updates, new features and enhancements. Check out Dyknow's 2021 Year in Review!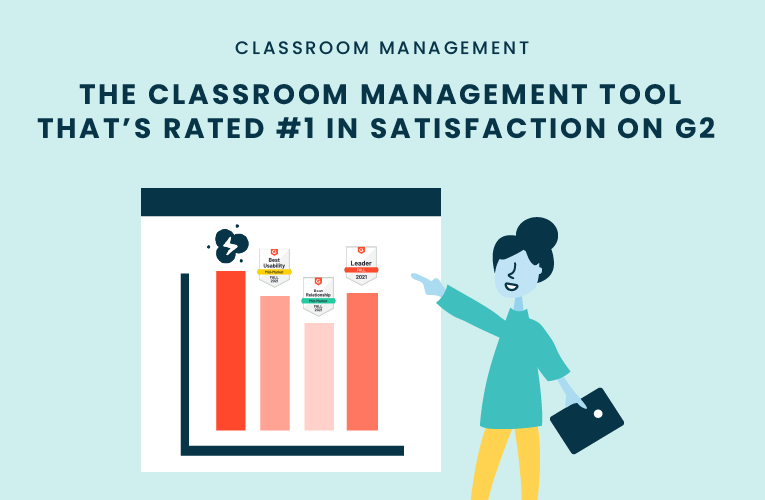 K-12 Administrators across the world trust G2 as the #1 platform to find, research, and choose EdTech tools that solve the most pressing problems their teachers are experiencing. In G2's Fall 2021 Reports, Dyknow was once again rated #1 in overall Satisfaction out of...
On this episode of Tackling Tech, Tierra Leustig interviews Scott Bayer about being an anti-racist teacher, diversifying reading lists, creating inclusive learning environments, and leveraging ed-tech in non-technical ELA classrooms. Scott Bayer is a High School...