The blended learning model is revolutionizing K-12 classrooms. Teachers can use blended learning to help maintain their work-life balance, especially while practicing remote learning as blended learning intertwines traditional teaching with the use of technology.
This learning style has been embraced by teachers during this time of transition as it offers flexibility and promotes a healthy work-life balance. While discussing how to create clarity with blended learning on the Tackling Tech Podcast, IT coordinator for Pickerington School District, Stephanie Howell (@mrshowell24) gave us some insight into how her school district has implemented the blended learning model and in turn maintained a better work-life balance.
How this Teacher Uses Blended Learning for Work-Life Balance
With hectic school days filled with hands-on instruction, teachers often are often left with a lot of work at the end of their days such as grading and lesson planning. Consequently, many teachers take this work home, making it easy to lose sight of the separation between work and home life. The struggle to find a work-life balance has been further amplified during this time of remote learning as it can be hard to separate work and home when all of your work takes place at home.
To compensate for this, many teachers have adopted the blended learning model to help create a better work-life balance. Specifically, Stephanie Howell's school district implemented a 3 phase blended learning plan that has helped teachers better use blended learning in their classrooms.
Once teachers have successfully completed the 3 stages and implemented their blended learning plan, the class typically begins with a 10-minute lesson introducing the topics of the day. Then, students begin working on their playlist or checklist of the learning goals they need to accomplish throughout the week. As students are assigned to stations during blended learning, each station should have a corresponding goal and learning standard.
The 4 stations teachers use in their classroom at Pickerington School District are the 4 C's, teacher-led, independent, and digital content. In the first station, the 4 c's, students use the 4'c of 21st century learning (communication, collaboration, creativity, and critical thinking) to guide blended learning. The second station, teacher-led, is where students work in small groups with the guidance of their teacher. At the third station students work independently to practice skills they have previously learned. Finally, at the fourth station, students use computers or other devices to complete activities that reinforce the lesson.
As students rotate from station to station, the teacher can use time with students at the teacher station to provide feedback and have conversations about assignments and projects. Allowing time for feedback during class time can eliminate the need for teachers to take papers home every night to grade, and create a more effective communication channel for students to receive that feedback. Student achievement and understanding may increase as they get feedback quickly and are able to ask questions for clarification.
Other Benefits of Blended Learning
There are many more benefits to introducing blended learning into your classroom aside from just promoting a better work-life balance. Here are some other benefits of using blended learning in the classroom.
Personalization:

Blended learning allows students to personalize their learning style and go at their own pace. Instead of keeping up with their fellow classmates, students work to complete their specific tasks on their own time, without the fear of falling behind. Conversely, students who excel in a subject can work ahead of some of their classmates in order to feel that they are growing in every class.

Promotes Independence:

With blended learning, teachers are not giving students as much direction. Instead, students spend the majority of their time working on their own and then receiving feedback from teachers. Students will learn how to rely less on others and learn to problem solve on their own. 

Increase of Creativity:

With the variety of educational technology tools used for blended learning, students are able to utilize all different types of devices to promote learning. Using different types of tools grows student creativity while promoting effective retention of lessons. 
Monitoring Devices to Support Blended Learning and Work-Life Balance
The implementation of blended learning can be intimidating as teachers may fear students will not stay on task with the introduction of technological devices and tools. To maximize the use of these tools and devices without taking away valuable class time, teachers can create a monitoring plan to have a solution in place.
As a classroom management software, Dyknow monitors student devices so teachers do not have to. Through Dyknow's ability to block certain websites, teachers can be assured that students are only using school appropriate tools during class time. Evenmore, minimizing distractions in the classroom further promotes a work-life balance as teachers' class time is maximized to its full potential and students are being more productive.
Blended learning utilizes both the traditional classroom method and incorporating online learning. Many are adopting this teaching style in their K-12 classrooms due to its many benefits. If you are struggling to find a better work-life balance, you may want to try implementing blended learning into your classroom.
Listen to full conversation with Stephanie Howell
Stephanie Howell, the IT coordinator for Pickerington School District in Ohio, shares her experience training teachers during remote learning. Her district has 21 models of what next year could look like and is preparing this summer for all possibilities. Stephanie turned to her international Personal Learning Network for guidance when COVID derailed the school year.
Start teaching confidently with Dyknow for free!
In addition to web browser updates and bug fixes, Dyknow released several major product updates, new features and enhancements. Check out Dyknow's 2021 Year in Review!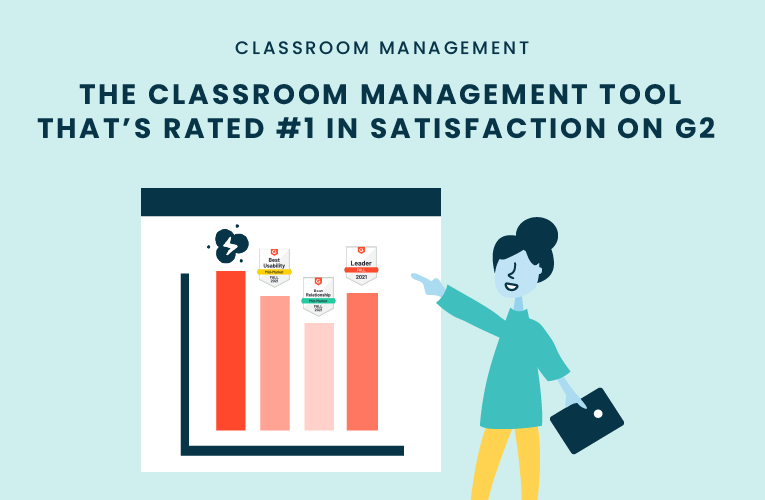 K-12 Administrators across the world trust G2 as the #1 platform to find, research, and choose EdTech tools that solve the most pressing problems their teachers are experiencing. In G2's Fall 2021 Reports, Dyknow was once again rated #1 in overall Satisfaction out of...
On this episode of Tackling Tech, Tierra Leustig interviews Scott Bayer about being an anti-racist teacher, diversifying reading lists, creating inclusive learning environments, and leveraging ed-tech in non-technical ELA classrooms. Scott Bayer is a High School...