As 1:1 devices in classrooms become more of an expectation rather than an option for school districts, conversations have to be had about how these devices will be monitored so that they are used productively in the classroom and student distractions are eliminated. South Carolina school Districts are no exception, as 1:1 device initiatives have been sweeping the state. When one of the largest districts in South Carolina, Richland District Two, decided to implement 1:1 Chromebooks, district leaders identified the need to also invest in a classroom management solution to monitor those Chromebooks. After comparing different solutions, Dyknow stood out as the right solution to monitor their Chromebooks, because not only does it support their teachers, it also aligns with the goals of Tech Coaches and Administrators in the district.
We spoke with Dyknow users from Richland Two as well as members of their technology team to learn why they chose to use Dyknow and the benefits that they have seen both in their classrooms and from a technology perspective.
Why did Richland Two decide to invest in Dyknow to monitor Chromebooks?
Chuck Holland is the Director for Instructional Technology at Richland District Two in South Carolina. In this role, he manages a team of 36 Tech Coaches who are spread throughout the district to manage technology integration in their classrooms. Last time we talked with Chuck Holland, he explained that he encourages his Tech Coaches to focus on building strong relationships with teachers rather than solely coaching them on how to use technology in the classroom. One of the best outcomes Tech Coaches can hope for once they've built those relationships is for teachers to feel empowered with technology in the classroom. Chuck Holland saw Dyknow as a tool that directly supported Richland Two's investment in technology because it provides his technology team with a tool that empowers teachers. By simply defeating student device distractions in the classroom, Dyknow helps to create teacher confidence because teachers know that students are on-task and instructional time is being used effectively. 
How has this translated to their Tech Coaches?
We spoke with Tyler Abernathy, a Technology Coach at Richland Two, to learn if Chuck Holland's intent behind investing in Dyknow to empower teachers has translated to his instruction with teachers. He explained that as Richland Two teachers began to use Dyknow for monitoring, it became apparent that Dyknow is not just a "Big Brother" monitoring system to teach discipline, but it can also be used for formative assessments.
"It's a tool that allows you to stay in the moment of using the technology, but at the same time, the teacher is able to facilitate some collaboration or discussion and that's worthwhile because either it prevents the teacher from having to a stop the class and sort of orchestrate the conversation because they can push out a question or check understanding. But then teachers can easily go over anything else that they're doing on their screen and there's no other form of tool that has all those capabilities for the simplicity of how Dyknow is structured."

– Tyler Abernathy, Technology Coach
Are teachers seeing the benefit?
We spoke with two teachers from Richland 2 to see if they are experiencing improvements to student technology use in the classroom like Chuck and Tyler had hoped for. Here's what they told us:
"The use of technology is ongoing in my one-to-one classroom. Using Dyknow this year has maximized learning in my classroom because students are more focused on the assignment at hand. Depending on the time of day, students are limited to the assigned websites. Segmented blocking has been an essential element in keeping students on task."

– Heather Edwards-Bohn, Teacher at Forest Lake Elementary
"In my classroom, our Dell Chromebooks are a permanent fixture. We use them for a variety of reasons daily. I may use them for assessing, sparking student thinking, exploring new ideas, or researching foreign topics. Most importantly, I emphasize to my students that technology is a tool. It is a tool that is extremely useful and helpful. However when used inappropriately, it can create problems and become unproductive."

– Diedra Rumph, Teacher at Longleaf Middle School
If you are a teacher, Tech Coach or administrator in South Carolina, be sure to visit us at SC EdTech in Greenville to hear more Dyknow customer stories and experience our awesome interactive booth!
Start teaching confidently with Dyknow for free!
In addition to web browser updates and bug fixes, Dyknow released several major product updates, new features and enhancements. Check out Dyknow's 2021 Year in Review!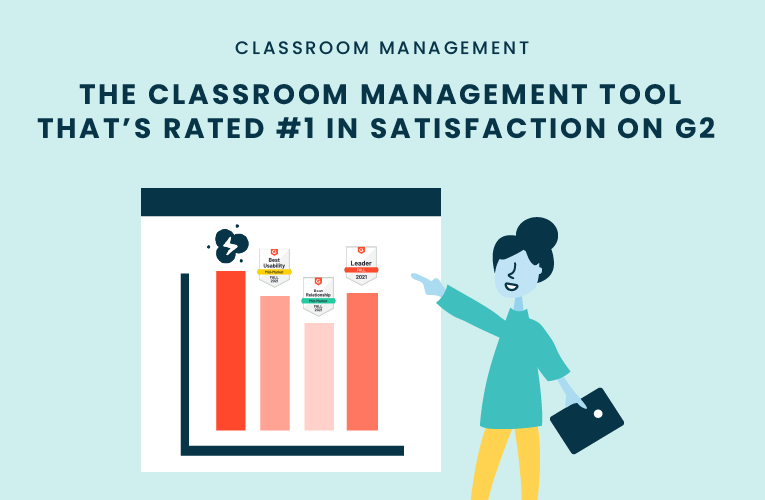 K-12 Administrators across the world trust G2 as the #1 platform to find, research, and choose EdTech tools that solve the most pressing problems their teachers are experiencing. In G2's Fall 2021 Reports, Dyknow was once again rated #1 in overall Satisfaction out of...
On this episode of Tackling Tech, Tierra Leustig interviews Scott Bayer about being an anti-racist teacher, diversifying reading lists, creating inclusive learning environments, and leveraging ed-tech in non-technical ELA classrooms. Scott Bayer is a High School...