One of the most important initiatives that we've taken on this year is gathering direct feedback from our users to create discussion topics for how technology is changing their classrooms. This customer-fueled initiative shapes future content topics that actually matter to our audience and which helps us build a platform for the educator's voice. We've been fortunate to engage with several educators in Richland School District Two in South Carolina, including Tim Swick, who was featured in our blog post, How Dyknow Users Spend More Time Teaching and Less Time Policing Student Devices. We find that their classroom management process continues to evolve as 1:1 student devices change the dynamic of K12 education.  
In this post, we will hear from Deidre Rumph who is a Dyknow user from Columbia, South Carolina. She teaches 7th grade Science at Longleaf Middle School, which is a part of the Richland School District Two. She applied for South Carolina's alternative pathways PACE sixteen years ago. As a PACE participant, she earned her professional teaching certificate and also obtained her Masters of Education in Curriculum and Instruction with an emphasis in Technology Education as well as a STEM Leadership Certificate. Deidra's teaching philosophy is best described by poet Nikki Giovanni, "Mistakes are a fact of life. It is the response to that error that counts." 
I sent Deidre an email to ask her a few questions about their student device program, specifically on how they collaborate internally on technology. As a Dyknow champion, I also asked her to share advice for other teachers that are trying to maximize the use of technology in their classrooms.
What ways are you maximizing your student device program in your classroom?
In my classroom, our Dell Chromebooks are a permanent fixture. We use them for a variety of reasons daily. I may use them for assessing, sparking student thinking, exploring new ideas, or researching foreign topics. Most importantly, I emphasize to my students that technology is a tool. It is a tool that is extremely useful and helpful. However when used inappropriately, it can create problems and become unproductive.
How are you working with tech roles and admins on the use of technology in schools?
In my district, there are many opportunities to work with our school Technology Learning Coaches (TLCs) as well as district level coaches. The TLC at my school, Casey Ellisor, provides a wealth of information. He is available for anything from troubleshooting devices to helping plan units. I enjoy brainstorming ideas for units with him as he is a former science teacher. In addition, our district technology leader for our school, Nichole Allmann, is not out of reach. She offers her help with the implementation of new technology, and teaches us different ways to present content in the classroom. Recently she led a Blended Learning class. She provided help in my classroom as I implemented my Human Body blended learning unit as well as provided feedback throughout the process. I feel quite lucky to work with such knowledgeable individuals. 
What tips can you provide on how to maximize instructional time with technology?
As all educators know, time is of the essence. In my classroom, I consider the following tips when planning instruction with technology.
Keep it simple. The more intricate the steps for using the technology, the more the purpose of the activity is lost. Students will become frustrated and so will you. I make sure that I spend time planning out the steps so they are as simple as possible.
Reflect on the purpose. Is the use of technology always necessary? When planning lessons, consider the purpose of the activity. As my school Tech Coach says, "Sometimes it is best to use a piece of paper." Technology is not always easier or faster.
Protect your students. There are many great sites online. As an educator, it is our responsibility to review all sites that we use for educational purposes. Before using websites, I read the websites' Terms of Use, Privacy Policies, and Cookies Policy. I want to make sure I know what information is collected, the age appropriateness of the site, and safeguards present for privacy protection.
We'll continue to highlight the teacher's voice on this blog and are always willing to take recommendations on topics that you or your school find helpful as technology continues to change K12 education. 
Want to enhance your student device program like Deidre?
In addition to web browser updates and bug fixes, Dyknow released several major product updates, new features and enhancements. Check out Dyknow's 2021 Year in Review!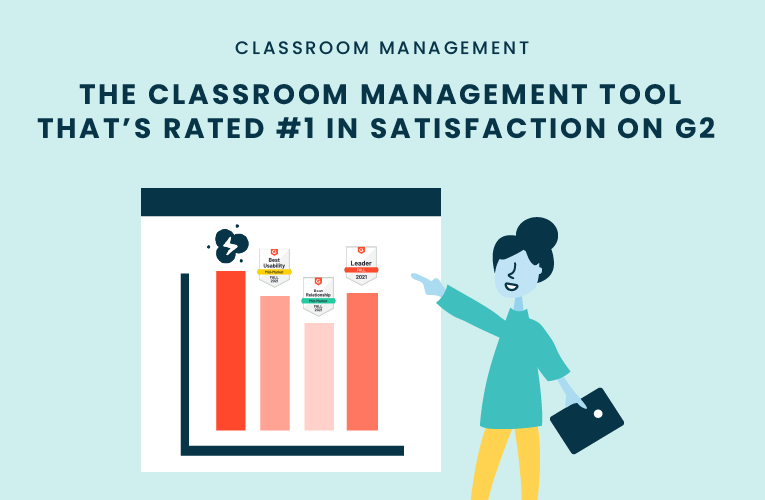 K-12 Administrators across the world trust G2 as the #1 platform to find, research, and choose EdTech tools that solve the most pressing problems their teachers are experiencing. In G2's Fall 2021 Reports, Dyknow was once again rated #1 in overall Satisfaction out of...
On this episode of Tackling Tech, Tierra Leustig interviews Scott Bayer about being an anti-racist teacher, diversifying reading lists, creating inclusive learning environments, and leveraging ed-tech in non-technical ELA classrooms. Scott Bayer is a High School...