During the transition to remote learning, any gaps that existed in the traditional K-12 classroom format were emphasized. One gap that became apparent from students working at home was the minimal utilization of personalized learning through brain-based learning strategies in the classroom. Personalized learning is all about transforming classroom instruction by tailoring tasks, instruction, and assessment to meet each student's needs and abilities, and brain-based learning is using teaching and lesson designs based on what we know about how the brain learns best.
During remote learning, many students who once struggled in the regular classroom environment thrived in a remote learning setting as they were using new tools and devices to facilitate learning. This sudden change to certain students' performance was a realization for many educators that all students have very different learning needs.
Dr. Marcia Tate (@drmarciatate), a recent guest on the Tackling Tech Podcast, recognizes the power behind brain-based research to drive personalized learning in the classroom. She gave us some great insight into how to leverage brain-based learning for your instructional strategies.
Brain-Based Learning Strategies to Enhance Personalized Learning
Dr. Marcia Tate is passionate about the power behind brain-based learning strategies as she believes that since educators are teaching brains, they should be utilizing strategies that align with the way people consume and retain information. Through the use of brain-based learning, students are also participating in personalized learning as they are using strategies that best align with their learning needs.
We wanted to provide you with some of these brain-based learning strategies to help promote personalized learning in the remote or in-person classroom this Fall.
Art and Drawing: Many students learn best when they have the opportunity to express their thoughts through creativity.  Dr. Tate has had experience with many of her male students using art to enhance lessons, so she advises other teachers to give their students the freedom to express their lesson takeaways in an artistic manner.
Discussion: Offering the option to discuss the lesson out loud allows verbal learners an opportunity to offer their opinions and thoughts. These students best express their reasonings through verbal communication.
Technology: As remote learning revealed, many students flourish in a technology driven environment. Adapting lessons into a technological device friendly format will help to meet these students' needs.
Movement: Through the activation of procedural memory, there are students that learn best when there is movement involved in the lesson. Allow students to take time away from their desks during a lesson, so they can discover new learning processes.
Personalized Learning and Brain-Based Learning Implementation Tips & Tricks
Teachers may fear a lack of management over their class while students use personalized learning and brain-based learning to drive their comprehension of a lesson. Here are some tips and tricks ISTE provides to remain in control over your classroom while implementing these new learning styles.
Learn from others: Be open to taking advice from experts on personalized and brain-based learning styles. As an example, Dr. Marcia Tate is an expert on using brain-based learning strategies to create a more personalized learning experience. Check out some of her best selling books that she wrote based on her brain-based research.
Assess as you go: It is important to continue to evaluate the process you have put in place. Continually ask yourself what is working well and what could be improved.
Remote learning has capitalized on the benefits of focusing on personalized learning in the classroom. Through the use of brain-based learning strategies, students can adapt each lesson to fit their own personalized learning needs so they can thrive in the classroom.
Listen to full conversation with Dr. Marcia Tate
On this episode of Tackling Tech Podcast, powered by Dyknow, Brett McGrath talks with Dr. Marcia Tate, bestselling author of "Worksheets Don't Grow Dendrites 20 Instructional Strategies to Engage the Brain." These brain-based strategies include drawing, discussion, movement, and storytelling, and are backed by extensive research and science and encourages social emotional learning.
Start teaching confidently with Dyknow for free!
In addition to web browser updates and bug fixes, Dyknow released several major product updates, new features and enhancements. Check out Dyknow's 2021 Year in Review!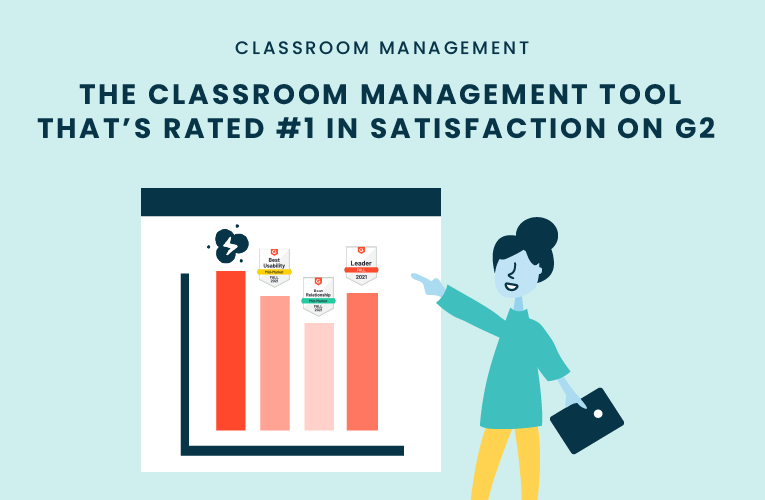 K-12 Administrators across the world trust G2 as the #1 platform to find, research, and choose EdTech tools that solve the most pressing problems their teachers are experiencing. In G2's Fall 2021 Reports, Dyknow was once again rated #1 in overall Satisfaction out of...
On this episode of Tackling Tech, Tierra Leustig interviews Scott Bayer about being an anti-racist teacher, diversifying reading lists, creating inclusive learning environments, and leveraging ed-tech in non-technical ELA classrooms. Scott Bayer is a High School...