One of the most important parts of teaching is knowing how students learn. Many studies have been conducted researching the brain to understand how k-12 students – and humans in general – learn best. In a recent conversation with educational consultant, Dr. Marcia Tate, to discuss what brain-based learning is and how effective these teaching methods are in the classroom.
A Definition for Brain-Based Learning
Brain-based learning is essentially lesson plans and teaching methods that reflect the findings of how the brain learns best. Cognition Today defines brain-based learning as, "a paradigm of learning which addresses student learning and learning outcomes from the point of view of the human brain." Teachers use research and implement teaching methods that have been designed specifically for the best retention and growth results. Marcia explained, "If we are teaching brains, we should be using strategies that align with the ways that people consume and retain information."
A lot of the methods used in brain-based learning, as Marcia says, are not new strategies, they have been around for years. She explains that some of your best and favorite teachers in school used these strategies during your years of education – and that is probably why you still remember their lessons to this day. 
These methods can be something as simple as just getting the students out of their chairs and walking around the classroom to activate brain stimulation. Many activities in the arts like listening to music or drawing can also be very effective ways to implement brain-based learning. With a progressive approach to new learning environments, older or traditional methods like brain-based learning can complement the 'new age' of learning methods well. 
Use Brain-Based Learning in Your Classroom 
Brain-based learning is not one size fits all. Different brain-based learning activities work better for different students. Some teachers might worry that brain-based learning won't work in their classroom because they can't do an assessment of each student to know what activity is best for them as an individual. Marcia emphasizes that there is no need for any pre-assessment of your students, just observe students as the school year begins to pick up on their habits or interests. Much of the brain research has been general and fits the needs for basic brain stimulation of the human being. 
A recommendation for educators, from Marcia, is to create a list of options of methods for teachers to choose from. Here is the list that Marcia shared
1. Drawing/art
After reading an excerpt from a book or article, teachers can have students draw how that part of the text made them feel or connect colors to certain emotions throughout the text.
2. Discussion
Having a class discussion not only helps with social behavior but teaches students how to be respectful and accurately create and support an argument.
3. Technology
Technology can be used in many different creative ways. A common way to incorporate technology into brain-based learning is to have students participate in partial online lessons to create independence and curiosity within a student.
4. Movement
Take a movement minute! Get students up out of their seats and get the blood pumping to their brain to enhance focus and overall mood.
5. Storytelling
Storytelling helps students to tap into their creative and imaginative side. Have students write in a journal every day for 30 mins to enhance writing skills and creativity.
6. Making/listening to music
Music can be a significant factor in creativity, memory, behavior, and learning. Certain types of music stimulate different parts of the brain that can be beneficial during learning.
These brain-based strategies are used most often in kindergarten but should be used throughout the entire duration of a students' educational career. Each method can be applied to any grade level and works for any age of the student. These brain-based methods do not have an expiration date on their effectiveness. 
Implementing an instructional strategy that best fits your students and effectively builds their overall learning and development skills is the most important part of learning. Brain-based methods tap into the creativity and curiosity of the brain to really see the most potential out of each student. Personalize your classroom with brain-based learning. 
Listen to the full conversation with Dr. Marcia Tate on our Tackling Tech Podcast!
On this episode of Tackling Tech Podcast, powered by Dyknow, Brett McGrath talks with Dr. Marcia Tate, bestselling author of "Worksheets Don't Grow Dendrites: 20 Instructional Strategies to Engage the Brain." These brain-based strategies include drawing, discussion, movement, and storytelling, and are backed by extensive research and science, therefore, encourage social-emotional learning. 
Start teaching confidently with Dyknow for free!
In addition to web browser updates and bug fixes, Dyknow released several major product updates, new features and enhancements. Check out Dyknow's 2021 Year in Review!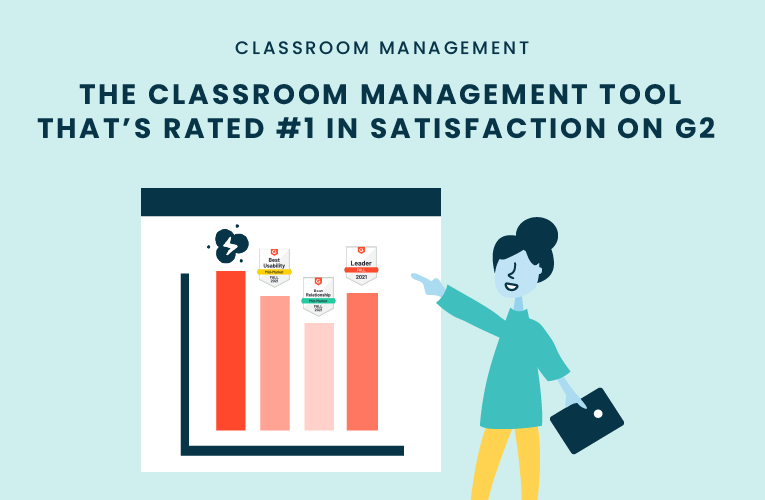 K-12 Administrators across the world trust G2 as the #1 platform to find, research, and choose EdTech tools that solve the most pressing problems their teachers are experiencing. In G2's Fall 2021 Reports, Dyknow was once again rated #1 in overall Satisfaction out of...
On this episode of Tackling Tech, Tierra Leustig interviews Scott Bayer about being an anti-racist teacher, diversifying reading lists, creating inclusive learning environments, and leveraging ed-tech in non-technical ELA classrooms. Scott Bayer is a High School...