District technology decisions that affect students and teachers are most effectively implemented when all stakeholders are aligned with the decisions being made. Tech coaches and administration hold a key role in district technology decisions made, but teachers are also an important stakeholder to include in these decisions as they are most directly affected by the technology.
We recently had a discussion on the Tackling Tech Podcast with education specialist, Ari Flewelling (@EdTechAri), where she gave some great insight into how to keep educators aligned when important decisions are made. She emphasized how important it is to have a variety of educators involved during these processes as it is crucial to understanding different perspectives during the decision making process. She emphasized that teachers may give one of the most powerful perspectives as they are the ones teaching the technology to the students.
It is extremely important to include teachers in these technology decisions, so we want to provide you with some actionable tips for how to include teachers in district technology decisions.
3 Ways To Include Teachers In District Technology Decisions
Teachers offer a unique perspective as they work hands-on with their students everyday. They can offer great feedback on how effectively technology seems to be working and which devices and tools may not be impactful. Here is some insight into how to include teachers in these important district technology decisions.
Explain the importance of their role: Take time to explain to the teachers in your district how important of a role they carry regarding the unique perspective they could give during district technology decisions. The more teachers understand the important role they play in these decisions, the more likely they will be to get involved.
Be flexible: Teachers have busy schedules and may not be able to find the time to attend to sessions where technology decisions are made. It is important to be flexible and offer them different routes of communicating their perspective, such as electronic surveys where teachers can explain their thoughts on current district technology decisions.
Just ask: Sometimes it can be as simple as just reaching out to someone to ask if they would like to be involved in these decision making processes. Many teachers may not even recognize there is an opportunity for them to be involved, and it is likely they will be interested in joining.
Most Important Stakeholders in District Technology Decisions
As priorly mentioned, tech coaches hold a key role in district technology decisions. Tech coaches are very important in these decisions as they have the most knowledge on how to effectively implement and use technology in the classroom. Their input for district technology decisions is crucial to ensuring each technological tool and device is being used to its full potential.
Although it may come as a surprise, students can also hold a role in district technology decisions. It is important they are involved as the decisions made in these meetings affect them the most. Try getting a group of students together that seem to have the most experience with your district's technology devices and allow them to provide feedback during the planning process.
It is crucial for the alignment of all educators to have a variety of people involved in district technology decisions. Along with tech coaches and administration, teachers and students can also offer a unique perspective on how to most effectively implement technology in the classroom.
Listen to full conversation with Ari Flewelling
On this episode of Tackling Tech Podcast, powered by Dyknow, Brett McGrath talks with Ari Flewelling, and educational technology specialist and certified educator, trainer, and innovator. Communication and transparency are key going into this unique school year. Teachers have stepped up to the pate, proved their professionalism, and adapted quickly with the help of professional development and the right technology tools.
Start teaching confidently with Dyknow for free!
In addition to web browser updates and bug fixes, Dyknow released several major product updates, new features and enhancements. Check out Dyknow's 2021 Year in Review!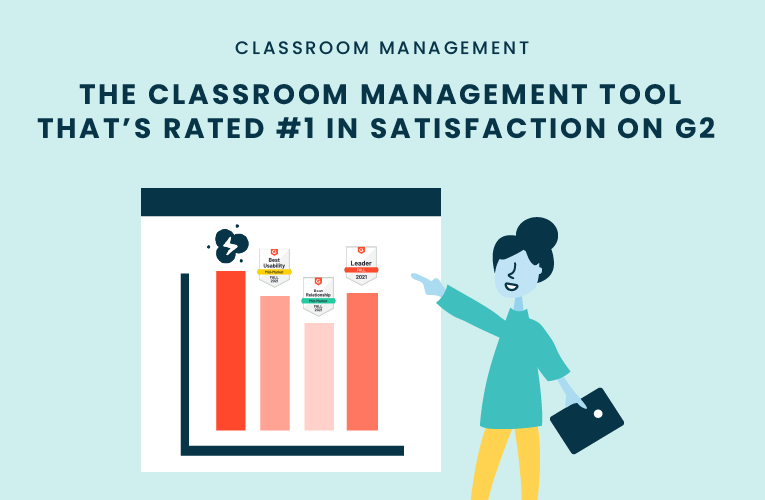 K-12 Administrators across the world trust G2 as the #1 platform to find, research, and choose EdTech tools that solve the most pressing problems their teachers are experiencing. In G2's Fall 2021 Reports, Dyknow was once again rated #1 in overall Satisfaction out of...
On this episode of Tackling Tech, Tierra Leustig interviews Scott Bayer about being an anti-racist teacher, diversifying reading lists, creating inclusive learning environments, and leveraging ed-tech in non-technical ELA classrooms. Scott Bayer is a High School...