Distance learning has been a huge catalyst for many schools implementing and using technology for the first time. Because many schools went virtual for safety reasons, they had to come up with alternatives to continue learning while in a remote setting. So, technology was the number one asset used to overcome the challenges presented by COVID-19. Schools all over send students home with iPads, Chromebooks, PC's, etc. to continue learning as best as possible. Teachers have since had the challenge of learning how to utilize 1:1 device programs and how to continue to make this type of learning engaging for students.
What are 1:1 Device Programs?
1:1 devices have been used in classrooms all over the US but have more commonly been used recently to continue learning during COVID-19. The idea behind 1:1 learning is to eliminate some of the obstacles students and teachers may face when it comes to resources for remote learning. These devices that are sent home to students ensure that students have the ability to learn and have the same quality of education. These programs encompass personalization and student engagement especially since when trying something new, the beginning can be challenging. Educators are navigating their way to create the best resources to promote student engagement with these 1:1 devices and really maximize what this technology can do to impact their classroom as a whole.
How To Maximize New 1:1 Device Programs by Prioritizing Student Engagement
Student engagement continues to be a never-ending cycle of asking the question, "how can we do more?" With 1:1 devices many new ways of providing instruction have been utilized to help create a similar environment online as an in-person classroom would feel. Holly Clark spoke with us on our Tech Coach Corner series on YouTube about the google infused classroom. She provided tips on how to use this kind of virtual classroom and the most effective way to utilize your 1:1 device program. When educators are planning out how they want to use the technology Holly believes that they need to keep these three things in mind:
1. Whatever you are designing, use the technology to make student thinking visible
Being away from a physical classroom can hinder a teacher's ability to see a student's thought process. An important factor in guiding student growth is to know what steps a student took to come to a conclusion and understand in what ways they comprehend and learn best with feedback. Make sure you are able to collaborate and communicate with students as well as creating conversations between students about material for maximal understanding. 
2. Find ways to encourage student voice
Students have more of an incentive to participate, learn, and care if they have a say in the matter. When students understand that their voice is heard they are able to build higher confidence and trust in a teacher to provide them with meaningful and relevant material.
3. Promote collaboration between students
Virtual learning can be a challenge for not only teachers but students as well. This new environment can be uncomfortable and isolating. Getting your students to collaborate with each other through the screen can help to create relationships and friendships as well as provide students with teamwork skills.
1:1 device programs have enabled educators to drive education in another progressive direction towards personalization and effectiveness. Technology has provided countless opportunities and resources for educators in terms of instructional styles, digital tools, digital classrooms, and overall motivation to innovate.
Start teaching confidently with Dyknow for free!
In addition to web browser updates and bug fixes, Dyknow released several major product updates, new features and enhancements. Check out Dyknow's 2021 Year in Review!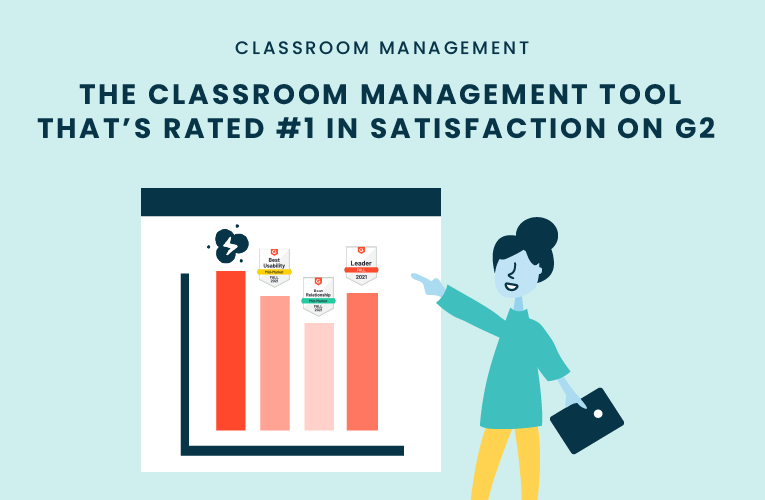 K-12 Administrators across the world trust G2 as the #1 platform to find, research, and choose EdTech tools that solve the most pressing problems their teachers are experiencing. In G2's Fall 2021 Reports, Dyknow was once again rated #1 in overall Satisfaction out of...
On this episode of Tackling Tech, Tierra Leustig interviews Scott Bayer about being an anti-racist teacher, diversifying reading lists, creating inclusive learning environments, and leveraging ed-tech in non-technical ELA classrooms. Scott Bayer is a High School...