Over the past 20 years, technology has been rapidly advancing. However, the integration of technology into education has been a long and slow process for many schools. With the onset of remote learning due to COVID-19, one to one devices have now been placed into hundreds of schools nationwide to continue education in remote and hybrid settings. The effects of COVID-19 have forced most schools and districts across the country to integrate one to one device programs into their curriculum which has undoubtedly increased the technology advances in K-12 education. 
The Evolution of One to One Device Programs
One to one device programs first made an appearance in the 1990s when the boom of technology began. These programs were not adopted into many schools in the beginning, but according to Educationweek.org, in 2003 Maine was the first state to launch a statewide one-to-one device initiative called "From Lunchboxes to Laptops." Hacked Education stated that this program would give each seventh-grader a laptop and free internet access and would continue to do this each year for seventh graders from then on. This program paved the way for other schools around the country to begin to experiment and implement technology practices into their classrooms. 
Once schools began implementing one to one device programs, the momentum increased enormously. Education Week stated, "In 2013 and 2014 alone, schools purchased more than 23 million laptops, tablets, and Chromebooks for use by students and teachers in the classroom (and sometimes at home.)" As the demand for IT specialists and technological occupations increased, educators began to notice the importance and value of one to one device programs. Schools around the country began investing in devices and implementing classes and programs to build student knowledge on technology as well as giving hands-on work experience along the way. 
Despite the rapid implementation of technology integration in some states, a majority of schools stayed pretty stagnant over the years following. COVID-19 was a huge catalyst for many schools implementing and using technology for the first time. Because many schools went virtual for safety reasons, they had to come up with alternatives to continue learning while in a remote setting. The technology was the number one asset used to overcome the challenges presented by COVID-19.
Now that schools have gone back in session for the Fall semester, many of the new skills educators learned from remote learning have been incorporated into their remote, hybrid, and classroom settings. New learning styles have been implemented to blend a traditional and technological classroom. The almost forced usage of technology in or out of the classroom over the last 6 months has been somewhat of an epiphany for a lot of educators, prompting them to realize how much technology can actually advance and enhance learning. One to one devices continue to be used for the benefit of students to provide the best and most personalized learning experience possible.
In a recent conversation with educator and author, Holly Clark, she expressed her excitement for the transition to one to one devices because she expected this to begin 10 years ago. Holly's experience with 1:1 devices is unique, in that she began her career in Silicon Valley, where many parents in her class worked in various technology conglomerates. Because of this, she was gifted 1:1 devices for her classroom, nearly twenty years ago, when these programs were just being tested in schools. Her situation was also unique because the parents in her class were supportive and helped innovate with those 1:1 devices. Over the last 20 years, she has been able to take risks and experiment with all different kinds of tools and technology to become an expert before most educators even begin. 
She is in shock that it took a pandemic to finally get schools using one to one devices but cannot wait to see how technology will shape the future of education.
How Dyknow Supports One to One Device Programs
Whether it's online or at events, we have lots of conversations with teachers about how they can start using Dyknow in their classrooms. With more than half of K-12 classrooms using devices today, teachers are stretched thin with the responsibility of teaching and keeping student device usage on track. Dyknow is like having a dedicated classroom aid and enhances teacher control so they can maintain student attention and minimize digital distractions. Here are a few of the feature Dyknow offers:
1. Screen Monitoring
Dyknow allows teachers to see all their student's screens simultaneously. This way teachers can monitor their students to keep them on task. If they notice one of their students getting off task all they have to do to redirect them is click a button. It's that easy. 
2. Blocking plans
With major concern over screen time and students having more incentive to go off task, Dyknow has implemented blocking plans. This way teachers can personalize which sites their students cannot access.  
3. Communication with students
Send a question to your students or check for understanding by messaging them. Messages show up as push notifications on student devices in which they can reply to any time.
4. Stats about student usage
Access analytics after class to see how students use devices during class. View student activity over a span of time to understand where problems are arising.
 Listen to the full conversation with Holly Clark on our Tackling Tech Podcast!
On this episode of Tackling Tech Podcast, powered by Dyknow, Brett McGrath speaks with Holly Clark. Holly is an education thought leader, international speaker, best-selling author, and student advocate with 20+ years as an educator and administrator. Her published three books are The Google Infused Classroom, The Microsoft Infused Classroom, and The Chromebook Infused Classroom. She shares her advice on assessing students in a digital age.
Start teaching confidently with Dyknow for free!
In addition to web browser updates and bug fixes, Dyknow released several major product updates, new features and enhancements. Check out Dyknow's 2021 Year in Review!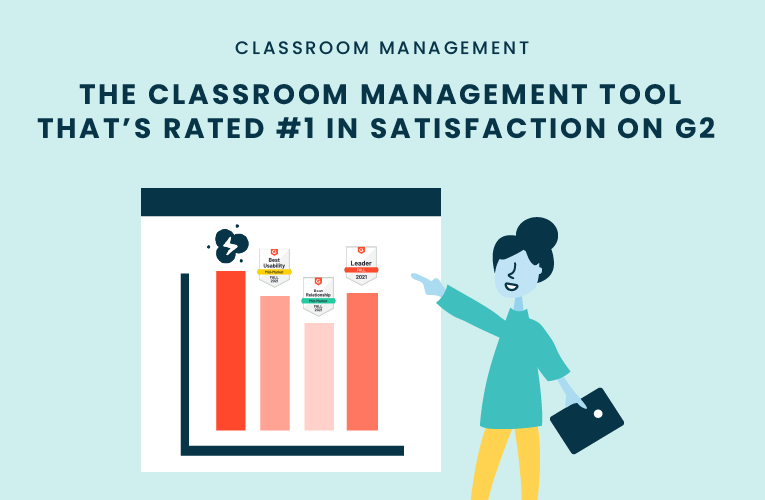 K-12 Administrators across the world trust G2 as the #1 platform to find, research, and choose EdTech tools that solve the most pressing problems their teachers are experiencing. In G2's Fall 2021 Reports, Dyknow was once again rated #1 in overall Satisfaction out of...
On this episode of Tackling Tech, Tierra Leustig interviews Scott Bayer about being an anti-racist teacher, diversifying reading lists, creating inclusive learning environments, and leveraging ed-tech in non-technical ELA classrooms. Scott Bayer is a High School...