Many things have changed in the education world during COVID-19. Technology has provided unprecedented amounts of support to continue K-12 education in 2020 virtually. New software and technologies have been created and implemented in classrooms everywhere. Educators are taking this time to further their knowledge of different technology tools and the benefits of educational technology. We recently had a conversation with Instructional Technology Training Specialist, Sean Coffron, who shared his predictions on how educational technology will affect education in 2020.
5 Predictions for Educational Technology in 2020
.
1. Increased Digital Citizenship Curriculum
Now that instruction is taking place outside of the classroom using technology Sean expresses how important it is that we promote digital citizenship and give students the tools they need to be responsible and effective digital citizens. These students are the first generation to be born into a digital world and have to navigate the limits and dangers of the world wide web. As teachers using technology to teach students, you have to teach students about the technology. Young kids don't fully understand the concept of a digital footprint and how your online life is forever which is why Sean believes that teachers and schools will begin to implement a heavier digital citizenship curriculum to combat potential future online mishaps for their students.
2. More PD Opportunities and Resources for Teachers 
Sean explained that when students come back to school, there will be a transition period where students will need to learn how to do school all over again. Over the last 6 months teachers, administrators, and technology coaches have been scrambling to find the best possible tools to implement effective learning strategies as well as having the comprehensibility of teachers using these tools. During quarantine, many took that time to invest in different professional development webinars and virtual classes. Technology in the education world has transformed not only the way teachers teach but the way they learn. Many in-person conferences were moved to online and found that they can provide just as great of content regardless if in-person or virtual. This provided teachers with more professional development opportunities because of the convenience and the ability to do it on their own time.
3. A Larger focus on Social-Emotional Learning
In the last three years, there has been a huge push for social-emotional learning. Schools everywhere have evaluated the epidemic of mental health issues within these younger generations and figured out how to teach interpersonal skills, problem-solving skills, impulse control, coping mechanisms, etc. Social-emotional learning goes hand in hand with digital citizenship. Now that social media has created this new online world, issues like bullying can happen outside of the classroom. Teaching good digital citizenship can help to decrease the risk of cyberbullying. 
4. Increase in Student Engagement
Student engagement has been far and wide in 2020. In a completely new environment where students have the convenience to lay in bed, turn off their camera, and mute themselves during class time, student engagement is something that teachers have been really struggling with while remote. Because of this teachers, administrators, and tech coaches around the world have bound together online to create ways to increase student engagement while remote and when they go back to the classroom. 
5. Diversity of technology resources in the classroom
Educational technology in 2020 has overwhelmingly advanced in a very short period of time. Not only were existing companies working to provide tools and resources for teachers to use but everyday teachers decided to create tools for themselves. Who better to trust than the teacher themselves? Teachers everywhere have created hundreds of tools, lesson plans, digital classrooms, online resources, in-person technology curriculum, and so much more. Educational technology will be continuously used as well as new advancements to come in the future.
Educational technology in 2020 transformed what K-12 education looks like today. The impact technology has made on the educational world has been outstanding and is set to increase continually.
Listen to the full conversation with Sean Coffron on our Tackling Tech Podcast!
On this episode of Tackling Tech Podcast, powered by Dyknow, Brett McGrath invites back Sean Coffron, Instructional Technology Training Specialist, back to talk about digital citizenship, classroom management, and closing the digital divide. Sean shares his predictions about the upcoming school year and the future of digital education.
Start teaching confidently with Dyknow for free!
In addition to web browser updates and bug fixes, Dyknow released several major product updates, new features and enhancements. Check out Dyknow's 2021 Year in Review!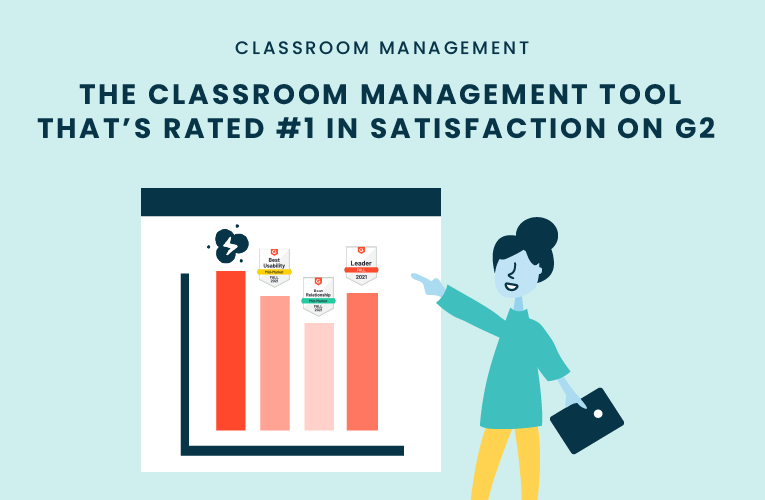 K-12 Administrators across the world trust G2 as the #1 platform to find, research, and choose EdTech tools that solve the most pressing problems their teachers are experiencing. In G2's Fall 2021 Reports, Dyknow was once again rated #1 in overall Satisfaction out of...
On this episode of Tackling Tech, Tierra Leustig interviews Scott Bayer about being an anti-racist teacher, diversifying reading lists, creating inclusive learning environments, and leveraging ed-tech in non-technical ELA classrooms. Scott Bayer is a High School...