Many things have changed in the education world since remote learning began. Most notably, technology provided an unprecedented amount of support for educators to continue K-12 instruction virtually. Prior to the pandemic, the utilization of technology in K-12 classrooms was slowly increasing, with many technology integration challenges getting in the way.
Now that nearly every student has a device in front of them, new software and technology tools are being created and implemented in classrooms everywhere. K-12 educators are taking time this summer to further their knowledge of these technology tools and understand the changes that come with this increase in technology integration. 
These are the 6 ways that technology is transforming classrooms – and K-12 education at large – in 2021. 
6 Ways Technology is Transforming Classrooms in 2021
1. New Opportunities for Professional Development 
Many educators are new to the EdTech world which opens up many opportunities for professional development. Educators are taking time to develop their technical knowledge and skillsets in 2021. Schools are implementing professional development and training programs to help their staff make the most out of the new tech tools being implemented into classrooms. As professional development increases, educators are becoming more comfortable with technology and are able to apply better tactics within technology to support their classroom lessons.
2. Instructional Styles are Emerging
Technology in classrooms has caused educators to realize that the instructional tactics they previously used are not always effective for their new technology-transformed classrooms. New instructional styles like flipped learning, progressive learning, personalized learning, and social-emotional learning have all had a rise in popularity to complement technology in the classroom. These styles are changing the way teachers are thinking about their teaching styles and approaching learning in the classroom.
3. Increased Flexibility
These new instructional styles and increased knowledge of technical skills allow for much more flexibility within the classroom. Educators are able to provide resources for students in and out of the classroom, online and on devices provided by the school. 
4. Innovation and Creativity are at an All-Time High
Educators are tapping into their creative side by creating tools and activities that leverage technology in the classroom to fit the needs of students and educators across the country. With technology, educators are expanding their lessons using videos, podcasts, blogs, and passion projects to create more variety in the classroom and provide personalized learning options for students.
5. More Student Choice
One topic that has increased with the onset of educational technology is student choice. With personalized learning becoming much more popular, educators are finding ways to provide students with as many options of how to learn as they possibly can. Giving students choices within the classroom for what they learn and how they learn, provides them with opportunities to develop better time management skills and assess their own abilities in the classroom.
6. Students and Colleagues are Collaborating
Technology allows students and teachers to continue to collaborate outside of the classroom. Online sources enable students to connect on group projects, discussions, and outside help with messaging programs and cloud sources. Students are not limited to in-classroom help because of technology.
Technology continues to dominate the educational world and transform classrooms across the country. As educators are becoming more comfortable with technology, more and more of them are discovering how beneficial technology is in their classrooms. Technology integration is just picking up and is not projected to slow down anytime soon.
Start teaching confidently with Dyknow for free!
In addition to web browser updates and bug fixes, Dyknow released several major product updates, new features and enhancements. Check out Dyknow's 2021 Year in Review!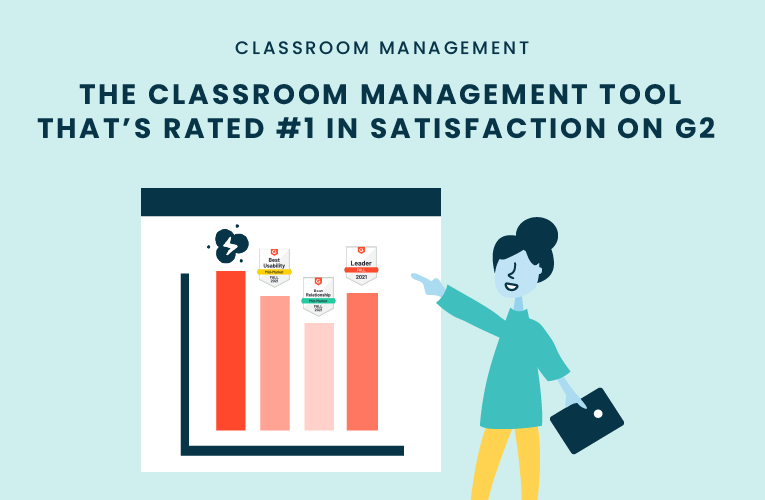 K-12 Administrators across the world trust G2 as the #1 platform to find, research, and choose EdTech tools that solve the most pressing problems their teachers are experiencing. In G2's Fall 2021 Reports, Dyknow was once again rated #1 in overall Satisfaction out of...
On this episode of Tackling Tech, Tierra Leustig interviews Scott Bayer about being an anti-racist teacher, diversifying reading lists, creating inclusive learning environments, and leveraging ed-tech in non-technical ELA classrooms. Scott Bayer is a High School...