Students spend a large portion of their childhood in the classroom. They learn and develop with their classmates and teachers by their side. A young student begins defining who they are through their strengths, hobbies, interests, friends, etc. at school. Emphasizing student voice and choice in a classroom can help to build confidence and engagement during a lesson. LaQuisha Hall weighs in to describe 6 ways to promote student voice in your classroom.
6 Ways To Promote Student Voice in Your Classroom
1. Start at the beginning of the year
LaQuisha recommends encouraging student voices right off the bat. Students have to make more of an adjustment to the existing structure of the classroom if student voice encouragement starts in the middle of the year. Be vulnerable and set an example for students about why this is important. Explain why you are encouraging them to speak up and how these skills will support them in future endeavors. 
2. Restorative circles
These circles are designed to connect students in their interests. LaQuisha explains how surprised she was with what students were willing to share with each other. They are able to really get deep, be vulnerable, and talk about something that is important to them if they feel comfortable. "We need to show students that their authentic selves matter and that their voices matter. When you do that, it changes what the classroom culture and climate looks like. Your students value you because they know you value them."
3. Feedback
Feedback comes in many forms from Administrators, Peers, Parents, Students, etc. Students are able to determine if they think that the material is challenging enough, concise enough, and important enough for them to be learning in the classroom. If something isn't working, give students an outlet to let you know. Students are experiencing the teaching as it comes, provide the best education possible by knowing exactly what your students want and need.
4. Choice boards 
One example of giving students control over how they learn is choice boards. These can be digital or handwritten. Students can choose what activity they do and what objective they want to master at certain times. They have control over choosing what is interesting to them and determine what objectives they might have already mastered.
5. SEL
Social-emotional learning has created a space for students to learn while connecting with each other and their emotions. Especially for middle and high school students, social-emotional learning can dramatically help students with hard situations they have outside of school. Teachers can create a safe space for each of their students to learn with support.
6. Group Work
Group work lets students develop teamwork skills as well as interpersonal skills. Students are able to step up and be leaders, idea thinkers, writers, analyzers, etc.
LaQuisha's Note to Educators While Promoting Student Voice
LaQuisha recommends to educators that they take time for themselves as well as focusing on helping their students. Teachers are so used to analyzing data, grading papers, making tough decisions, and evaluating how our students are doing that they forget to check on themselves. Reflect on your own performance and how you can improve or what changes need to be made. She recommends making a lesson plan for yourself during downtime to indulge in something you enjoy.
"You have to be filled, or you won't be able to pour." Take time to fill yourself up with things that make you happy so that you can help give that energy to your students. LaQuisha says that her students are already leaders and they have their own leader autonomy; she is just there as a guide to help them become educated. 
Start teaching confidently with Dyknow for free!
In addition to web browser updates and bug fixes, Dyknow released several major product updates, new features and enhancements. Check out Dyknow's 2021 Year in Review!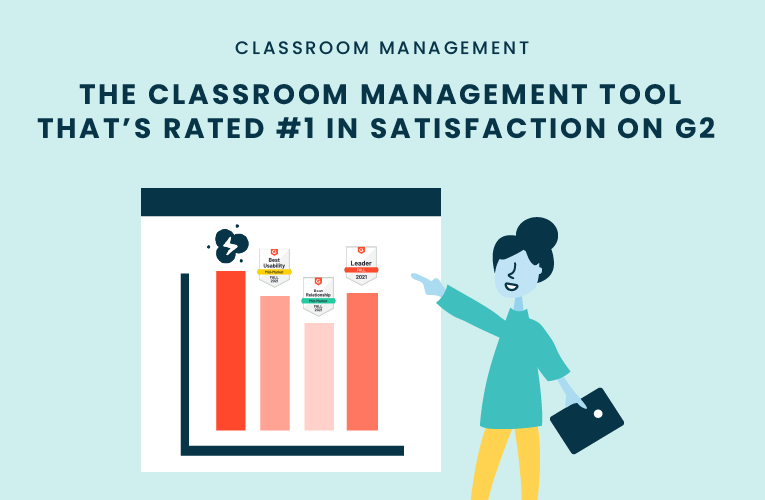 K-12 Administrators across the world trust G2 as the #1 platform to find, research, and choose EdTech tools that solve the most pressing problems their teachers are experiencing. In G2's Fall 2021 Reports, Dyknow was once again rated #1 in overall Satisfaction out of...
On this episode of Tackling Tech, Tierra Leustig interviews Scott Bayer about being an anti-racist teacher, diversifying reading lists, creating inclusive learning environments, and leveraging ed-tech in non-technical ELA classrooms. Scott Bayer is a High School...