As the new year rolls in K-12 educators are creating resolutions for the upcoming 2021 school year in hopes of easing some of the uncertainty that COVID-19 has created over the last year. We have had numerous conversations with educators, tech coaches, and administrators over the last year that helped us to create the best list of resolutions for K-12 educators in 2021.
7 New Year's Resolutions for K-12 Educators going into 2021
1. Try at least one new EdTech tool
Many new tech tools have surfaced over the past few months that have helped educators build their student engagement and overall effectiveness of instruction in the classroom. The online tools are endless and can make lesson plans that much more engaging for students. Find a tool that works best for you and your students.
2. Practice self-care
Teachers cannot take care of their students if they don't take care of themselves. Make sure to take time for yourself amid the chaos of the school year. Present the best version of yourself to your students and lead by example.
3. Rethink your teaching style
Now may be the best time to reevaluate the way instruction works in your classroom. Ask yourself, 'How can I make instruction more engaging?" and, "Is this instructional style effective for all of my students?" 
4. Join a PLN
Connect with like-minded educators online. Join a PLN through social media. Twitter has a huge platform for K-12 educators that provide access to tools, ideas, conversations, and more. 
5. Build relationships with students and colleagues
Create a positive environment for all students and staff by building relationships throughout the school. Building relationships can help educators curate lesson plans and instruction for students to challenge them and help them to meet their full potential. Relationships can help a student feel welcomed and safe in the classroom and engagement is likely to increase with positive relationships. 
6. Develop a healthy routine
A healthy routine helps to create a sense of normalcy within all of the uncertainty of COVID-19. Finding a routine that works for you can help to sustain a sense of motivation and professional development.
7. Take more risks
COVID-19 has proven that anything can change at a moment's notice. Take time to take more risks in your classroom and experiment with tools and tactics available. Risk-taking creates a learning curve and promotes the need for constant advances in K-12 education.
We look forward to what this 2021 school year brings and wish educators a great start to the new semester. Happy New Year!
Start teaching confidently with Dyknow for free!
In addition to web browser updates and bug fixes, Dyknow released several major product updates, new features and enhancements. Check out Dyknow's 2021 Year in Review!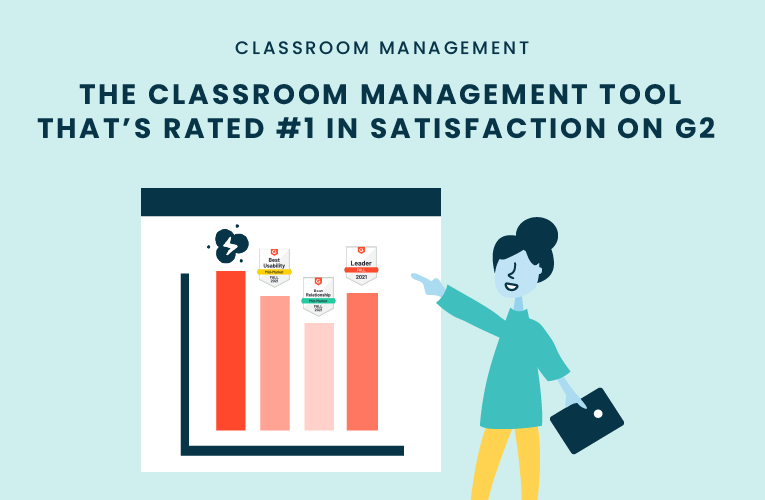 K-12 Administrators across the world trust G2 as the #1 platform to find, research, and choose EdTech tools that solve the most pressing problems their teachers are experiencing. In G2's Fall 2021 Reports, Dyknow was once again rated #1 in overall Satisfaction out of...
On this episode of Tackling Tech, Tierra Leustig interviews Scott Bayer about being an anti-racist teacher, diversifying reading lists, creating inclusive learning environments, and leveraging ed-tech in non-technical ELA classrooms. Scott Bayer is a High School...