Many aspects of education are being changed across the country as schools begin to go back for the Fall semester, so the focus on professional development to prepare teachers for new learning environments is more important than ever before. Teachers are going to use the skills they learned over the past few months of remote learning to ensure that the upcoming school year goes smoothly. We spoke with Ari Flewelling, Tech Coach and Staff Development Specialist at Riverside Unified School District, to find out how to prioritize and create a professional development plan to create alignment at the district level.
What is Professional Development?
Study.com describes professional development as, "the continued training and education of an individual in regards to his or her career. The goal of professional development is to keep you up-to-date on current trends as well as help you develop new skills for the purpose of advancement in the field." Professional development is an ongoing practice to continually develop your skills and grow in all areas of your career. 
When thinking about professional development on an individual teacher level, Ari explained that PD should be centered around engaging in learning sessions and activities that help them grow their pedagogical skills, content knowledge skills, and technological skills. She believes that true professional development is when you can bring all 3 of these concepts together at a district level.
3 Step Plan for Professional Development at the District Level
1. Create synergy 
Ari explained that the first step to creating synergy is to think about what your needs are from a curriculum perspective and what you are trying to achieve academically with the technology. Don't start with the technology. Make sure to have your goals in place and then you can start to integrate technology around the goals.
After you have established your needs, layer in your special education department to create consistency and applicable coursework for all students. Slowly begin to incorporate each department into this plan to ensure effectiveness and cohesiveness. 
The technology department is next. The tech department is the department that will bridge the gap between the instructional/curriculum goals and the technology that can be used to achieve these. The staff in the tech department are the gatekeepers for professional development in this day and age. The special thing about the tech department is that they can speak both tech and teacher which gives them the ability to make sure the technology aligns with the curriculum and instruction goals. 
They play a crucial role in the success of a district, being the key to technology integration. Having a role in the tech department also comes with a lot of responsibility to be able to answer all the questions. Make sure to give teachers time to ask questions about the technology once it is implemented so that they can have the best understanding possible.
Lastly, bring in the data analysis department to see how technology has been implemented is affecting learning and instruction.
2. Unify decision making
It is so important for people to ask questions. This way you and your staff are on the same page and you can comfortably have an open dialogue around confusion and concerns. When you are answering questions, listening with open ears helps to build up achievements of yourself and others. 
Ari suggests that when making decisions you make sure that as you are creating these plans, you are involving all of the relevant stakeholders. 
There is more than one group of educators who are involved in the learning process so everyone needs to be involved. Teachers who teach it and special ed educators who support it. 
Ari explained how she has worked in different districts where some had alignment and some didn't. The best advice Ari got while working in a district with no alignment was, "If you know you should be in a meeting that you're not invited to, then show up. The worst thing they can do is tell you to leave." The purpose of this is to make them rethink who they bring to the meeting next time and which people should be involved when making decisions. Be bold when passionate about education.
3. Have a mix of leaders
There are so many types of people who are crucial to the success of a school. When looking for leaders, variety is important. Look for educators who are very interested and passionate users; They will provide feedback from a hands-on user perspective. Also, educators who are not as comfortable using technology are usually a great fit because they represent the challenges for teachers who might not be on the same technical knowledge level as others.
Make sure that your leaders will give you constructive criticism and not just bring down the process. Lastly, if the technology will be student-facing, get a group of students or a group of parents to provide feedback during the planning process
These 3 steps are crucial to a healthy professional development relationship in your district. Make sure that your staff is supported this school year with technology needs and professional development resources. Align your district's staff professional development for teachers to continue to grow alongside their students.
On this episode of Tackling Tech Podcast, powered by Dyknow, Brett McGrath talks with Ari Flewelling, an educational technology specialist and certified educator, trainer, and innovator. Communication and transparency are key to going into this unique school year. Teachers have stepped up to the plate, proved their professionalism, and adapted quickly with the help of professional development and the right technology tools.
Start teaching confidently with Dyknow for free!
In addition to web browser updates and bug fixes, Dyknow released several major product updates, new features and enhancements. Check out Dyknow's 2021 Year in Review!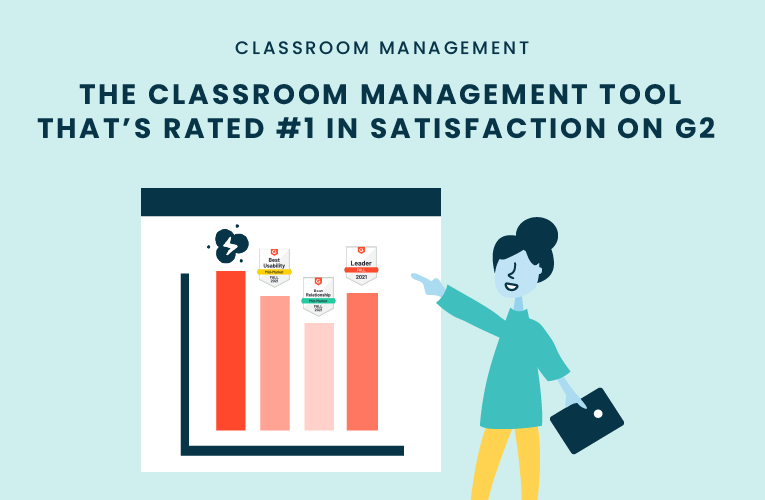 K-12 Administrators across the world trust G2 as the #1 platform to find, research, and choose EdTech tools that solve the most pressing problems their teachers are experiencing. In G2's Fall 2021 Reports, Dyknow was once again rated #1 in overall Satisfaction out of...
On this episode of Tackling Tech, Tierra Leustig interviews Scott Bayer about being an anti-racist teacher, diversifying reading lists, creating inclusive learning environments, and leveraging ed-tech in non-technical ELA classrooms. Scott Bayer is a High School...