The past few months of remote learning has been a challenging time for some, but for most, it presents a wonderful opportunity to learn about and implement newer learning strategies and initiatives.
Kyle Niemis recently joined us to talk about flipped learning and how remote learning has impacted flipped learning initiatives. Kyle Niemis is co-creator of the ClassroomQ and Tech Coach at South Brunswick School District in NJ. In our recent conversation, Kyle shared that he has always been passionate about Flipped Learning and leveraging video in the classroom, but this time of remote learning has made these strategies particularly interesting and applicable for his teachers.
According to Kyle, flipped learning, in particular, has a very bring future following COVID-19 and remote learning, so we dove into a crash course on flipped learning for those in K-12 just getting started.
What is flipped learning?
The flipped learning model is often confused with the flipped classroom model, and although these topics are connected, they are not necessarily interchangeable. Kyle explained that in its simplest form, flipped learning is the transition from a "sage on the stage" teaching style to a "guide on the side" teaching style, where teachers become more like coaches in the classroom rather than just providers of information.
In the flipped learning model, students are primarily accessing content on their own, and teachers are there to coach them through understanding it and facilitating group discussion as opposed to just feeding them information.
Kyle shred that although their school was forced into remote learning, this has become a great opportunity to implement flipped learning in curriculum and instruction moving forward. Ultimately, flipped learning, blended learning, and remote learning are all intertwined and really go together
What does flipped learning look like with remote learning?
With the onset of remote learning, teachers have been forced to incorporate flipped learning tactics into their instructional strategies. Kyle hopes that this will easily translate back into the classroom once this time of remote learning is over. 
To Kyle, the backbone of flipped learning is utilizing video for instruction in the classroom.
During remote learning, teachers have been using video more and more to share information and conduct lessons and then hosting office hours to provide help and clarification for students. Kyle explains that this is almost identical to what flipped learning looks like in the physical classroom.
Advantages of using flipped learning in the classroom
In the classroom, flipped learning provides a huge advantage for teachers. Kyle explains that utilizing videos and flipped learning for instruction allows teachers to essentially "clone" themselves.
Kyle suggests still recording video lessons after remote learning and letting students watch this video lesson in class, giving teachers the ability to walk around the room, help students, and check for understanding while their pre-recorded lesson is playing. This enables teachers to essentially "clone" themselves using flipped learning so that they can lecture and provide coaching simultaneously. 
Student autonomy with flipped learning
With flipped learning in place, students can go at their own pace with a lesson, fitting their needs rather than leaving them feeling frustrated during a lesson because the content was delivered too fast or too slow. Kyle explains that enabling students to learn content at their own pace allows students to have more autonomy and personalization. Gifted students can learn the material at a faster pace, giving them more class time to complete exercises or learn additional information they wouldn't have the opportunity to do in a traditional lecture. On the flip side, struggling students can rewind and learn content at a slower pace, receiving help from their teacher along the way. 
Flipped learning to guide parent involvement
Kyle also explained that one of the most frequent pieces of feedback he receives from parents is how useful pre-recorded lessons are at home. Having these videos available for both students and parents enable parents to have more context and a source of instruction when helping their children with homework or digesting a lesson at home.
Advice for teachers starting out with flipped learning
The biggest piece of advice that Kyle shared for teachers who might be new to flipped learning is to avoid the trap of using videos as a substitution for instruction. A lot of teachers will fall into the trap of grading papers while their video lessons are playing, but this is not the point of using flipped learning. Teachers should see this as an opportunity to further engage and build stronger relationships with their students.
Listen to our full conversation with Kyle Niemis
This week Brett talks to Kyle Niemis, the co-creator ClassroomQ and an Edtech Coach and former Science teacher at South Brunswick School District in New Jersey. Kyle is passionate about flipped learning, a method of teaching where students can learn at their own pace watching videos.
Start teaching confidently with Dyknow for free!
In addition to web browser updates and bug fixes, Dyknow released several major product updates, new features and enhancements. Check out Dyknow's 2021 Year in Review!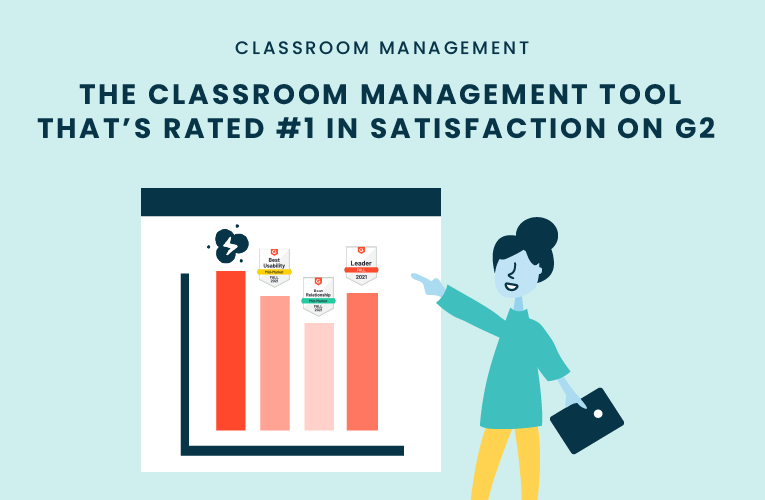 K-12 Administrators across the world trust G2 as the #1 platform to find, research, and choose EdTech tools that solve the most pressing problems their teachers are experiencing. In G2's Fall 2021 Reports, Dyknow was once again rated #1 in overall Satisfaction out of...
On this episode of Tackling Tech, Tierra Leustig interviews Scott Bayer about being an anti-racist teacher, diversifying reading lists, creating inclusive learning environments, and leveraging ed-tech in non-technical ELA classrooms. Scott Bayer is a High School...