Technology is being used more than ever for instruction. As a result, teachers are experiencing the challenges that come with technology integration, such as device distractions and off-task student behavior. Teachers are turning to student device monitoring software like Dyknow to solve these problems and make technology most effective in their remote, hybrid, and in-person classrooms.
This week on The Dyknow Digest, we're answering a question submitted by Terrence Ancrum and sharing 5 best practices for monitoring with Dyknow. Whether you are new to using Dyknow or a seasoned vet, these best practices can take your student device monitoring to the next level. Not a Dyknow user? Start Your Free Trial Today!
The Question:
"Talk about best practices when monitoring using Dyknow."

– Terrence Ancrum
5 Best Practices for Monitoring with Dyknow
Whether you are new to using Dyknow for student device monitoring or if you are a seasoned Dyknow teacher, these best practices can help you ensure that you are getting the most out of each monitoring session. From starting a monitoring session to reviewing Class History and all the steps in between, these best practices for monitoring with Dyknow can help take your device monitoring to the next level.
1. Get in the Habit of Starting a Monitoring Session at the Beginning of Each Class Period
The first and most important step to use Dyknow for device monitoring is to Start Monitoring at the beginning of the class that you would like to monitor. As a best practice, we recommend that teachers get in the habit of starting a Monitoring Session at the beginning of each class period – even if you don't intend to enforce a Blocking Plan during that class. 
Starting a monitoring session in Dyknow for every class ensures that Dyknow is running during that period and collecting student device activity in the background so that teachers can review that history after class. It is important that teachers get in the habit of starting a monitoring session at the beginning of each class to ensure that Dyknow is collecting that data in the background. 
2. Review Dyknow Class History on a Consistent Basis
When class is over and teachers End Monitoring for that session, they will be redirected to Dyknow Class History. Within these analytics, teachers can see what websites and apps students were using during class and drill down by different filters.
It is a best practice that teachers review Class History analytics on a consistent basis. Whether it is for a few minutes after each class, once a week, or a couple of times a month, reviewing Class History consistently will give teachers an idea of how devices and technology are impacting instruction as well as inform their creation of Blocking Plans for the future.
3. Practice Passive Monitoring
From a high level, teachers have the option of monitoring with Dyknow in two ways: passively or actively. Passive monitoring enables teachers to have visibility into student devices during class (remote or in-person) as well as collect student device activity that teachers can review following the class period. This gives teachers the visibility and insight they need to use Dyknow during class, without feeling like they need to be looking at or interacting with Dyknow.
As a best practice, teachers should practice using Dyknow's Passive Monitoring during class so that if they do not have a blocking plan in place, they will still be collecting student device activity data to review after class is over.
4. Get Comfortable with Active Monitoring
Once teachers are comfortable with starting a Monitoring Session and Passive Monitoring, they should get comfortable with using Active Monitoring during their classes. Active Monitoring involves creating and enforcing a blocking plan which will then block the sites and apps that you choose so that you can teach confidently knowing students are on task.
Actively monitoring with a blocking plan enables teachers to tailor technology and instruction to the specific purpose of that class period with additional confidence that students will be on task and using technology effectively.
5. Use the "Send a Message" and "Block Activity" Features to Block Activity on the Spot
While actively or passively monitoring, there are times when students might be on a website or app that is not currently on the blocking plan, prompting teachers to block that activity on the spot. A best practice for doing this is to use the "Block Activity" or "Send a Message" features to notify students, block that activity, and ensure they are on task for the remainder of the class period.
To do this, teachers just need to enlarge the student's screen into Big View, click "Block Activity" and choose to block that activity for the time being. Once blocked, that website or app will be added to the blocking plan for that class and blocked for all students. Alternatively, teachers can send students a message that either appears as a notification or locks their screen for a set amount of time to hold them accountable and keep them on task.
Monitoring with Dyknow is easy to get started with, and these best practices for monitoring can help teachers get comfortable with using Dyknow and ensure that they are getting the most out of their monitoring sessions and blocking plans.
Get Class History for your classroom with Dyknow for free!
In addition to web browser updates and bug fixes, Dyknow released several major product updates, new features and enhancements. Check out Dyknow's 2021 Year in Review!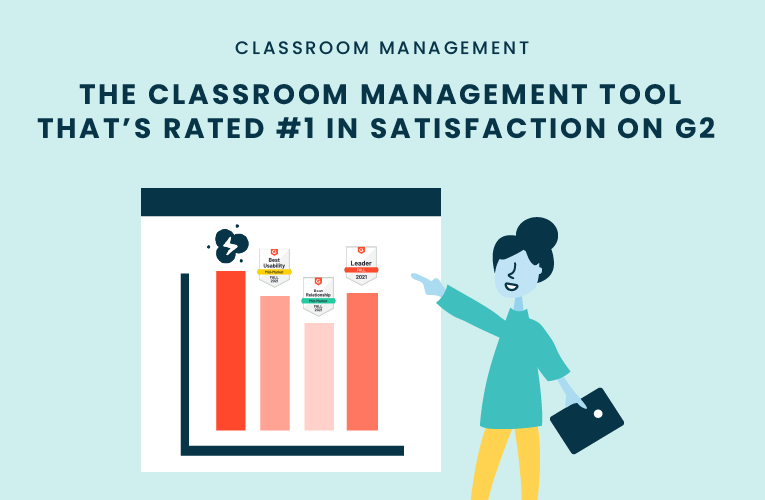 K-12 Administrators across the world trust G2 as the #1 platform to find, research, and choose EdTech tools that solve the most pressing problems their teachers are experiencing. In G2's Fall 2021 Reports, Dyknow was once again rated #1 in overall Satisfaction out of...
On this episode of Tackling Tech, Tierra Leustig interviews Scott Bayer about being an anti-racist teacher, diversifying reading lists, creating inclusive learning environments, and leveraging ed-tech in non-technical ELA classrooms. Scott Bayer is a High School...