Technology teams focus on building district technology strategies that create seamless adoption for teachers and students to maximize the technology usage in K12 classrooms. We had a chance to continue our conversation with Paul Foster, Chief Information Officer of Springfield Public School District in Springfield Massachusetts and focus on his district technology strategies that support the foundation of the 1:1 student device program that he has developed within their district.
We are fortunate to have industry innovators such as Paul Foster in our Dyknow network. He delivered a presentation at this years COSN conference about building out Computer Science programming in elementary education. While Foster proves to be a thought leader in K12 education, he does not lose sight of the fundamental principles that make a district the size of Springfield successful with technology. It is the defined district technology strategies that allow Springfield to continue to iterate on their current program. It's apparent that the core tenants of their district technology strategy focus on teacher development and working with cross-functional teams to support and launch new initiatives.
3 ways Paul Foster defines district technology strategies…
District Technology Strategy #1:  Find and build partnerships within your district to support teachers' utilization and adoption of technology
The makeup and design for which teams are responsible for carrying out the district's technology vision vary across K12 education. The most common instance that we've observed is that the technology leader implements a vision for their district's technology strategy, and roles like Technology Coaches ensure that this strategic vision is being carried out while simultaneously supporting teachers.
In the Springfield Public Schools example, Paul Foster does not have a team of Technology Coaches working directly under his leadership, instead, he's developed a key partnership with the Office of Instruction to help support the district technology strategies that he has implemented. This partnership allows both groups to align around student-centered instruction and ensures these strategies translate to professional development sessions with their teachers.
District Technology Strategy #2:  Give PD legs and create content that can be consumed outside of general sessions
Everyone has a preferred method of consuming content and getting key insights to stick. This is no different for teachers that are trying to learn about the latest technology that their school has implemented and that they will be responsible to use in the next school year.
Foster's district technology strategy includes cross-functional collaboration to work with individuals to create videos and workbooks to encourage self-directed PD strategies for teachers to absorb all the new content. Foster has a digital learning team of four individuals who help him to maximize his resources across PD.
District Technology Strategy #3:  Standardization might be a scary word, but it can serve as the fast pass for technology alignment
We work with a lot of districts that have a mixed environment for their 1:1 student device program or allow teachers ultimate decision making when it comes to what applications they use to enhance their instruction. In many cases, this flexibility is best for their district's technology strategy and offering a choice is a result of the maturity of their district.
Foster's district technology strategy leans heavily on building standardization across his district to develop alignment, which leads a more seamless to adoption. Simply put, this means that they use the same platforms and devices district-wide. Although it might not be the same platform that individuals want to use unanimously across the board, it does create consistency and effectiveness for providing adequate support and instruction across their district.
Keep an eye out for future posts featuring more perspectives from K12 technology leaders like Paul Foster about how their teams implement district technology strategies to maximize 1:1 student device programs and drive classroom innovation.
Want to learn from educators like you?
In addition to web browser updates and bug fixes, Dyknow released several major product updates, new features and enhancements. Check out Dyknow's 2021 Year in Review!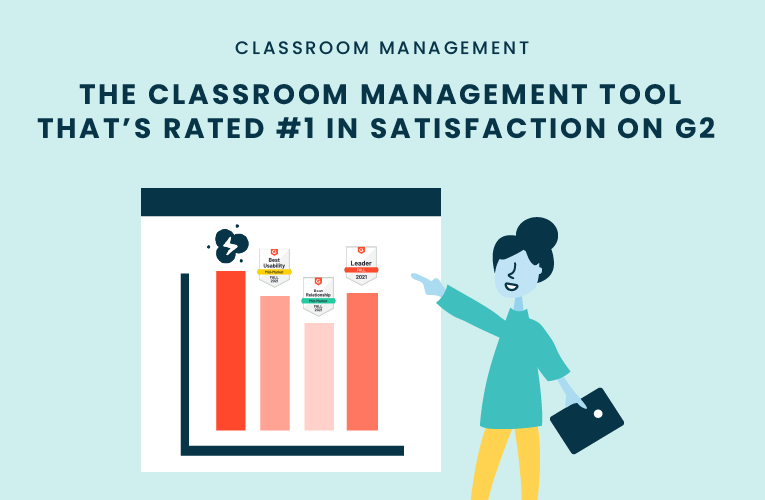 K-12 Administrators across the world trust G2 as the #1 platform to find, research, and choose EdTech tools that solve the most pressing problems their teachers are experiencing. In G2's Fall 2021 Reports, Dyknow was once again rated #1 in overall Satisfaction out of...
On this episode of Tackling Tech, Tierra Leustig interviews Scott Bayer about being an anti-racist teacher, diversifying reading lists, creating inclusive learning environments, and leveraging ed-tech in non-technical ELA classrooms. Scott Bayer is a High School...