The Dyknow team has attended a variety of technology-focused education conferences for years, but one conference we always pencil into our calendar is the CoSN National Conference. This year the Dyknow team is excited to head out west to Portland, Oregon for the CoSN 2019 Conference: Envision 2030: Leadership for Learning.
Edtech leaders and school teams throughout the country gather every year at the CoSN national show to network, learn, and discuss the digital transformation that is rapidly changing the K12 education space.
This year's conference "will explore how we provide the class of 2030 with the skills they need for success. We will focus on the role technology leaders play in envisioning, shaping, and leading the school system transformation to support student needs."
Two Dyknow customers, Lenoir City Schools, and Springfield Public Schools are hosting sessions at the conference this year.
Attending the CoSN National Show? Check out their sessions!
Tuesday, April 2nd 8:00-9:00 am
Lenoir City Schools – Dr. Chris Smallen, CTO
McMinn County Schools – Jill Pierce, CTO
In today's educational environment making decisions on the right instructional technology tools for the classroom can be tricky. McMinn County and Lenoir City Schools will show in this session how we used current medical data and student input to make decisions on instructional tools to create "an even playing field classroom" for holistic learning. This makes the learning environment optimal for learning. This includes replacing projectors with 70 touch panels, adding integrated sound, adding flexible seating, and makerspaces where appropriate for instruction and learning.
Tuesday, April 2nd 10:00-11:00 am
Springfield Public Schools (MA) – Paul Foster, CIO
Rooted in a recognition of the critical importance of computational thinking skills for our students' success, and the alignment between these skills and the kinds of learners we strive to graduate, two years ago the Springfield Public Schools (MA) embarked on an effort to ensure that all students, from kindergarten through 12th grade, would be taught computer science. Knowing that students decide in elementary school what they enjoy and what they are "good at," we began the work in elementary school. This session will focus on the District's ongoing work, done through a Research Practitioner Partnership with the University of Massachusetts, to design and implement lessons in K through 5th grade that integrate computer science and computational thinking standards into instruction alongside other content areas.
During Innovation Central Hours stop by Pod 42 to meet with the Dyknow team to see how we help school's like yours defeat student device distractions.
Attending CoSN? Let us know you are coming & stop by Pod 42 for a chance to win our $500 DonorsChoose giveaway.
In addition to web browser updates and bug fixes, Dyknow released several major product updates, new features and enhancements. Check out Dyknow's 2021 Year in Review!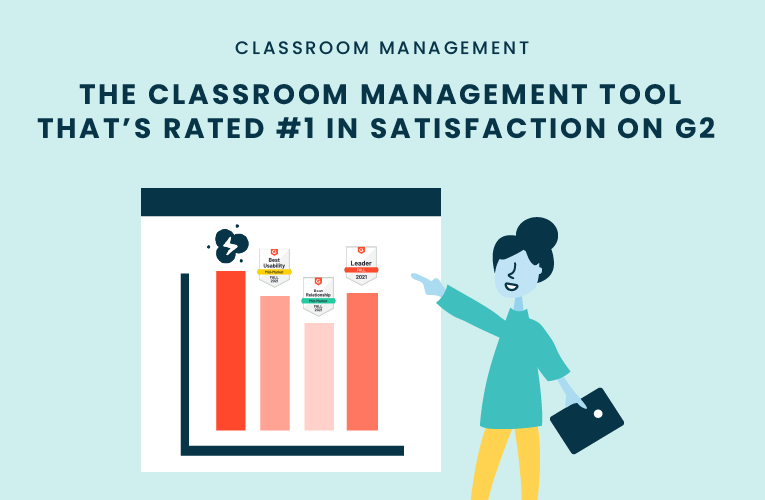 K-12 Administrators across the world trust G2 as the #1 platform to find, research, and choose EdTech tools that solve the most pressing problems their teachers are experiencing. In G2's Fall 2021 Reports, Dyknow was once again rated #1 in overall Satisfaction out of...
On this episode of Tackling Tech, Tierra Leustig interviews Scott Bayer about being an anti-racist teacher, diversifying reading lists, creating inclusive learning environments, and leveraging ed-tech in non-technical ELA classrooms. Scott Bayer is a High School...