Taking that leap of faith into a role that has all eyes on you can be a bit daunting for many educators. Leaders are not created overnight nor do they gain that kind of influence easily. Principals are great examples of top leaders that influence the school, decisions, and overall culture of a school. While principles may be the main face of leadership throughout the school, they can't lead all alone. Other educators within school walls take partnership alongside principals to lead their school to maximal success and synergy. In a recent conversation with principal Porsha Dudley, she outlined how she built an expert team of education leaders at her school to aid positive learning. 
What are Education Leaders?
Education leaders are those teachers, tech coaches, and administrators who are going above and beyond for their colleagues and staff. These leaders set the tone for the entire school's atmosphere and environment. Education leaders take risks, build strong and positive relationships with students and colleagues, have a passion for learning, lead by example, ask questions, and much much more. Educators should be asking critical questions to evaluate the needs of students and what resources a school already has, that can provide support for student-specific needs. As an educator, it is imperative to constantly educate yourself on the aspects of effective student learning. Educators that are constantly learning, seeking out learning opportunities, and advancing their professional development are the leaders in every K-12 school district right now. Education leaders are setting the bar for the standards of teacher responsibility and development. 
Build a Team of Education Leaders
Engage Families and Communities
The best leaders understand that success is achieved through teamwork. A student performs their best when they have a community around them cheering them on. Encouragement can go a long way. At a school's foundation is the community around it. Get students involved with their community and families to create a safe and encouraging environment around all students. Reaching out to families and communities to engage with students strengthens the school's ability to network within the community. 
Model Success and Expectations
As a principal, setting an example for success and the expectations of leaders is the best way to create strong leadership within a school. The guidelines in which teachers operate come from the leadership within a school, so principals should take into account that they are in control of the school's learning environment. Look at leadership as a 'monkey see, monkey do' model. Teachers will mimic the leadership attributes that principals express in their everyday tasks and delegations. 
Coach
Take time to build relationships with all educators within your school. Leadership potential may be obviously apparent or hidden depending on the educator. Coach your staff to see their full potential and to become the types of teachers that will exude success within their classrooms. Coaching takes patience and passion, make sure to check in with your educators to make sure they are thriving and staying on a positive professional path. 
Involve Teachers in Decisions
The Gates Foundation stated, "great leaders understand that teachers know what their students—and what they themselves—need to succeed." Teachers are with their students every single day for hours on end. Unfortunately for principals, they are unable to be present in every single classroom every single day – it's just unrealistic. Involving teachers in decisions puts the needs of students first. Teachers are the most intelligent people in knowing what students need at any given time. Schools are improving because of leaders who involve their teachers in decisions because, at the end of the day, they make the school better. 
Education leaders are emerging every day and continuously bettering their schools. The learning and quality of education are growing exponentially with leaders like Porsha in positions of power. Create a successful learning environment with a team of education leaders in 2021.
Listen to the full conversation with Porsha Dudley on our Tackling Tech Podcast!
On this episode of Tackling Tech, Tierra Leustig interviews Porsha Dudley, an Elementary Principal in Houston, Texas. Portia shares her journey stepping up to a leadership position in education, taking initiative, building relationships, and making everyone at her school feel appreciated.
Start teaching confidently with Dyknow for free!
In addition to web browser updates and bug fixes, Dyknow released several major product updates, new features and enhancements. Check out Dyknow's 2021 Year in Review!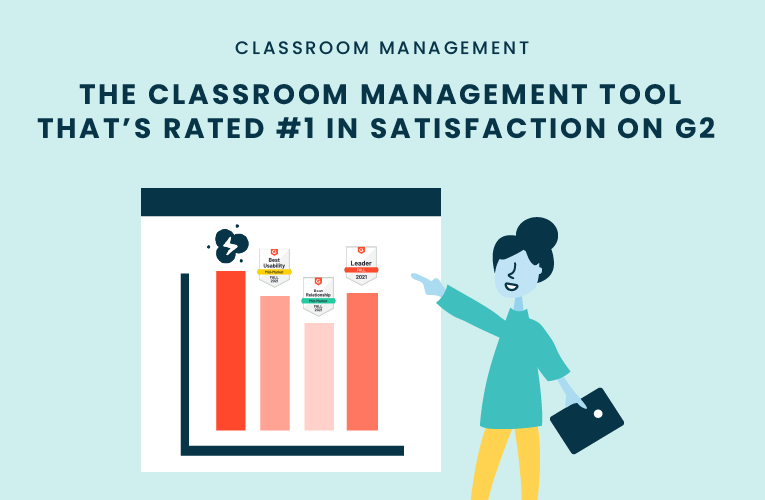 K-12 Administrators across the world trust G2 as the #1 platform to find, research, and choose EdTech tools that solve the most pressing problems their teachers are experiencing. In G2's Fall 2021 Reports, Dyknow was once again rated #1 in overall Satisfaction out of...
On this episode of Tackling Tech, Tierra Leustig interviews Scott Bayer about being an anti-racist teacher, diversifying reading lists, creating inclusive learning environments, and leveraging ed-tech in non-technical ELA classrooms. Scott Bayer is a High School...