Pearl Arredondo's passion for reform eduation
Pearl Arredondo had a unique upbringing as the daughter of a gang member in Downtown Los Angeles. When she was just a child, she wanted a better education than what she was offered in her area, so Pearl took an hour bus ride each morning to go to a school that was more beneficial for her education. This new school was not without its challenges, but from an early age, Pearl Arredondo was an advocate for her own education as well as the education of students just like her.
Through hard work and perseverance, Pearl was eventually accepted to and graduated from Pepperdine University in Malibu, California, and went back to teaching at San Fernando Middle School to continue her passion for reform education.
During her time teaching at San Fernando Middle School, Pearl Arredondo was able to start the school's multimedia academy, and from there she founded the San Fernando Institute for Applied Media, where she aided in reforming the current school system. Pearl aided in helping to build this pilot school in the heart of LAUSD, and now she serves as the Principal, leading the charge to continue reforming education through her passion for K-12 education.
Giving a TED Talk
Pearl described herself as a "local rabble-rouser" through her Teach Plus group and through that group she was able to have multiple leadership and speaking opportunities. Teach Plus eventually contacted Pearl saying that TED was looking for a Latina speaker who was involved in K-12 education for their first televised series, and they wanted to nominate Pearl Arredondo. At this point, Pearl Arredondo barely knew what TED Talks were, but she took a phone call with the Director of TED and was asked to share her story. 
"I don't even know that I really had a story, and I didn't think that people cared what my story was."                  – Pearl Arredondo
Despite this, Pearl shared her story and her background in K-12 education, and within a week she was flying to New York to record a TED Talk. Pearl Arredondo's TED Talk is titled, "My Story: From Gangland Daughter to Start Teacher," and you can watch it below.
Pearl Arredondo's experience founding SFiAM
Pearl explained that while she was at San Fernando Middle School there were over 2,500 students, so she had the chance to get close with students and their families to provide a personalized learning experience. With the onset of a new administration, a decision was made to break up the large school into smaller learning academies to personalize and foster relationships. 
A group of teachers that included Pearl Arredondo had the idea of centering one academy around media and technology to prepare them for specialized skills and talents using media and technology. From the day this academy was announced, there were over 300 students interested, and that number ended up being the first enrollment of the Multimedia Academy. After running this academy for three years, they were still not seeing the results and student performance they had hoped for, so the Middle School decided to allow individuals to take over an Academy if they saw an opportunity. 
In response, Pearl Arredondo led a group of teachers in writing a plan for turning the Multimedia Academy into SFiAM. It took less than a year to write this plan, submit it for review, and open the San Fernando Institute for Applied Media.
What Set's SFiAM Apart?
Although other Charter schools and education groups applied to take over the Academy's site, Pearl Arredondo's passion for the Multimedia Academy stood out from the others. She shared that they "got to create [their] dream school." SFiAM was the first school in Los Angeles to become a pilot school, and was one of the first schools to focus on education reform.
Providing Mentorship for Students
Pearl Arredondo explained that regardless of what kind of school you work at, sometimes it feels like we adopt some of our students and become like second parents away from home. Pearl shared that because of the demographics that some of her students come from, she and her fellow teachers were able to help expose students to new and important things. Through home visits and connecting on things outside of school, she was able to give students skills outside of the classroom. Pearl explained that she would even take some students out to a restaurant and teach them how to order from a menu. 
"It's knowing that our students don't have as much exposure to things that other kids might have, and it's knowing that they have someone there who is going to be a mentor."                                                                                                                                                                         – Pearl Arredondo
Pearl Arredondo explained that she is able to be a mentor for her students because she was raised having many mentors outside of her home who helped her gain skills that she might not have been taught otherwise.
Helping to Reform Education
Pearl Arredondo shared that to her, reform means stepping out of the Status Quo and pushing the boundaries to do things that are new and might not be comfortable. She added that it is taking those calculated risks to change a system that isn't really working for most students and families.
The addition of technology supports this reform by allowing students to be prepared and to compete at the same level as everyone else. Without that piece, they will already be ten steps behind others. 
Listen to our full conversation with Pearl Arredondo
On this episode of Tackling Tech Podcast, Brett McGrath speaks to Pearl Arredondo, Principal and one of the founders of the San Fernando Institute for Applied Media, a successful pilot middle school in LA. In 2013, Pearl gave a Ted Talk about her difficult upbringing and passion for teaching. In this conversation, Pearl shares her thoughts on Reform Education, reaching students in difficult situations, the present challenges of remote learning, and using technology to educate.
Start teaching confidently with Dyknow for free!
In addition to web browser updates and bug fixes, Dyknow released several major product updates, new features and enhancements. Check out Dyknow's 2021 Year in Review!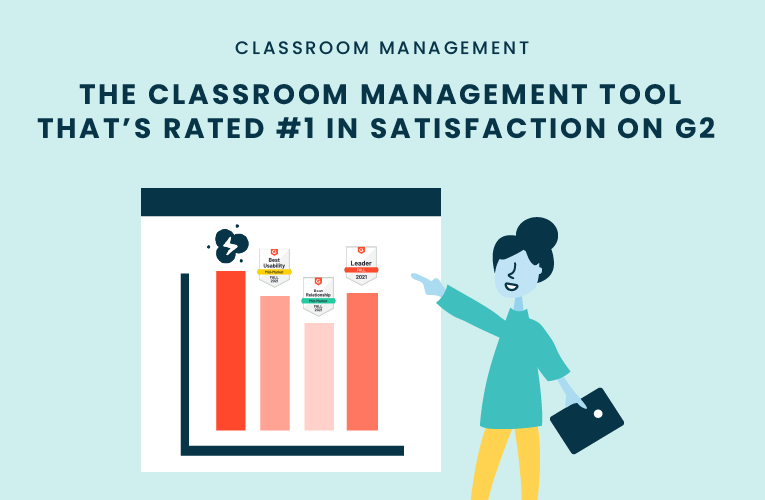 K-12 Administrators across the world trust G2 as the #1 platform to find, research, and choose EdTech tools that solve the most pressing problems their teachers are experiencing. In G2's Fall 2021 Reports, Dyknow was once again rated #1 in overall Satisfaction out of...
On this episode of Tackling Tech, Tierra Leustig interviews Scott Bayer about being an anti-racist teacher, diversifying reading lists, creating inclusive learning environments, and leveraging ed-tech in non-technical ELA classrooms. Scott Bayer is a High School...