Group work can be one of the most effective ways to promote engaged learning, collaboration, and enhance communication skills in the classroom. However, if conducted incorrectly, group work can cause teachers to feel frustrated due to disruptions and distractions in the classroom. Whether it is unequal division of work, disruptive communication between students, or unproductive use of class time, group work has the potential to enhance instruction, but oftentimes can instead hurt it. Use these suggested tactics to conduct effective group work and maximize your instructional time with Dyknow.
Tips to conduct effective group work
The best steps to conduct effective group work don't just happen while groups are working during class time, but it's important to make sure you are taking measures before, during and after group work takes place. 
1. Assign roles and set expectations for group members
Taking the initiative to assign students roles in their groups or asking them to determine each group member's role gives each student responsibility and expectations to align the group throughout the course of the work. WeAreTeachers explains that "assigning unique roles helps to keep students working together to make the project a success." These roles will also help students conduct group work more effectively since expectations are set ahead of time.
2. Use technology to conduct group work collaboration
Collaborating on group projects is one of the most beneficial aspects of conducting group work in the classroom. With the rise of technology integration in classrooms, there are so many tools that enable more effective and equal collaboration. Jeff Krapels, an English Teacher at Northern Valley Regional High School, sat down with us to talk about how technology has helped to make collaboration in group work more effective:
"The advent of Google Suite apps like Google Docs and Google Slides has actually shifted the way our students look at group projects. I think in the past our students hated doing them, and now I would say that most of the time they're asking if they can work collaboratively in groups. I've never really been able to teach meaningful collaboration until we went one-to-one with devices in our school." – Jeff Krapels
3. Eliminate off-task distractions during collaboration
One of the biggest challenges of group work can be the inevitable distractions that come with collaboration between students. Whether it's students talking about their unrelated topics like weekend plans, or distracted by social media and other off-task sites while collaborating, it can be hard to ensure that students are on task for the duration of group work. 
To combat this challenge, teachers can use Dyknow's classroom management software to eliminate off-task behavior and ensure students are on-task during group work. One of the best use cases of Dyknow for group work is segmented blocking. Segmented blocking allows teachers to create unique blocking plans for different groups of students. So if half the class is working in groups on a research project and the other half is taking a quiz, teachers can allow the project groups to access the appropriate research and writing sites, while the quiz group would only have access to their quiz site. This ensures that students are where they need to be during group work, and also empowers teachers to conduct other activities in conjunction with group work and know that all students will be where they need to be. 
Here's what Dyknow users say about how they use segmented blocking…
"In a district where every student is issued a computer and most of our coursework, including exams, are delivered online, allowing only one website open at a given time becomes very beneficial. Specifically, segmented blocking policies where three kids could be in one group and blocked while the other students are under a different policy is also very helpful. This allows certain kids to remain in s testing situation while others can move forward with additional coursework." – Chris Smallen, CTO
"Segmented blocking is brilliant! I can have most of the kids in a tight blocking plan taking a test, and the one student who has been out sick for several days can be on a different monitoring plan that allows him to catch up on what he missed. I also teach two different classes in one class period – Spanish III and Spanish IV. The segmented blocking is essential in this class period as the two classes are often doing different things that require two completely different monitoring plans." – Lisa B., Teacher
"I love segmented blocking. I use it every day as students are working independently. I switch them back and forth." – Lars R., Teacher & Tech Coach
4. Gather student input during and after the project
Check in with students during the group project to make sure all group members are satisfied with their contribution, overall structure, and group participation. If there are significant issues within groups this will enable you to address the issues during the project rather than waiting until it is completed. At the end of the project, gather feedback again by having students write a reflection on the project, group participation, and their own contribution. This gives students the opportunity to be honest and anonymous about any challenges in the group or their own individual work on the project.
Conducting effective group work during class not only helps you teach more effectively in this environment, but it also prepares students for their future. Jeff Krapels explains: "With the majority of jobs that exist outside of education, collaboration is something that employers say they value." Teaching students how to project manage and take responsibility for their role in a group is critical to preparing them for higher education as well as the jobs that exist beyond that.
Start teaching confidently with Dyknow for free!
In addition to web browser updates and bug fixes, Dyknow released several major product updates, new features and enhancements. Check out Dyknow's 2021 Year in Review!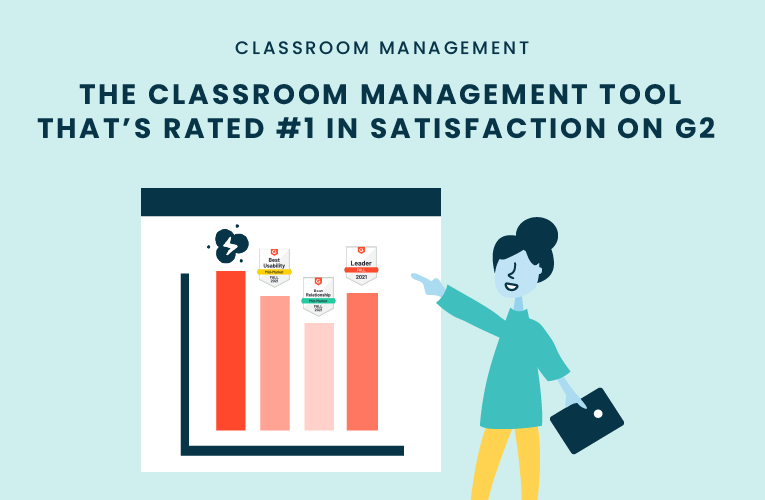 K-12 Administrators across the world trust G2 as the #1 platform to find, research, and choose EdTech tools that solve the most pressing problems their teachers are experiencing. In G2's Fall 2021 Reports, Dyknow was once again rated #1 in overall Satisfaction out of...
On this episode of Tackling Tech, Tierra Leustig interviews Scott Bayer about being an anti-racist teacher, diversifying reading lists, creating inclusive learning environments, and leveraging ed-tech in non-technical ELA classrooms. Scott Bayer is a High School...