More than 60% of DyKnow users switched from a competing solution for a number of reasons. We put together a quick 5 question guide so you can see if it's time to reevaluate your current classroom management system.
1) INTERFACE: COULD YOUR CLASSROOM MANAGEMENT SYSTEM'S INTERFACE BE MORE USER-FRIENDLY?
Teachers are busy and don't have the time to navigate a complex system. Built solely for teachers, DyKnow's interface is easy to learn and simple to use. Teachers can learn how to use DyKnow in less than 15 minutes.
2) FEATURES: ARE YOUR TEACHERS OVERWHELMED BY ALL THE FEATURES YOUR SYSTEM OFFERS?
DyKnow gives teachers what they need without any superfluous features that complicate the user experience. Each of DyKnow's 6 features is designed to solve the specific problems teachers face due to student devices causing distraction in the classroom.
3) USAGE: IS YOUR TEACHERS' USAGE OF YOUR CLASSROOM MANAGEMENT SYSTEM LOW?
Teachers are less likely to use a feature-flooded system with a complicated interface. Due to DyKnow's simplistic design and problem-solving features, teachers are more likely to adopt and use DyKnow regularly.
4) TEACHING TIME: DOES YOUR CURRENT SOLUTION REQUIRE TEACHERS TO STARE AT THEIR SCREENS TO MONITOR STUDENT ACTIVITY?
DyKnow frees teachers from policing screen activity to ensure students are on task. DyKnow monitors student devices for teachers, allowing them to maximize every minute of instructional time with students.
5) SUPPORT: WHEN YOUR TEACHERS NEED ASSISTANCE, ARE THEY ABLE TO GET ON-DEMAND DIRECT CHAT SUPPORT FROM YOUR CLASSROOM MANAGEMENT PROVIDER WHILE USING THE TOOL?
When logged into DyKnow, every teacher has access to our live support chat. Our team is ready to offer live assistance and answer any questions teachers may have to ensure product satisfaction and efficiency.
Learn how to defeat distractions in your classroom with Dyknow.
In addition to web browser updates and bug fixes, Dyknow released several major product updates, new features and enhancements. Check out Dyknow's 2021 Year in Review!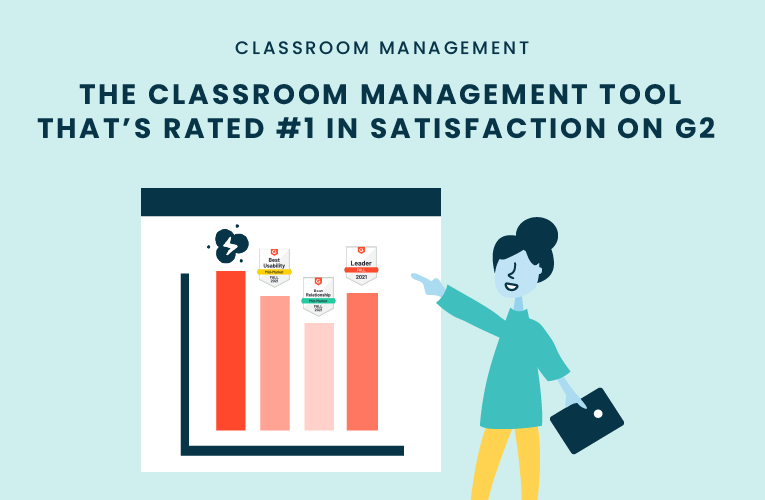 K-12 Administrators across the world trust G2 as the #1 platform to find, research, and choose EdTech tools that solve the most pressing problems their teachers are experiencing. In G2's Fall 2021 Reports, Dyknow was once again rated #1 in overall Satisfaction out of...
On this episode of Tackling Tech, Tierra Leustig interviews Scott Bayer about being an anti-racist teacher, diversifying reading lists, creating inclusive learning environments, and leveraging ed-tech in non-technical ELA classrooms. Scott Bayer is a High School...