With only one more week until FETC 2020, this is the perfect time to take a look at the presentation schedules for each day and decide which sessions you will be attending. Dyknow will be attending FETC 2020 to connect with educators from all over the country, and part of this involves going to sessions that align with Ed Tech trends and initiatives to learn how educators are leading the way with these topics. Here are the FETC 2020 sessions we are most excited for on Thursday and Friday.
FETC 2020's Thursday and Friday sessions will start at 8:00 a.m. and continue until 4:40 p.m. – so be prepared for a full day of learning! These are some of the sessions on Thursday and Friday that we think you should add to your FETC 2020 schedule.
FETC 2020 Thursday Schedule Highlights
Wednesday, January 15th, 8:00 – 10:00 a.m.
Craig Carpentieri, Chief Academic Officer | Avi Greene, Director of Curriculum & Instruction (6-12) | Robin Rimon, Director of Instruction & Curriculum (K-5) | Scheck Hillil Community School
Our ECE 12th-grade school has moved from mandated one-size-fits-all professional development to a personalized self-selected model of PD. In this session, our director of academic instruction, head of curriculum in ECE grade five and grades 6-12, as well as the instructional technology coordinator K-5, will share our successes, struggles, and how we have met the needs of over 100 teachers. We will share our resources for helping… continue reading
Thursday, January 16th, 11:00 = 11:40 a.m.
Steven Anderson, Digital Learning & Relationship Evangelist, Web20Classroom | Shaelynn Farnsworth, Literacy Consultant, Web20Classroom
When moving from direct instruction to a more student-centered classroom, care and consideration must be taken to reach all learners. Through differentiated instruction, educators rely on several different methods and techniques to ensure students are successful. Differentiation of content, interest, process, and demonstration can all serve to increase engagement and challenge students at their level. Effective technology integration provides additional support to a differentiated classroom… continue reading
Thursday, January 16th, 2:00 – 2:40 p.m.
Nancye Black, CEO / Educational Consultant, The Block Uncarved
A shared vision for teaching and learning is at the heart of all successful technology initiatives. Nevertheless, many schools and districts have not fully articulated, disseminated, or realized such a vision. Team-based professional development can have powerful effects on the ability to develop and actualize a shared vision at the school and district level. In fact, there are five research-backed strategies that can be applied to professional learning to improve stakeholder buy-in and constructive forward movement toward… continue reading
FETC 2020 Friday Schedule Highlights
Friday, January 17th, 8:00 – 10:00 a.m.
Ann McMullan, Founder, Ann McMullan Education Consulting | Julie Evans, CEO, Project Tomorrow
Visionary leadership, rooted in innovative thinking, is the essence of what it means to lead learning in today's school systems. The ability to create and lead a culture of innovation to meet the needs of all learners requires skill sets that transcend the traditional roles of superintendents, principals, and teachers… continue reading
Friday, January 17th, 9:15 – 9:45 a.m.
Lauren Coleman, Lead Teacher, Squiggle Park
This session will overview stealth assessment, a game development approach in which the means of monitoring students' progress are so deeply embedded into gameplay that students typically do not realize they are being assessed. The session will describe stealth assessment, explain its advantages, and showcase some programs that implement… continue reading
Friday, January 17th, 11:00 – 11:40 a.m.
Brian Smith, Digital Learning Instructional Coach, ESC Region 11
What do students do after they learn internet safety? How do they use their knowledge to leave a lasting impact on their communities? Come discover how to move from digital citizenship to civic literacy. Participants will leave with an action plan and resources to facilitate culturally relevant #DigCit community application… continue reading
FETC 2020 Wednesday Sessions You Won't Want To Miss
Attending FETC 2020 all four days? Check out these Wednesday sessions on the schedule that you won't want to miss. 
FETC 2020 Tuesday Sessions to Highlight on Your Conference Agenda
These are the Tuesday sessions that we are most excited for at FETC 2020.
Want to see the full FETC 2020 schedule?
In addition to web browser updates and bug fixes, Dyknow released several major product updates, new features and enhancements. Check out Dyknow's 2021 Year in Review!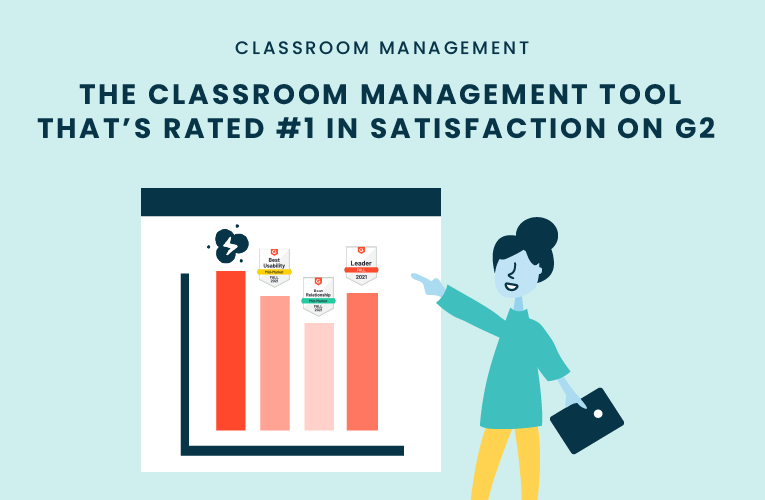 K-12 Administrators across the world trust G2 as the #1 platform to find, research, and choose EdTech tools that solve the most pressing problems their teachers are experiencing. In G2's Fall 2021 Reports, Dyknow was once again rated #1 in overall Satisfaction out of...
On this episode of Tackling Tech, Tierra Leustig interviews Scott Bayer about being an anti-racist teacher, diversifying reading lists, creating inclusive learning environments, and leveraging ed-tech in non-technical ELA classrooms. Scott Bayer is a High School...