It's not uncommon for teachers to take the lead on testing and adopting new technologies to help create or enhance their district's student device program. As technology continues to change K12 education, many schools are turning towards their teachers for feedback. In King County, Washington, Lake Washington School District's teachers not only test new technologies but also help train their colleagues to help them understand the problems different programs can solve. We are fortunate to have teachers like Katherine Enslein from LWSD as a Dyknow champion and teacher who helps her colleagues defeat student device distractions. 
Katherine Enslein is currently in her fourth year of teaching 7th-grade at LWSD. Prior to LWSD, she taught for a year in Washington State and spent a couple of years abroad. She's been involved in LWSD's tech roll out for the past 3 years, where teachers and students have devices. She educates the teachers on how to best use their computers, and the applications that her district provides for them. This process helps LWSD onboard and implement new devices and technologies in an effective manner, maximizing usage moving forward.  
I sent Katherine an email to ask her a few questions about their student device program, specifically on how they collaborate internally on technology. As a Dyknow champion, I also asked her to share advice for other teachers that are trying to maximize the use of technology in their classrooms.
What ways are you maximizing your student device program in your classroom?
My district has a 1:1 student to computer ratio for middle school and high school students. Teaching English and History we use our computers daily for tracking work, calendars, accessing information, research, typing, and communicating. I need to ensure that my students are following district guidelines for appropriate usage for computers and the internet. As well as, teach them good study habits. 
How are you working with tech roles and admins on the use of technology in schools?
As the district liaison for my building, I teach my fellow staff members how to use their laptops to the full capacity as well as help them find ways for their students to use their laptops to the fullest extent. We have technology standards we work towards as well as skills we want them to acquire before high school. I have trained our staff members on how to use Dyknow so they are aware of all the features they can use to enhance technology usage in their classrooms.
What tips can you provide on how to maximize instructional time with technology?
Dyknow allows me to manage almost every aspect of a students learning. I can lock screens when giving instructions. This prevents students from getting distracted or starting work early. I have made multiple blocking plans so students can only access websites and applications I have made available to them. This helps ensure students are not cheating on work, copying from the internet, and using reliable sources. I can also send out group or individual messages to students encouraging them to get back on task. Middle school students don't like to be called out for embarrassing things. Dyknow's messaging allows me to send them a message privately, which makes them aware that I can see what they are doing, and identifies what I want them to change without anyone knowing. 
We'll continue to highlight the teacher's voice on this blog and are always willing to take recommendations on topics that you or your school find helpful as technology continues to change K12 education. 
Want to enhance your student device program like Katherine?
In addition to web browser updates and bug fixes, Dyknow released several major product updates, new features and enhancements. Check out Dyknow's 2021 Year in Review!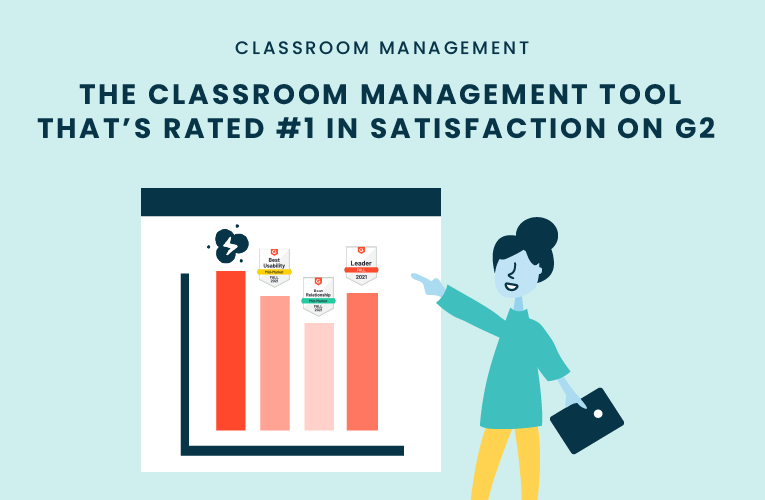 K-12 Administrators across the world trust G2 as the #1 platform to find, research, and choose EdTech tools that solve the most pressing problems their teachers are experiencing. In G2's Fall 2021 Reports, Dyknow was once again rated #1 in overall Satisfaction out of...
On this episode of Tackling Tech, Tierra Leustig interviews Scott Bayer about being an anti-racist teacher, diversifying reading lists, creating inclusive learning environments, and leveraging ed-tech in non-technical ELA classrooms. Scott Bayer is a High School...