Student engagement has been a hot topic throughout this time of hybrid and remote learning. Now more than ever, K-12 teachers are asking how they can increase engagement from students when not all students can be together to learn.
This week on The Dyknow Digest, we're answering a question submitted by Sarah Westmoreland and sharing how K-12 teachers everywhere can engage students using Dyknow. Not a Dyknow user? Start Your Free Trial Today!
The Question:
"As a veteran teacher who is new to the virtual world, I am just discovering that Dyknow is a thing and wow, do I love it! I would like more information on how to make this a more useful tool for student engagement. I would also be interested in documentation (like screenshots or data capturing) as evidence for hard working students or to reach out to students who aren't coming to school. I love sending secret, uplifting messages to students to encourage them. I have been teaching in the inner city, Springfield MA for 10 years and I love my students every day. #commercepride!"

– Sarah Westmoreland, Teacher at High School of Commerce
How To Engage Students with Dyknow
Remote learning has provided a time of innovation and exploration for many K-12 teachers, and as a result, we have received countless stories of how teachers are finding creating ways to engage students using Dyknow during this time.
Chuck Holland, Director of Instructional Technology at Richland School District Two, recently shared how teachers in his district have been leveraging certain Dyknow features for student engagement and formative assessment. Chuck explianed that this time has enabled Richland Two teachers to see the benefits of Dyknow beyond solely device monitoring.
This article will share 4 ways that you can use Dyknow to promote student engagement, formative assessment, and review student performance.
1. Use Dyknow Questions, Polls, and Messages for Formative Assessment
Features within Dyknow such as questions, polls, and messages enable teachers to complete quick formative assessment to gauge student understanding and engage with students easily during class.
The
Dyknow Question Bank
provides a tool for teachers to create questions that can be distributed to students during class to easily quiz and engage students without having to go to an alternate tool. Teachers can create questions before, during, or after a monitoring session and use the questions as they see fit throughout class. Asking questions easily and effectively through Dyknow enables teachers to engage with students on the spot. Dyknow teachers use the Question Bank to span the spectrum from quizzes to icebreakers and fun student engagement activities to break up class time.
Sending messages within Dyknow can be used to create a more personalized student engagement experience. Teachers can create custom messages or use pre-existing messages within Dyknow to engage with one, a few, or all students to check in, communicate information quickly, and enable personalized engagement when needed.
Dyknow Polling (Student Understanding) gives teachers the capability to quickly ask students how well they are understanding the current lesson or class material. Students can simply share if they are understanding or not when prompted or voluntarily share this information with their teacher directly through Dyknow. This gives teachers increased visibility into student understanding – even fro afar – and enables quick communication and engagement with students.
2. Push out URLs using Dyknow Messages to Keep Students Engaged
Pushing out links through the
Dyknow Message feature
is one of the most effective student engagement tactics for elementary and middle school students. It can often be challenging for all students to get to the same link when asked, so pushing out one link to the whole class through Dyknow saves teachers precious class time and keeps students engaged in the lesson rather than having to go into their browser and enter the URL themselves.
To push out URLs using Dyknow messages, teachers just navigate to Messages and create a custom message. By entering the URL as the custom message and selecting all students, teachers can easily push out a website to the entire class, ensuring that students save time, stay engaged, and are where they need to be.
3. Help students troubleshoot by using Big View in Dyknow
One unique way that many teachers are using Dyknow for student engagement during remote learning is by helping students troubleshoot problems by using
Dyknow's Big View capability
. If a student is having trouble logging in to a certain online tool or completing an assignment correctly, teachers need only to click the "Big View" button on that student's thumbnail, and from there they can easily help the student walk through the solution to their problem by using messages to guide them.
Utilizing Big View within Dyknow for troubleshooting enables teachers to stay within the app to help that student while class is still in session, and not having to take time away from class to join a call with that student or get help from a technology person.
4. View Class History to Understand Student Engagement
Dyknow's
Class History feature
is one of the most consistently talked about and used by K-12 educators. Specifically for the concern of student engagement, teachers can use
Dyknow Class History
to understand the engagement of a class overall or specific students by drilling down on individual data.
By getting a concrete understanding of what students are doing during class and if they are attempting to get to blocked sites, teachers can address lack of engagement with students who might be falling behind. Similarly, teachers can acknowledge good student behavior by getting class history for students who are performing well and reinforce that behavior by sharing that positive observation wtih parents, fellow teachers, and the student themself.
Increasing student engagement is top of mind for educators with remote learning, hybrid learning, and in anticipation of going back to in-person instruction. Hopefully these tipsc help you understand how to use Dyknow to engage students in any learning environment. Stay tuned for next week's Dyknow Digest article.
Start engaging students with Dyknow for free!
In addition to web browser updates and bug fixes, Dyknow released several major product updates, new features and enhancements. Check out Dyknow's 2021 Year in Review!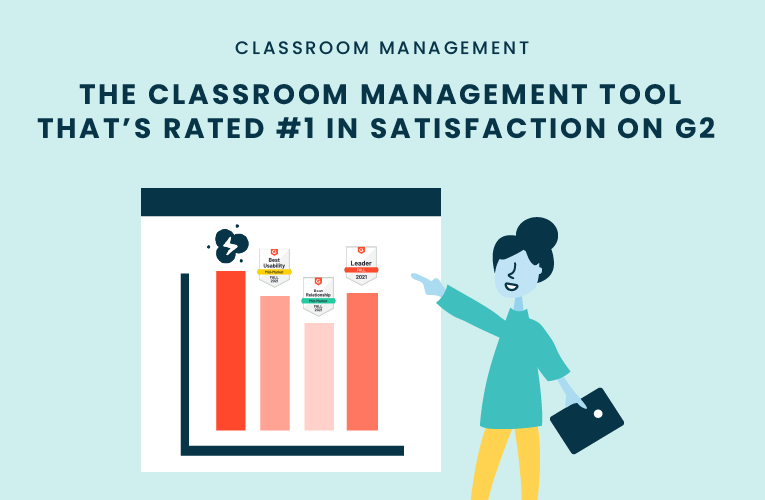 K-12 Administrators across the world trust G2 as the #1 platform to find, research, and choose EdTech tools that solve the most pressing problems their teachers are experiencing. In G2's Fall 2021 Reports, Dyknow was once again rated #1 in overall Satisfaction out of...
On this episode of Tackling Tech, Tierra Leustig interviews Scott Bayer about being an anti-racist teacher, diversifying reading lists, creating inclusive learning environments, and leveraging ed-tech in non-technical ELA classrooms. Scott Bayer is a High School...