Technology integration in K-12 education has completely transformed what a typical classroom once looked like. Learning styles are drastically and rapidly changing to adapt to this new wave of technology integration, especially following a period of remote learning. One popular instructional strategy that is sure to grow in Fall 2020 is Flipped Learning.
The flipped learning model is essentially a method where teachers play a coaching role alongside students instead of the traditional "sage on the stage" role in the classroom. Technology supplements traditional teaching for students to access information while the teacher attends to students who need extra help. With this added technology integration, a big concern for teachers is the fear of distractions that devices will cause for students. Dyknow's software helps teachers enhance flipped learning initiatives by defeating distractions with active or passive device monitoring, blocking plans, and segmented blocking.
Enhancing your Flipped Learning Initiative 
Flipped learning is progressively becoming more popular as teachers become comfortable with technology and find a balance of remote and in-person learning as we go back to school in the Fall. In a conversation on our Tackling Tech Podcast with Kyle Niemis, Tech Coach and Co-creator of ClassroomQ, we discussed how to use flipped learning to enhance instruction whether teaching remotely or in the classroom. He explained that the most effective use case of the flipped learning model is for teachers to create videos of themselves giving the lessons they've prepared for class and having students watch the video in class rather than lecturing in front of the room. 
Kyle recommended that teachers play the lesson video in class but also be active and available to give help and answer questions as students are learning. He explained that flipped learning essentially enables teachers to "clone" themselves in the classroom. This way, students are able to have both a hands-on and virtual learning experience. 
Flipped learning gives teachers the ability to multitask in the classroom while simultaneously giving students the freedom to learn at their own pace. Incorporating videos into your daily lessons enables students to pause, rewind, and fast forward so that they can consume content in a manner that is comfortable for them. 
Support Your Flipped Learning Initiative with Dyknow
Educators everywhere are slowly using technology and social apps to make learning more engaging for students. One of the biggest fears that teachers have when integrating technology into the classroom or transitioning into a flipped learning environment, is that technology will distract from lessons rather than enhance them. 
This generation of students knows technology as a source of entertainment rather than a tool for learning, which can hinder the learning experience if not monitored correctly. Dyknow's student device monitoring software empowers teachers to feel confident when teaching with technology in any learning environment – especially with flipped learning. Features like device monitoring, blocking plans, and segmented blocking enables teachers to determine how devices should be used during flipped learning and ensure that students are on task during these activities.
As mentioned, flipped learning requires the use of technology in the classroom and most often teachers are working hands-on with individual students or groups, so they might not be able to regulate how students are using devices. This is where Dyknow's device monitoring comes in
1. Passively or actively monitor devices during flipped learning
Dyknow enables teachers to passively or actively monitor student devices during all flipped learning activities. Passively monitoring devices enables teachers to collect device activity in Dyknow throughout class and review distraction metrics after class to know if students were on task or distracted. On the other side, teachers can also actively monitor student devices by viewing all student screens on their own device, and actively blocking sites that are not appropriate for that flipped learning lesson
2. Blocking plans to support flipped learning
One Dyknow feature that many teachers use to support flipped learning lessons is Dyknow's blocking feature. Teachers can set up blocking plans for specific classes or lessons to restrict certain sites or only allow certain sites to be used during class. Think of these blocking plans as a supplemental content filter that can be customized at the classroom level. Blocking plans are especially useful for flipped learning as teachers have the ability to only allow students access to watch their video lessons and conduct work off of devices when students have consumed the lesson.
3. Segmented blocking to enable group work during flipped learning
An important component of flipped learning is conducting group work. Some teachers will have half the class watch a lesson while the other class completes a learning activity related to that lesson. Dyknow's segmented blocking feature enables teachers to set up separate blocking plans for each group of students, ensuring that even when different tasks are assigned, students are where they need to be and using devices effectively.
Dyknow provides direct support to teachers, tech coaches, and students for an easy transition while integrating technology and the flipped learning initiative. Compatible with all different instructional strategies, like flipped learning, Dyknow provides tools for the most effective learning possible.
Want even more Dyknow content? Check out our YouTube channel linked here!
Start teaching confidently with Dyknow for free!
In addition to web browser updates and bug fixes, Dyknow released several major product updates, new features and enhancements. Check out Dyknow's 2021 Year in Review!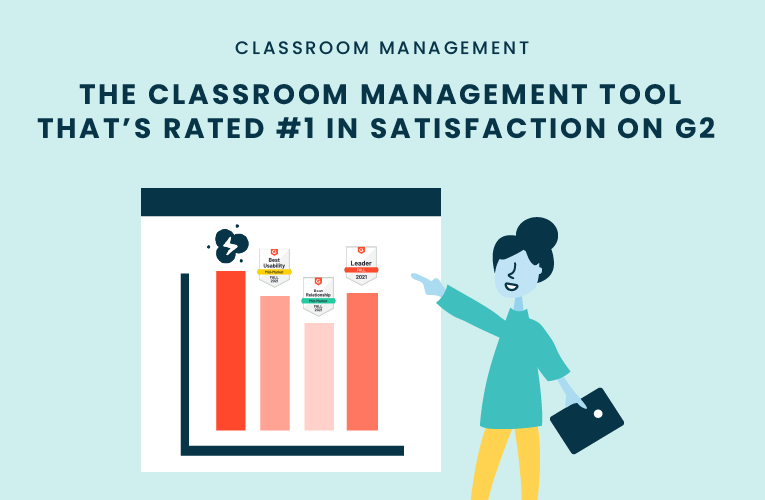 K-12 Administrators across the world trust G2 as the #1 platform to find, research, and choose EdTech tools that solve the most pressing problems their teachers are experiencing. In G2's Fall 2021 Reports, Dyknow was once again rated #1 in overall Satisfaction out of...
On this episode of Tackling Tech, Tierra Leustig interviews Scott Bayer about being an anti-racist teacher, diversifying reading lists, creating inclusive learning environments, and leveraging ed-tech in non-technical ELA classrooms. Scott Bayer is a High School...