Each and every student is different. Everyone learns in different ways and at different paces. A more traditional approach to learning would be catering to the broad learning styles of a group rather than students' specific learning styles, which can cause a lot of obstacles for some learners because this type of learning model doesn't fit all of their needs. Personalized learning creates a space to accommodate how each student learns best, which ultimately increases student engagement in class and coursework. Pearl Arredondo, a Principal, Teacher, Education Advocate, and International Speaker, shared with us her experiences with personalized learning at her school San Fernando Institute for Applied Media.
What is personalized learning?
On all levels, personalized learning is about increasing student engagement. The essence of personalized learning is to guide students to be curious, confident, and creative learners. 
Educators have to create their own ways of how to personalize and engage their students to create a strong relationship and make sure the student is aware of the support they have from their teachers to become a better learner.
Understood.org expressed how they believe, "personalized learning can also give students the chance to build self-advocacy skills. It encourages them to speak up about what interests them. It also allows them to be equal partners in their learning experience."
3 Tips for Using Personalized Learning to Increase Student Engagement
Pearl explained how she feels as though sometimes she adopts her students because of the amount of time spent together and growth made together. School can be a students 'home away from home.' At San Fernando Institute of Applied Media Pearl's staff goes above and beyond to make sure their students are getting their full education. Student engagement drastically increased after focusing on these important factors to personalized learning.
1. Home Visits
She told us how teachers do home visits and do their best to expose students to 'real-life' and different ideas. This personalization is accomplished by teachers getting very creative with what activities they do with their students for intentional growth. Home visits can create a safe space for students and to give them the opportunity for extended one-on-one help without cutting into class time.
2. "Field Trips"
Pearl herself would take some of her students out to restaurants to teach them how to order from a menu. Some of these basic social skills are overlooked in some communities and for some kids because educators don't know the circumstances of their students' home life. The exposure students receive about the world from their home life may not be substantial enough for them to grasp these basic skills.
3. In-Class Talks
A way Pearl established strong relationships with her students is by reading the room. She explained how some days they would not introduce any new material at all but just sit down and talk. They would talk about what is going on in their personal lives, their communities, in the world, etc. Pearl stated how a student's mental health is so important to their academic success. Showing that you care more about who your student is rather than the grade they have in the class gives them an immense amount of comfort, support, and flexibility to grow at their own pace.
As an educator, it becomes a bigger responsibility to be a mentor for students and actively seek opportunities to expose students to create their own ideas and opinions and ultimately increase student engagement. "Students need to see people who are living life, and that it is hard and there are many obstacles, but it is possible."
Personalized learning creates an environment for students to feel important, confident, and supported. When students are at their best emotionally and feel as though they have the comfort they need in an environment their engagement will naturally increase. Be like Pearl and do more for the next generation of learners.
Listen to the full episode with Pearl Arredondo
On this episode of Tackling Tech Podcast, Brett McGrath speaks to Pearl Arredondo, Principal and one of the founders of the San Fernando Institute for Applied Media, a successful pilot middle school in LA. In 2013, Pearl gave a Ted Talk about her difficult upbringing and passion for teaching. In this conversation, Pearl shares her thoughts on Reform Education, reaching students in difficult situations, the present challenges of remote learning, and using technology to educate.
Start teaching confidently with Dyknow for free!
In addition to web browser updates and bug fixes, Dyknow released several major product updates, new features and enhancements. Check out Dyknow's 2021 Year in Review!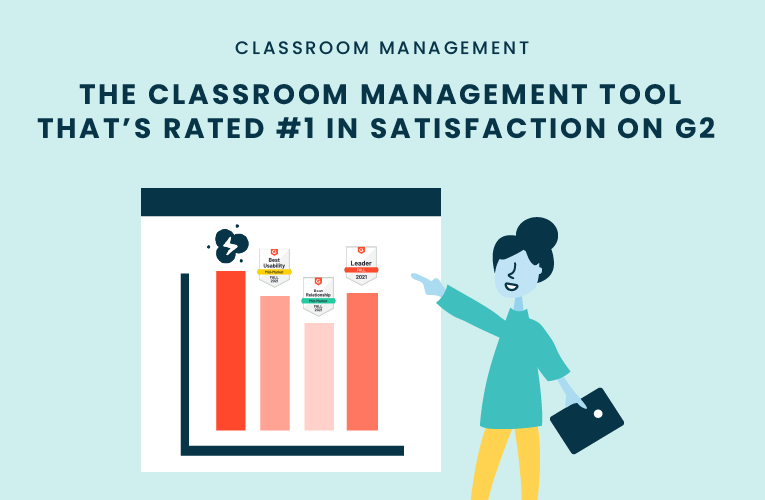 K-12 Administrators across the world trust G2 as the #1 platform to find, research, and choose EdTech tools that solve the most pressing problems their teachers are experiencing. In G2's Fall 2021 Reports, Dyknow was once again rated #1 in overall Satisfaction out of...
On this episode of Tackling Tech, Tierra Leustig interviews Scott Bayer about being an anti-racist teacher, diversifying reading lists, creating inclusive learning environments, and leveraging ed-tech in non-technical ELA classrooms. Scott Bayer is a High School...